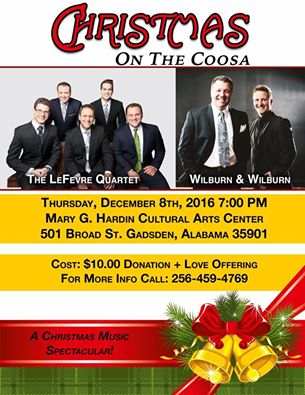 December 8, 2016— Gadsden, Alabama –Â On December 8th, national recording artists Wilburn & Wilburn and The Lefevres will be bringing the sounds of the season to the downtown streets of Gadsden, AL.
You will find that through listening to both of these artists, you will begin to sense the Christmas spirit and remember the birth of Jesus and what He has done for you.
Earlier on Facebook: "Come and be with Wilburn and Wilburn as we celebrate Christmas Downtown Gadsden at the Cultural arts Center! Dec 8, 7pm. Our dear friends The LeFevre Quartet will be with us on the great evening as we present Christmas On The Coosa!!!! Take a listen at these talented men sing this fun Christmas rendition of "Jingle Bells".."
Mike Lefevre, award-winning baritone, shares this statement on the event: "I am looking forward to sharing the stage with my dear friends, Wilburn and Wilburn, as we present great Christmas music from our group's recent projects."
More on the LeFevres from a recent story by Justin Gilmore in SGNScoops: "As of September 2016, The LeFevres are comprised of Mike Lefevre (baritone), Jordan Lefevre (lead), Jeremy Peace (tenor), and newest members Trent Adams (bass) and Josh Townsend (pianist).
"Each member brings their own abilities and history to this ministry," Peace states. "Mike and Jordan both come from the LeFevre lineage. Mike spent time with his Uncle Alphus LeFevres' group during the '70's, then moving on to sing with The Singing Americans, before joining Gold City and later Brian Free and Assurance. Jordan began with The LeFevres as their drummer at the age of 13, and now at age 25 is the group's lead vocalist.
Not only does Jordan sing lead for the group, he also manages the bus driving and mechanical responsibilities as well as our resident prankster!"  For more from this feature in the
October 2016 issue click here. 
Both groups would be happy to see you at the Mary G. Hardin Center for Cultural Arts, admission is $10 and a love offering will be received during the concert, from
7-10 P.M.
See you there!