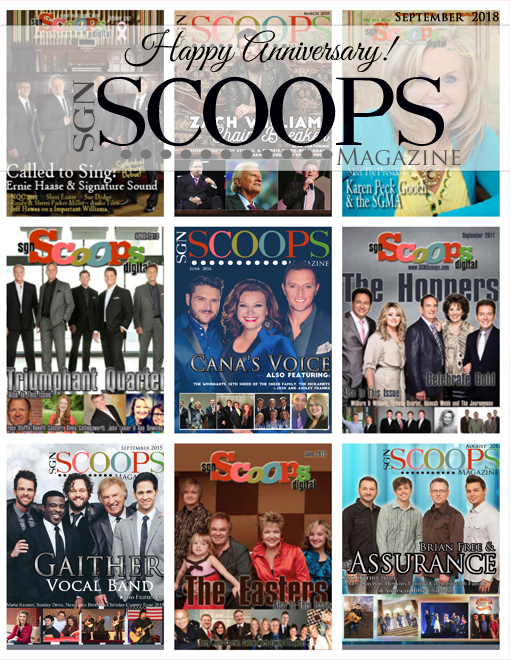 It's September and time to celebrate! At SGNScoops Magazine we are celebrating many anniversaries this month. Join us as we live it up with Les Butler, recounting the ways his 40 years in Southern gospel have been made memorable.
September marks 25 years for Rob Patz and nine years for SGNScoops, and we look at how you, our friends and fans, have enriched our lives.
We hope you enjoy this issue which also celebrates the songs of William Lee Golden and the Oak Ridge Boys by John Herndon, and Kody Erwin of the popular young family group, the Erwins, by Erin Stevens.  Discover the Diplomats, the Envoys, and Paul Wilson with the Blind Pig and the Acorn.
An excerpt from the Publisher's Point by Rob Patz reads: "
September 2009 was the first edition of this magazine with me as publisher.
I'm amazed to see how God has used our magazine to help spread the gospel through my favorite form of music. God has blessed me over the years with some great editors, starting with Kelly Burton, then Rhonda Frye, and now our current editor Lorraine Walker.
All of them have had great visions of what they wanted to see the magazine becoming. Each sacrificed hours upon hours to create what you are now seeing. I am thankful for each of them. Lorraine has been a tireless editor and has helped us to create the image and the ministry that you now see.

If you really know me, you know that I am always planning for the future. Today's success does not guarantee tomorrow's, so we continue to look forward.
I'm thankful for Allen Smith and his vision to create a digital magazine over 12 years ago. I asked him to tell us the story in a nutshell and this is what he related to me…" Read the rest in the latest issue of SGNScoops magazine.
Read Selena Day's latest article, the DJ Spotlight by Vonda Easley, Randall Hamm's CD Reviews, the Gospel Music Top 100, the Christian Country Top 40, and the Editor's Last Word.
Download The PDF Version Of SGNScoops Magazine
HERE
Find SGNScoops Magazine On Facebook
HERE
Listen To Todays Gospel Music
HERE