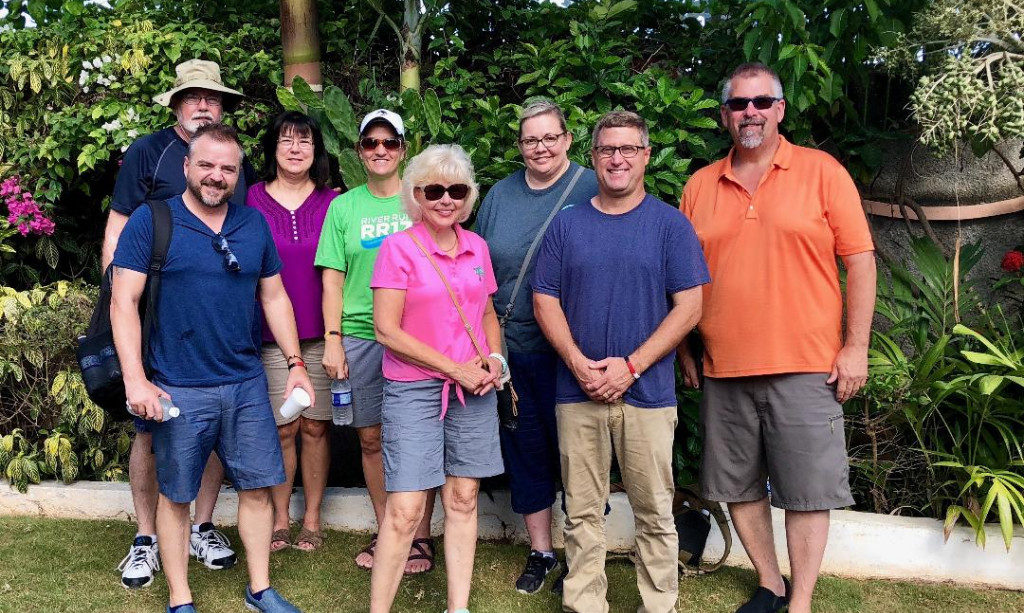 Nashville, TN (August 14, 2018)– Butler Music Group artist Cheri Taylor recently returned from a missions trip to Jamaica. She went with a team of eight, six of whom were going for the first time. The team partnered with a church in Black River, helping them with their VBS during the days and leading a revival each evening.
"It's always exciting to watch how the Lord moves in the lives of the team. When you prepare for the trip you pray to be used by the Lord to change the lives of the people; in reality it's you that comes home changed," stated Cheri Taylor. This trip to Jamaica marked her 14th mission trip in 12 years to the island nation for Taylor. She added, "It's a calling I can't deny."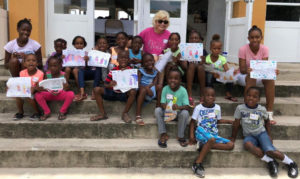 Before leaving the island, another stop was made in a small community  just outside of Montego Bay, called Canterbury.  It's one of the poorest and more dangerous areas in Jamaica. The locals warned the team to stay away because of the dangerous conditions.  However, after conducting VBS there in 2017 and getting to know the pastor, his love for the Lord and his passion for sharing the Gospel in this dark area, they decided they had to go.  They saw a mighty move of God while there. They helped put together a three year plan in place for repairs to the church and more interaction with the community.
Cheri Taylor's current single, "God's Great Love" is playing on Southern Gospel stations nation-wide. "Cheri is an incredible artist. Her love for the Lord and his children radiates from her on and off stage. She's the real deal," stated Les Butler.
For more information on Cheri Taylor, go to cheritaylor.org.
About Butler Music Group
Based in Nashville, Tennessee, Butler Music Group provides professional management and consulting services to Southern Gospel and Bluegrass artists including
 Dunaways, Heaven's Mountain Band, Williamson's, Old Time Preachers Quartet, Sacred Harmony, Coffmans, and Jason Davidson. 
BMG subsidiary, 
Family Music Group
, is the label and radio promotion division of BMG. Label artists include
Dunaways, Williamsons, Old Time Preachers Qt and Jason Davidson. 
 Radio Promotion artists include
 Canton Junction, David Phelps, Goodman Revival, Ivan Parker, Guy Penrod, Hagees, Jimmy Fortune, Oak Ridge Boys, Booth Brothers, Larry Gatlin
, and many others.
Les Butler
 has been actively involved in Southern Gospel Music for 39 years as a musician, producer, manager, former publisher of the Singing News, and as a nationally syndicated radio host. Butler started 
Butler Music Group
 in 1978, and purchased 
Family Music Group
 in 2003. He is a past 
March of Dimes AIR
 award, as well as winner of the 
Paul Heil Broadcasting Award
 in 2011. Butler's syndicated radio show, Les Butler and Friends, is heard across America and abroad. Butler's playing and production credits include 
Palmetto State Quartet, Darryl Worley, Richard Sterban, Joe Mullins and the Radio Ramblers, Fairfield Four, Steeles, Dunaways, Crabb Family, Easter Brothers, Marksmen Quartet, Earl Scruggs, Bowling Family, Jimmy Fortune, Marty Raybon,
 
Larry Gatlin 
and many more. Butler's publishing companies are 
Hurry-Up Publishing/BMI
 and 
Hush Jean/ASCAP
. He continues to host a daily Southern and Bluegrass Gospel video blog at 
southerngospel365.commy.
Read the full SGNScoops Magazine July 2018 HERE
Download the PDF of SGNScoops Magazine 
HERE
Find SGNScoops On Facebook 
HERE
Listen To Today's Gospel Music Online 
HERE