Proverbs 17:22Â "AÂ merry heart does good like a medicine."
I'm glad to share with you in this edition of Pastors Ponderings.
I've been noticing that there isn't enough laughter anymore. Laughter is good for you. For your heart, soul, and health. I believe that it helps in the healing process.
People need to laugh. I need to laugh more. A lot of people have become overly sensitive lately and need to laugh. Some people laugh at the wrong things. I have a sense of humor but like when the jokes are tastefully done.
I appreciate people who make me laugh and have a sense of humor. I love to read the funny pages because a lot of times it's the only thing worth reading in the newspaper.
My friend, the late Tony Greene, loved to laugh, cut up and make others happy and laugh. I was around him a lot and could share endless stories. We loved Jerry Clower, Â who we feel that he was the best story teller during my time. And he was a great man to be around and talk with.
We are blessed with Ken Davis, Dr. Dennis Swanberg, Mark Lowry and other Christian comedians today.
I don't want to omit anyone especially Tim Lovelace and Gerald Wolfe who can tell a good story as well as anyone else.
I hope to share some of the stories in the near future, as I have gotten emails from readers wanting to know about the people who were on Tonys CDs. As my great uncle Doc Watson told me once, I wanted to put a smile on people's faces.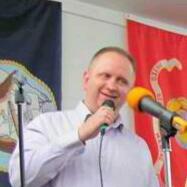 And if you need to laugh bad enough, do what I do, look in the mirror and go wow!
Especially first thing in the morning!
God bless, Pastor Stephen Widener