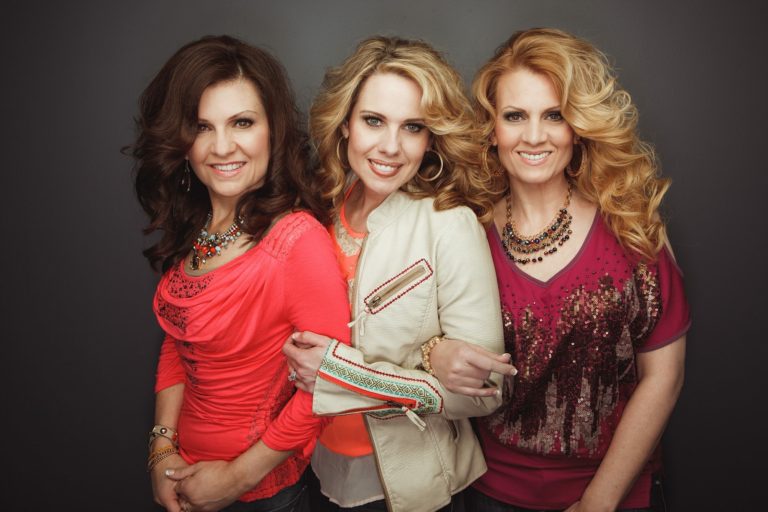 By Jaquita Lindsey
From the December 2016 SGNScoops Magazine
Musical talent can often be captivating to an audience seeking to be entertained. More often than not, the admirer, or fan, leaves the performance blown away after an in-person experience. Although there is still a certain level of enjoyment to be had when it comes to artists who share the Gospel of Christ, the most important aspect of their music is songs that minister to hearts. I believe Sisters has both.
With astounding harmony and a heartfelt commitment to convey the love of Christ, Kim Ruppe Sheffield, Heather Ruppe Bennett, and Valerie Ruppe Medkiff create an impacting sound that is reaching the hearts of all ages and musical tastes.
Beginning of the Ruppe Dynasty
In 1974, Brenda Ruppe, alongside her husband Leo, began a music ministry under the name The Ruppes with Kim, then, age nine, and Heather, age eight. Valerie also contributed her part to the ministry at the young age of four. In 1975, the group recorded their first album, The Way, The Truth, The Life. From that point on, the family has experienced great success through the years.
Their most notable song as The Ruppes, and one that still remains a noteworthy favorite to all, is the stunningly beautiful "Under His Wings." The Ruppes had many other top songs including their first number one, "Angels In The Room," from the album Seasons. Their 2001 album release Born to Serve yielded a Grammy nomination.
Leo and Brenda Ruppe committed themselves as Godly parents to raising their daughters to serve the Lord, using their vocal talents. Years of ministry brought many changes for the Ruppe girls, as they have gone their separate ways at various times. Through it all, they continued to minister and they remained very close as a family. Now, God has opened the door for them to come full circle and sing together as Sisters. They love every minute of sharing the stage together.
Dreams Do Come True
"Sisters has been a dream of ours for a long time. We cannot really pinpoint a time when God put the dream in our hearts. It seems to have always been there, but the timing was never quite right. We always agreed that when God opened the door of opportunity, we would take the step of faith and walk through it. We have kindred spirits that family typically brings. And, musically speaking, we think so much alike. We are so excited to have the chance to minister to people together with our music," says Heather.
Currently, Sisters are traveling all over the country sharing their melodious vocal abilities and personal experiences with Christ. Their magical combination on stage of moving songs and amazing harmonies is absolutely incomparable. For these inseparable sisters, dreams really do come true.
Recently, Heather shared a story with me about how Sisters almost disbanded about three years ago. I, personally, was so blessed hearing about how God kept them together that I asked Heather to share it in this article: "One of my sisters was really weary of traveling and singing. It is all we have ever done since we were children. I started the process of searching for her replacement. I quickly realized that replacing the voice of my sister would never bring about the same sound.
"After much prayer, she decided that God was not through with her in our ministry. The day this decision was made, I received a phone call from a church that we had always dreamed of singing for, Brooklyn Tabernacle in New York. We had tried for years to get an opportunity to sing there but it never happened. The pastor had seen a video on Facebook of "I'm Gonna Make It" and wanted us there to sing it the following Sunday. It was confirmation to us that we had made the right choice."
Off The Road
Aside from traveling, each sister separately keeps busy schedules at home. Kim and her husband, Jerry Sheffield, live in upstate South Carolina and build custom homes. Valerie, along with her super talented, musician husband, Jeremy Medkiff, lend their musical abilities to a lot of studio work. Valerie also has her real estate license.
Heather and her husband, Blake Bennett, live in the Nashville area and both partake in various musical projects. Heather enjoys advising vocal arrangements and also lends her talents to studio work from time to time. Heather and Blake also stay busy with the vacation cabin that they own, "Under His Wings", in Pigeon Forge, TN (underhiswingscabin.com).
Simply Sisters
The latest venture that Kim, Heather and Valerie collaborated on was their women's conference Never Too Broken, held in Anderson, South Carolina on November 5th. They had been a part of numerous conferences geared toward women but always wanted to host their own. After years of procrastinating, they finally went for it and found their efforts to be successful.
"Women need each other. We need to be able to share our hearts, hurts, and struggles with other ladies that are just like us. We want our events to be a place of healing and of hope for these precious ladies," Kim explains.
Planned along with the theme of these women's events, Sisters has recorded a project titled Simply Sisters. This project was carefully thought out, with simple instrumentation but very strong lyrics. "We too were wounded and defeated, so we know how you feel. But by the wounds of our redeemer, we believed and we were healed," is a line of lyrics from a song off their new project and what the Never Too Broken events are all about.
More Than Just Singing
Sisters have been honored with numerous musical accolades and acknowledgements, such as Female Group of the Year, Dove Awards and Grammy nominations. But to these sisters, their music is so much more.
"God grants us a special anointing on our talents when we sing about Him. We never want to take the platform we have been given for granted. We know that in any given situation, the audience that we are in front of is full of hurting, broken people. We know that to be true because we have been the audience many times ourselves," Valerie shares with us.
"We all have needs, questions and struggles. We are all living this life and sometimes it gets hard. If Sisters has a few minutes to share our music and our hearts, just to let people know how good and gracious God has been to us, what a tremendous opportunity that is for us. May we ever be mindful of that moment," Heather adds.
I personally have been a fan of the Ruppes over the years as they have led into being known as Sisters. Not only are they fantastic vocally, they have the heart to back what their music portrays. I am looking forward to hearing great things out of their Never Too Broken events in the future. For more information on Sisters and their upcoming scheduled appearances, visit  their website here.
Photo Credits: Sisters
By Jaquita Lindsey
First published by SGNScoops magazine in the December 2016 issue.