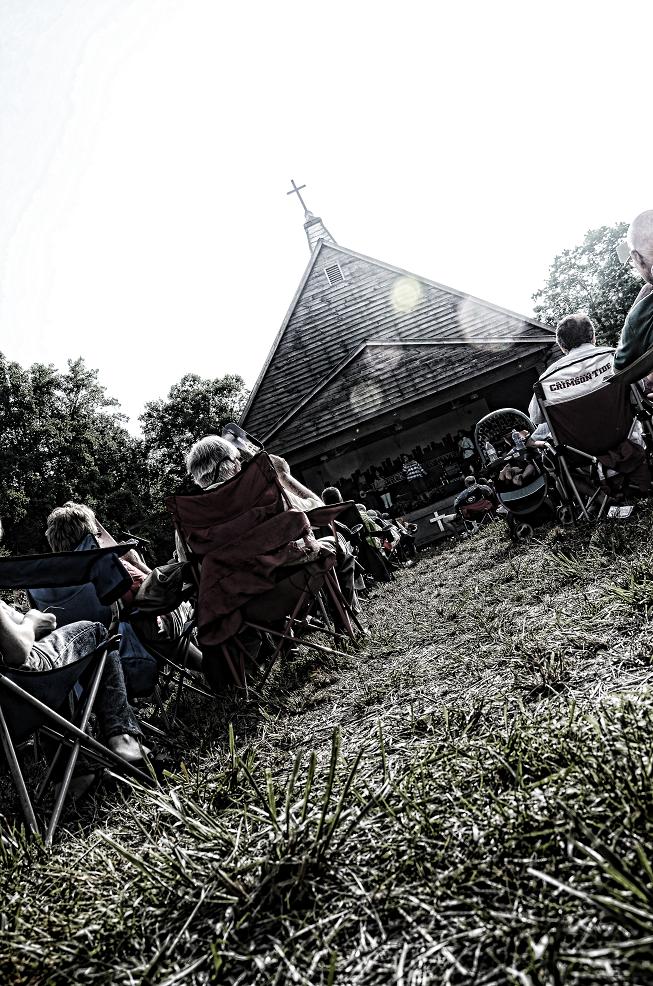 Lynn Mills writes Event Planner for SGN Scoops digital magazine every month. She reviews live annual concert events so fans can plan ahead for the next year. In 2014, Lynn attended the Karen Peck and New River Homecoming, Father's Day weekend 2014. This year, the event falls on June 19, 20. Don't miss it! Lynn's review from 2014 follows:
Dahlonega, Georgia is probably not the first place you would think of when planning a getaway for the weekend. If it were not connected to Gospel Music as Karen Peck and New River's hometown, most probably wouldn't even consider its existence. What a mistake! As I pulled into Dahlonega over Father's Day Weekend for Karen Peck and New River's Homecoming, I felt that this place would not be easily forgotten. I was right.
In 1828, Dahlonega became the location of America's first major gold rush and in its downtown the Price Memorial Hall became one of three buildings in Georgia to be gilded in Dahlonega gold. Today you can tour the gold mines. Pure gold; that's Dahlonega, Georgia.
The heart of this town is as pure as its heritage. Every Veterans' Day through July Fourth, a team of 100 workers assemble 700 memorial crosses that line all the major roadways leading into town to honor the veterans from World War II to Vietnam. Each cross bears an American flag and displays a soldiers name and the war he fought in. The people of Dahlonega are dedicated to keeping alive the memory of what the price of freedom is and you can tell by the precision and beauty, that they take pride in their work.
On the other hand, the area's natural splendor is unmatched and the attractions are numerous. Springer Mountain brings the Appalachian Trail to the mountain range of north Georgia and Lake Lanier offers a variety of activities for families on the water. If you are more of the waterfall type, Amicalola Falls offer a spectacular view!
Though there are plenty of things to do by day, there's nothing like a good ole' Gospel Sing by night. Over Father's Day weekend, Karen Peck and New River set up a tent on the family's property. Karen cooks beans all night for the concession stand and folks set up their lawn chairs for two nights of Gospel Music.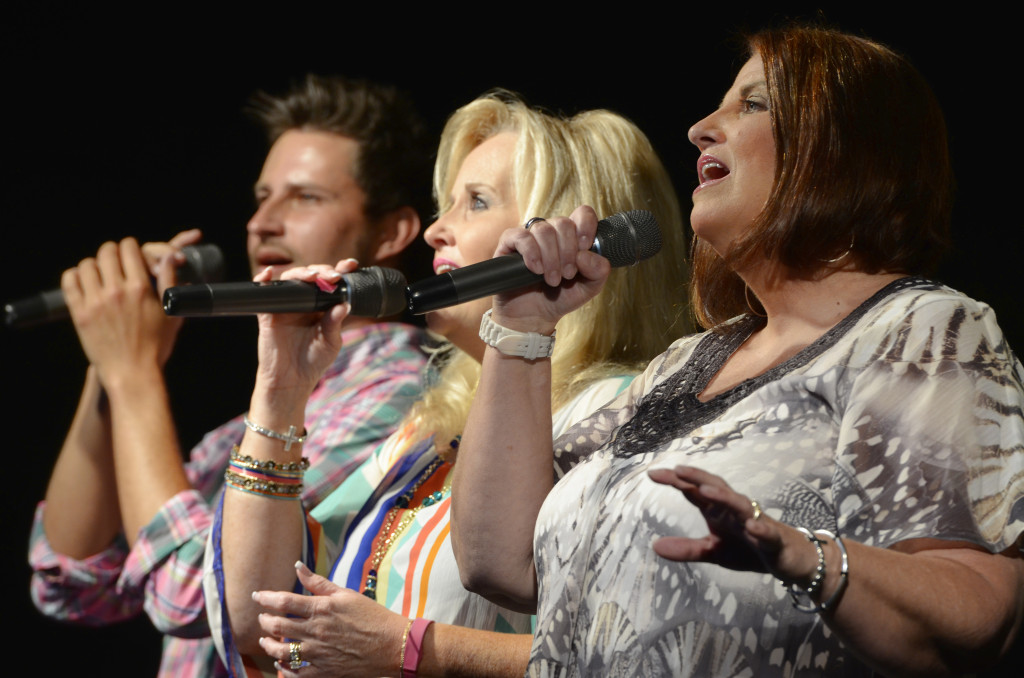 This year was an exceptional year for the KPNR Homecoming. Every night before the concert began Karen shared how the Methodist Campmeeting (where they sang as children) donated their old wooden benches to New River Park. "They are going to be our altar this year," said Karen, and if anyone wanted to pray, they were welcome to make their way down to those old fashioned pews at any time during the evening. I couldn't help but think how appropriate those 80-100-year-old benches were for an outdoor sing where the stage resembled an old church house and the concessions featured homemade cooking.
As the sun began to set the first evening sending pink streaks across the sky, Karen, Susan and Jeff walked on stage to welcome everyone to their Homecoming. When Karen finished telling about the Methodist Campmeeting's aged benches, Susan stepped up to share about one of the blessings they received while preparing for the weekend. She explained how everyone gathered in front of the stage in a circle to pray the previous night for the weekend festivities. Excitedly she told us, "Everybody had left and I was the only one down here and it was like something said, 'Look over,' and when I looked over a double rainbow was right there in the sky. I have never seen the end of a rainbow before, but the end of that rainbow was sitting down right over there at the end of that tent. I said, 'Lord, thank you. Thank you for Your blessings.' Cause' you know what? Maybe you've come with a heavy heart and you feel like there's no hope – there is hope in Jesus Christ and He has already given us all the blessings we will ever need but there are so many more out there that He wants to give us. So be encouraged and let this weekend be one of rest, restoration and knowing that God's promises are good and that He has given you a double rainbow!" That promise in the sky shined all through the weekend.
This year's KPNR Homecoming began on Friday evening and featured two artists plus the host group. The Old Paths set included their three number one songs: "God's Great," "Battle Stand" and "Long Live the King." These three songs reached the number one position on the Singing News Charts within fifteen months of each other.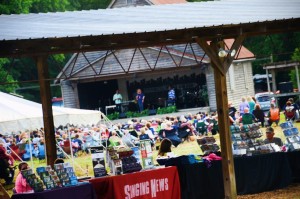 The Perrys were the second group of the night and took the stage with their popular "I Got a Hold of God This Morning." This was a special evening for Libbi because her mom was in the crowd. Libbi wanted to sing a special song for her mother, but all the guys were against it because it was a bluegrass tune. So the guys slid backstage while Libbi explained to the audience that her mom took them to the singings when they were kids and whether they were driving to the concert or back home, they would always sing this song. It was "Jesus Hold My Hand."
Karen Peck and New River were the last group to sing before intermission and came on stage to sing some of the fans favorite songs, including "Ephesians One," "I Wanna' Know How It Feels," "Sustaining Grace," "Robe and Crown." "Thirteen years ago we had this dedicated to the Lord," Karen said, explaining how they started their homecoming. "We had our pastor come and pray and we gave this part to the Lord." The evidence of this displayed itself after intermission when KPNR were singing their song, "Everybody's Going Through Something." Two ladies went down to the old Methodist benches to pray; shortly after, an older gentleman did the same and then another, and another and another…
Saturday night was the closing night of the sing and included The Royalaires, the group Susan sang with many years ago; The Guardians, who former member John Darin Rowsey currently sings with; and Jeff and Sheri Easter, another Georgia group! Once the sun went down and intermission ended, KPNR came on and sang the second set with carefully chosen songs.
The original band members were there, ready to jam with Matthew and Christian Booth and they kicked off with a song from their very first project from back in the 90's, "Bend In the River." Each number played a distinct part in their history and was remembered as such. One of my favorites was "Is There a Christian in the House?" Karen teased Christian Booth, saying that song had a double meaning for him!
Yet, as the evening came to a close, there was an intense urgency within KPNR to express to the crowd the working of God in their ministry. Sometimes it was told through a story, at other times a song, or Karen would just share from her heart. Each of the band members said a word of what it was like to be a part of KPNR.
A very special part of the program was when Kari (Karen and Ricky's daughter) came and sang "Amazing Grace" as a tribute to her grandparents. This was the first time Kari had sung by herself in any concert. There was also a song that Joseph (Susan's son) joined them on. But the pinnacle of the evening was, as Karen calls it, the altar service. There was a time when she left the stage and came out into the audience asking if anyone wanted to testify. The first gentleman said, "My chains are gone, I've been set free…" "This is what's it's all about," said a young lady, "a year ago I could've not been here, but here I am. They're not just lyrics they're meaning." Another said, "I was saved when I was 13, I love the Lord." Folks were at the altar, many shared their heartache and sorrows and by the end of the night, everyone was lifted up in spirit.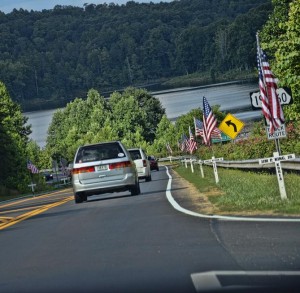 Karen Peck and New River's Homecoming is the reflection of what the historic city is known for…pure Dahlonega gold. Their ministry is pure, their hearts are towards service and their love shines brightly like the sun. Their Homecoming is unique because they use it as a place where they can follow the Lord's leading and do anything with their program. You never know what will happen! Yet, you can be guaranteed great singing and spirit-filled worship! Make plans to join the Homecoming crowd next year over Father's Day Weekend and be among the many who will testify to God's amazing grace.
For more information on Karen Peck and New River please visit http://www.karenpeckandnewriver.com/
By Lynn Mills
First published by SGN Scoops digital magazine in July 2014. For current issues of SGN Scoops visit the mainpage.