Psalms 133:1 says: "How good and how pleasant it is for brethren to dwell together in unity." (KJV)

The National Quartet Convention (NQC): when many people from different places, countries, States, and denominations are represented but these labels seem to be forgotten. People from all walks of life have attended NQC and for the past 20 years it's been held in Louisville, Kentucky.
Singers, musicians, preachers, parishioners, DJs, business men and women, and executives have walked through the doors of Freedom Hall within the Kentucky Fair and Expo Center.
Change is inevitable, and so it is with the NQC. But before we head to Pigeon Forge in 2014, I want to reminisce a little…
Jonathan, my brother, and I sang together for 12 years. We first went to NQC in '99 or was it '98? It doesn't really matter, but we were impressed to say the least. Tired as well, for that's a lot of walking if you want to see everything there.
The most important thing is the people we met and those who made an impression on two young men who were just learning their craft.
Also meaningful to us were the friends we made and still have to this day. We cherish each and every one.
We were honored by meeting the late James Blackwood and how he took the time to talk with us and pass along his knowledge and wisdom. He was truly one of the nicest persons we ever met. We can say that as well for others like Squire Parsons, Glen Payne, etc., the people we met from all walks of life who were, like us, were just in love with Southern Gospel music.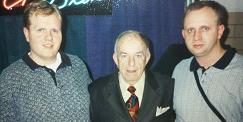 Other great memories will remain with us, like staying at the Holiday Inn with the 'Titanic' staircase and eating at Skyline Chili, Steak and Shake and other fine establishments in greater Louisville and across the river in Indiana.
One of my fondest memories has to be the night Tony Greene proposed to Taranda. I'll never forget how nervous he was, and believe me, he was. Tony never got nervous about anything to my knowledge, but I told him: "Don't worry, you could literally fall flat on your face and she'd still say yes." I'm glad he didn't.
So I could talk on and on but it's time to move on. Maybe by time we get to Pigeon Forge, Gerald Wolfe can talk someone into opening a Skyline Chili there.
God bless
Stephen Widener