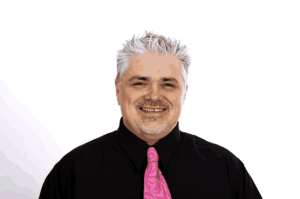 When I agreed to start writing these "Artist to Artist" interviews, I wanted to not only feature those people who we know by name from the stage, but also those who make those artists sound good up there. Unless an artist is able to play many different instruments, has a golden ear, boundless creativity, a couple of decades of extra time, and numerous other skills, most likely there will be many people involved in the recording process. However, you will never see their names unless you look at the credits inside the CD cover and you will probably never meet them.
I've been blessed over the years to work in Nashville with some of the best players out there on my past CD projects and while I hope to be able to feature each one in time, Kelly Back is probably one that you have had the chance to not only hear, but also see. He's been the featured electric guitarist on the majority of the Gaither videos over the years and he has played on literally thousands of albums in multiple genres of music. The amazing musical gift that he and the other tried and true session players on Music Row have is stunning to watch! They play on hundreds of albums and yet are able to create new licks, runs, and feels for each song. That's why they stick around…because they are really just that good.
Let's find out a little about Kelly's history and testimony…
MP: When did you start learning about the guitar?
KB: My momma said she brought me home from the hospital and the very first place she took me was church. We had a more country sounding church band with drums, bass guitar, lead guitar… even a steel guitar. I knew pretty quick that music was my gift.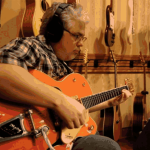 MP: When did you have a break that got you into the industry? 
KB: In 1982 I was working with a group out of London, Kentucky and we did a concert with The Americans. Ivan Parker was with them and we got talking after the concert. He got my number and said he was fixin' to start touring with a new group called Gold City Quartet. He said he would give my number to Garry Jones (piano player and band leader for Gold City at the time). And to my surprise… he did! I moved to GA that next August and spent about 10 months traveling with them before I moved to Nashville to play with the Hinsons.
MP: How many years have you been a session player?
KB: I started doing sessions back in the mid 80's. By 1989 I was making a living at it.
MP: Who is your favorite musician?
KB: Wow! I have so many great friends that are world class musicians that it's hard to say. Being a guitar picker though, Steve Lukather has always been my favorite guitarist. He was the king of the Los Angeles session world back in the late '70s through the '80s.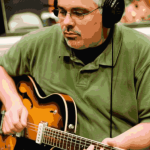 MP: How about the most memorable person you have performed with?
KB: By far that would have to be Kenny Hinson! For sure! Love and miss him so much!
MP: Do you prefer taking part in live concerts or doing studio work? 
KB: I've really never been a showman so the 'behind the scenes' is a great fit for me. I love the creative end also, coming up with riffs and hook lines is my favorite part of the biz.
MP: What do you consider to be the most notable album that you've played on? 
KB: Another hard question to answer! I've been blessed to have been a part of so many great projects from the Gaither Vocal Band, the Oakridge Boys, Brian Free, the Isaacs, Russ Taff, Gene Watson, the Hinsons, the Happy Goodmans; just to name a few. Hard to say which one.
MP: Do you have any idea how many projects you have played on?
KB: I'm sure it's in the thousands. You can go to allmusic.com and see a partial list of the major artist.
MP: Do you have any funny road and/or studio stories you can share from your career?
KB: Back when I first started working with some of my heroes, I was on a session with Pig Robins. Pig is one of Nashville's most recognized session pianists and he is also blind. So Pig, Scotty Sanders and I decided to go eat lunch downtown. Scotty and I didn't know the area very well at all but we all climbed in his car and took off. 10 minutes later, after turning down every wrong street, we are lost. Pig then says, "Hey, why don't we go down here to the Wendy's and have a burger? Just take a left at the next light and it's up about half a mile on the left." To Scotty and my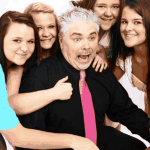 amazement… HE WAS RIGHT!
MP: Who were your most notable heroes and influences?
KB: Kenny Hinson was a hero to me and working with him was a dream come true! I am very blessed to have had the opportunity to spend four years on the road with him. A lot of influences, from Sonny Garish, Brent Mason, Chet Atkins, Jerry Reed, Dan Huff and a ton more. Also a guy that I grew up with, Ricky Todd, one of the greatest musicians I know.
MP: What type of guitars are you called on to play?
KB: I mostly do electric guitar – from a honky tonk sounding tele to a more rockin' Les Paul and everything in between.
MP: Which is your favorite?
KB: My go to guitar is a custom built strat by Tom Anderson.
MP: Are there any other instruments that you play aside from the different guitars?
KB: I play a little bass guitar and know a few chords on the piano but in no way call myself a pianist or bass guitarist.
MP: Do you sing?
KB: Not really…. back in the day, I sang one song for the first band I played in. ("I Pray My Way Out Of Trouble.")
MP: I'm sure that you could easily work in any music field that you wanted, but to my knowledge, you are most well known in the Gospel music arena. What doors opened to make that possible? 
KB: I think the first door opened when I started playing for The Hinsons. I met several great musicians that helped launch my career. Dirk Johnson, Bruce Watkins, Gary Prim, Bobby Al. Bobby actually got me on the first Gaither video back in the mid '90s.
MP: How has your faith affected your musical career?
KB: Well, growing up in a Christian home and always being around Christian music has been a huge factor.
MP: What is your favorite Bible passage?
KB: Jeremiah 29:11  "For I know the plans I have for you," declares the Lord, "plans to prosper you and not to harm you, plans to give you hope and a future."
Next time you pick up a CD, crack it open and read the credits. You might see Kelly's name and if you pay special attention, you'll hear the artistry that he brings to the table as he communicates the beauty of the Gospel in his own way.
By Miles Pike
Did you enjoy this issue of Artist to Artist? Email Miles Pike today at miles@milespikemusic.com
http://www.milespikemusic.com/