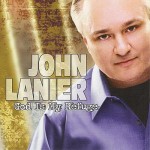 For almost 25 years, John Lanier has been a fixture in Gospel music, traveling with Naomi and the Segos as well as Tony Gore and Majesty, working in Christian radio and television, and preaching and singing the message of Jesus. He has produced recordings for other artists, hosted tours to the Holy Land and started the Christian Voice magazine. Lanier's resume also includes a stint with the mixed trio Riversong. The recent passing of Riversong's Sharon Terrell was a huge loss for John. [Editor's note: Feature first published March 2013].
Sharon Terrell was a singer and author, a lady well known by John Lanier fans who had been battling cancer for several years. "We recorded one CD as RiverSong and toured on a limited basis while I still maintained my solo ministry, in the very late 90's, early 2000's," says Lanier. "About five or six years ago, Sharon was diagnosed with cancer, and that has been an ongoing battle that prevented her from any extensive touring. Her testimony is awesome. In fact, she had just written a book that chronicled her journey and how the Lord had worked His good for her through it all. It's a true story of hope, healing and restoration that I believe will encourage and touch countless lives." The book is entitled Through The Valley. Terrell was also in the process of working on a new solo CD. Sharon's husband Greg is a preacher/evangelist and they have two daughters, Sadie and Autumn.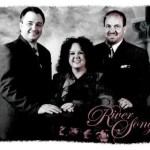 In Lanier's press release of February 14, 2013, he says, "Sharon never lost faith and it can truthfully be said that she fought a good fight. Her strength, faith and determination to hold to God's unchanging hand through the darkest storms were an amazing witness and encouragement to me. Not only was she one of the finest singers I had ever had the privilege to sing alongside, but she and her husband Greg have been two of my best friends for many years."
The loss of his good friend is another trial in a period of challenge for John Lanier. Still, he affirms the title of his recent CD, God Is My Refuge, saying this truth has been his hope. "This project was a direct result of God's faithfulness to me during a time of great adversity," says Lanier. "There are many scriptures in God's Word that assure us that our Heavenly Father is a very present help in the time of trouble, a strong tower of safety, and a place of refuge. But my favorite and the most personal to me is found in the 91st Psalm where David said, "He that dwelleth in the secret place of the most high shall abide under the shadow of the Almighty. I will say of the LORD, He is my refuge and my fortress: my God; in Him will I trust. Surely He shall deliver thee from the snare of the fowler, and from the noisome pestilence. He shall cover thee with His feathers, and under His wings shalt thou trust: His truth shall be thy shield and buckler.'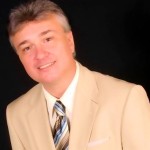 "This is the Word of God that calmed me and gives me peace of mind during times of trial and adversity," Lanier continues. "The song 'God Is My Refuge' is an affirmation of these precious promises. This has been my testimony of God's faithfulness to me personally. God is so good, and He has proven Himself over and over again to be faithful." 
Lanier's project, God Is My Refuge, has produced four releases to radio, including the current single, "Cross By The Cross," written by Michael Sage. "Both The Ruppes and The Southern Brothers recorded this song in years past, but I don't think it has ever been singled to radio," says Lanier. "I think the message of this song is perhaps more timely now than before. Sadly, it seems much of the modern church has replaced the pure gospel message of the cross with other doctrine and philosophy. This song, 'Cross By The Cross' affirms that there is no other way to God and there is no other way to Heaven but through the finished work of Christ on the cross. I can cross by the cross!" 
After so many years in Christian ministry, Lanier's life proves the faithfulness of God and it is obvious that he loves his calling. "For me, the best thing about Christian music is and always has been the message, both vertical and horizontal," Lanier says. "Songs about life, faith, family and country, which inspire, encourage and edify. Songs of praise directly to the Lord, which bring us into His presence where we have sweet communion with Him alone."
John has noticed that there is a difference within Gospel music from the early days that he finds disappointing. "For me, the biggest change I have noticed in recent years is the absence of the magic, for lack of a better term. I miss the awe and wonder element of our music. It used to be that every year at the National Quartet Convention, for example, there was always a sense of excitement and expectation. It doesn't seem to be that way any more; the energy, excitement and the thrill is gone. Everything seems mechanically manufactured, in a manner of speaking." 
"Don't get me wrong, I still love the music, and there are still plenty of awesome artists like The Perrys, The McKameys, The Hoppers, Legacy 5, and so many others who are anointed, and who inspire us and thrill us with their brand of music. But, it just seems something is missing overall. Even in the absence of some of our heroes like The Cathedrals, The Goodmans and others, we are still blessed with awesome talent, and Gospel music is still alive and well. But I wish we could somehow find that magic that seems to be missing in our genre. I'd love to see a good ol' fashioned Southern Gospel music revival!" 
One of the first groups that Lanier sang with was Tony Gore and Majesty (TG&M). The revival of that group seems to capture some of the magic Lanier refers to from the past days of Southern Gospel. "My favorite thing about the origin of TG&M is the fact that we were all best of friends before we ever knew there'd be a group," Lanier shares. "When the group was formed [in 1993], it was formed out of trusting, sincere friendships and Christian brotherhood. I think that is perhaps the biggest key to our longevity as a group too. You know how it is among friends: when one is down, the others lift him up. I know other groups often say it, but it's true: we're like family. The three of us are like brothers. We've each been there for one another during the loss of loved ones, sickness, the joys of parenthood, personal struggles and more. We share a strong bond of mutual respect and appreciation." This bond of friendship has remained strong between group members for many years, even after Lanier left the group in 1996.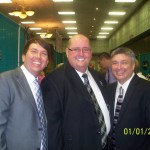 To the delight of their fans, the original Tony Gore and Majesty reformed in 2004 and now performs limited engagements across the country, traveling to 12 to 15 concerts per year. "About two years or so ago, we recorded a brand new album," says Lanier. "The name of the CD is Dawning Of A New Day and features all new material except for one remake of an old Hemphill song, "I Claim the Blood," which features myself and a guest appearance by LaBreeska Hemphill. The album has done very well. It was long anticipated by many of our old fans, those who knew us back in the day. It has also won us a whole new generation of fans." 
Many of John Lanier's fans have been closely following the career of this artist over the years. When asked on Facebook about Lanier's ministry, they were enthusiastic in their response.  Robin Collins said, "John has been a blessing to me ever since I was a little girl. Knowing him for about ten years has really touched my life. John has inspired me to work more on my singing so I can sing with him more often and to play the piano. I thank God for putting John in my life. John can put a smile on anybody's face and make them laugh. I'm glad to say what a blessing John has been in my life, because he has not only been an inspiration but like another father figure in my life."
Christopher Howard said, "John has encouraged me to serve God with all my heart. He is the kind of Christian that when you talk to him or hang out with him you can tell he is a true Christian. The way he talks and the way he acts is always about the Lord. I know that I can trust John when I need to talk to someone. He is one of the Christian adults that I look up to in a time of need."
"I appreciate the Godly standard John lives, the anointing that is on him brings peace to all who hear him sing," said Betty Dickerson. "The love he has for children is so touching. He has such a big heart and would not intentionally hurt anyone. His love for God shines thru in all he does!"
Kristi Collins said, "Not a day goes by that I can't pick up the phone and have John give me encouraging words. He's always been there for me when I needed someone to talk to. I know the music he sings and the Word that he preaches is exactly what he lives and it shows when he does so because the Holy Spirit shows up! John has always tried to help me get through my battles. He has prayed with me, cried with me and just totally encouraged me."
John Lanier's fans and friends support him in prayer and have helped him throughout his years of ministry. He comments that he had a challenging year in 2012, with a delay in recording new material, but plans to release two new projects in 2013. "One CD is going to be the second in a series of timeless Southern Gospel favorites. This will be Treasures Volume 2, featuring such classics as "He Touched Me," "Victory Is Mine," "What A Happy Day," and others," explains Lanier. "The other project will feature some fresh, new material that I believe will be bold and inspiring. I have a few songs that are personal to me already chosen. And Debby Harrah, who wrote "God Is My Refuge," has contacted me about reviewing some of her new songs as well. I can't wait to see what she has prepared."
"In 2011 and 2012, I had purposely slowed down a little and didn't travel as extensively as in the past, but 2013 is going to be a busy year. It appears I'll be returning to the West coast for the first time in about five years. There are already some great revivals and crusades scheduled in Arkansas, South Carolina, Tennessee, Georgia and several other states, as well as a Gospel music cruise to the Western Caribbean, more TV appearances and more Tony Gore and Majesty concerts." Lanier is also planning ahead for his 25th Anniversary Celebration in 2014.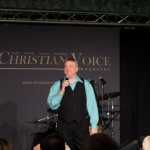 Along with the TG&M appearances, solo dates and major plans for the next few months, Lanier is also deeply involved with his magazine, The Christian Voice (CV). John always had an interest in journalism and this culminated in September 2006, with the first edition of CV. "I decided to broaden the scope a bit, go beyond just the music and create a 'conservative Christian music and lifestyle publication.' The magazine features Christian music, ministries and topical issues. It gives a voice to conservative, traditional faith and family values. While much of our content about music, ministry, faith and family is intended to encourage and inspire, we do include – without apology or reservation – other relative content from a Biblically conservative perspective that is intentionally intended to motivate, challenge and inform." He comments that this has brought some negative feedback, but those who know the artist well know that he has never been quiet about his beliefs and standards. "I firmly believe the true and faithful must raise their voice while they still have one!" Lanier concludes, "There may come a day when Christians are silenced."
John Lanier is a singer/evangelist that is not afraid to raise his voice to proclaim the Word of God. He has also learned how to keep his eyes on the Lord in spite of what is happening around him, no matter how trying the circumstance. In Part Two, Lanier gets more personal as he discusses his influences, his family and how to keep going when everything around seems dark.
For more information on John Lanier visit http://www.johnlanier.com/
Facebook http://www.facebook.com/JohnLanierMinistries
The Tony Gore and Majesty CD entitled Dawning Of A New Day is available at retail stores and online. More information about the CD can be found at www.tonygore.com.
Originally published March 2013 in SGN Scoops http://www.sgnscoops.com/
By Lorraine Walker