By Joan Walker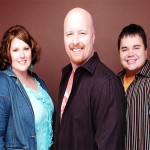 I spent last Saturday evening in an auditorium that felt like we were in someone's huge living room, seeing for the first time in person, the contemporary Christian vocal trio, Selah.  The concert was in part a promotional time for Compassion International, definitely a worthy organization that seeks to help children all over the world become who God wants them to be regardless of what dire circumstances they may live in right now.  Jacob Moon, a talented Canadian singer/songwriter/musician, opened the evening with songs and spoken testimony of his experience with Compassion International. 
After a short intermission, Selah came on stage, starting with special old hymns of the church as only they can sing.  It was amazing to hear them live; the quality and passion in their voices matching and even surpassing their recorded CDs.  I knew that the songs would touch my heart and I wasn't disappointed, and I am sure no one else in the audience was either, as the anointing just fell on Selah as they sang, and the audience as we listened.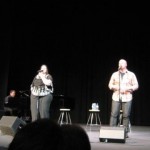 There are so many special songs I would have loved to hear Selah sing, but the ones they chose to sing were obviously exactly the songs that I needed to hear.  Todd Smith spoke of his family's tragic loss of their fourth daughter Audrey, just hours after her birth, which led into them singing the song "Unredeemed", from the recording You Deliver Me.  The song talks of the pain of broken places in our lives, how these places can be brought before the Lord and we can know He can redeem us, our situations and our losses. He can change them into something new and glorious in His site.
I can't fathom the grief and loss and yes, anger, that someone would feel at the loss of a child.  But I have thought of things in my life since I heard this song; points in my life where I've felt that everything has fallen apart, relationships that once meant so much that have disintegrated, loved ones that have gone on to be with the Lord when all I wanted was more time with them.  And there are times where I have prayed and prayed for God's will to be done, His power to be felt, and I didn't seem to see the answers.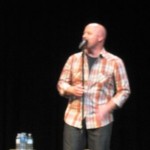 Life does break, right in front of our eyes.  So, when will God look after our pains and hurts if not when we pray? Maybe right now there's something that I want so badly to come true in my life that I'm doing everything I can, and it doesn't seem to be working out. Something tugged at my heart on Saturday; I realized I had been doing all I thought I could do.  I,I,I.  Maybe I'm using opportunities or things that are available to help me, but what about God?  Have I really given all my wants, hurts and pains to Him? Maybe I'm hanging on too hard using ideas or books or programs to fix what is broken, when God is waiting for me to let Him do the fixing.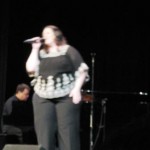 Amy Perry, the soprano vocalist with Selah, spoke also about letting go of so many insecurities that were developed from an early age regarding her self-image and how she finally realized she needed to allow God to be involved in the fixing.
We all have parts of our hearts that have been scarred by hurts from long ago and hurts from just yesterday. He will redeem. Jesus Christ is our "Wonderful, Merciful Savior" as Selah sang later on in the evening.  And as the evening closed, Todd spoke to each one of us and it felt like he was speaking to me, saying, "There is Hope.  There is Hope. "  We left assured of this Hope in our Lord.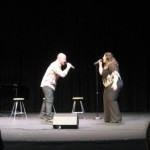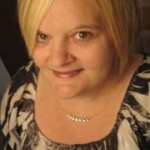 By Guest Author Joan Walker
From southern Ontario, Canada, Joan Walker has loved music since she was a young girl, taking piano lessons and singing in the church choir. She enjoys many types of music both secular and Christian, but lists Contemporary Christian, Worship Music and Southern Gospel among her favorites. Joan is a proof-reader for SGN Scoops, a monthly Southern Gospel digital magazine.