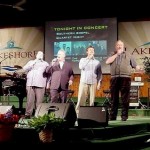 By Philip Foster as told to Lorraine Walker
What is Southern Gospel Music? Wikipedia describes it as: Southern Gospel music—at one time also known as "quartet music"—is music whose lyrics are written to express either personal or a communal faith regarding biblical teachings and Christian life, as well as (in terms of the varying music styles) to give a Christian alternative to mainstream secular music. (http://en.wikipedia.org/wiki/Southern_Gospel , February 2012).
My Southern Gospel experience started in the mid 70's.   A friend of mine wanted me to go with him to listen to a quartet. I remember at the time, thinking, "This will be boring." I heard a group called the Nations Quartet. I was instantly hooked. I remember Danny Tomen hitting those high notes, and I wanted to be a tenor. Then I heard Ron Spearman, hitting those low notes, and I wanted to be a bass. I soon learned, I was neither a tenor nor a bass, but I knew I wanted to be part of this new and exciting discovery!
My friend, Tom Wilson, knew just about everything there was to know about Southern Gospel Music, and bombarded my brain with names like:Â  Jake Hess, James Blackwood, Doy Ott, (seriously, who names their kid Doy?), J.D. Sumner, Rusty Goodman, The Imperials, The Cathedrals (my favorite),and the list went on and on.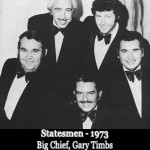 From that first concert in the mid 70's, to today, Southern Gospel is the only music for me. In the early years, I tried learning how to sing parts. I have never ever considered myself a soloist and have always felt uncomfortable when I had to sing a solo part. However, I felt quite comfortable when I learned how to sing baritone and for the most part, I have sung baritone in the various groups I've been with.
The first real group I sang with was Victory Road. Tom Wilson was the leader and bass singer of the group. Like any group, we went through a few singers and eventually recorded an album at Northumberland Recording Studio in Warkworth, Ontario, Canada.
I enjoyed the experience of recording. It was another first for me; I liked it and wanted more of that experience. In the mid 80's, I met another friend, Ed Poulain, who had a lot of experience in singing with groups such as The Mallory Quartet and The Switzer Brothers. Ed has a unique voice and is an excellent lead singer. We formed a group with tenor, Doug Bundock and did quite a bit of traveling as a trio. After several years, Doug left the group and we decided we wanted a quartet. In Canada, good tenors are out there but are hard to find. In the States, I think they grow them on trees!
A friend, by the name of Ian White, came into our lives. Ian had, and still has an amazing tenor voice. In my opinion, he is one of the best in Canada. We formed a quartet and called it Willing Vessel. In the early years of that group, we didn't have a bass singer. Then we decided that with Ian singing as high as he could, I could probably put a low part to the mix. I say low part and not bass, as I'm not a bass singer. It seemed to work.  I brought Larry Ford up for a concert and the group opened up for him. After we had sung a few songs, Larry came up and said, "Phil, you remind me of Bill Gaither." I thought, "Wow, I remind him of Bill Gaither!" Then he added, "…Because you stand at the end where the bass should be."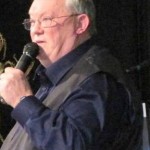 Our first baritone was Mark Edwards. Mark is an excellent baritone and a great songwriter.   He wrote several of the songs on our first album, Grace.   After Mark left the group, we decided to change the group's name to Vessels of Honour, which is still the name of the group today.  Brandt White, Ian's brother, came on board in the baritone position. Brandt had a nice smooth voice and we recorded our second Album Just One More Soul. After about a year or so, Brandt had a job offer, which took him out of town.  Ian's friend, James Davy, who has one of the lowest bass voices anywhere, joined the group and I was able to go back to baritone. The group then recorded Ours For The Asking.
During this time, I decided I wanted to promote Southern Gospel and formed my own small company, Victory Promotions. With the guidance of my good friend Bill Griffin of Joyful Sounds Promotions in Calgary, I held my first concert at Northview Pentecostal Church in Peterborough. I brought the Dixie Melody Boys and the Torchmen in for my very first concert.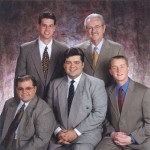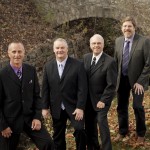 My wife and I worked hard forming mailing lists, making posters, tickets etc., and the big night came on September 13, 1996. I remember listening to the Dixie Melody Boys warm up, each member doing various vocal exercises and the piano plunking away. Then they started singing a song and the harmony, the professionalism, the polish, all flowed like a river. It seemed that all my hard work, all the frustrations, every conceivable emotion there was, all came pouring out of me. I could hardly talk and decided to head to the prayer room.
What a night it was. The Torchmen were excellent and the people responded as I hoped they would.   To date, that still is my favorite concert that I've promoted in Peterborough.
I sang with Vessels of Honour for several years and we traveled extensively in Ontario.   The group changed a couple of times and I was slowly feeling that perhaps it was time for me to move on due to health reasons. That decision was probably one of the hardest I've ever had to make about anything. The group today consists of Ed Poulain, Ian White, Laverne Boyle and Glenn Switzer, of the Switzer Brothers. They still have a great sound, but I tell everyone, "They sure don't look as good as they used to!"
I suppose you can say that Southern Gospel Music is my passion. I find that when I'm at my lowest, either spiritually, mentally, or emotionally, I can put on my music and before too long I'm lifted up. I have worked with some very talented folks from right here in Ontario, singers like: Marlene O'Neil, Rhonda Spurell, The Torchmen, The Proverbs, The Parker Trio, The Watchmen Quartet, and so on. Each of these artists, and others, has contributed to my growth, both as a singer and as a person.  I am blessed to know so many artists both here in Canada, and in the United States and am equally blessed to call them all friends.
People who don't necessarily like Southern Gospel ask me all the time, "Why do you love it so much? What do you get out of it"?  Or, "It's all just show!" To me, it's an easy answer, but not that easy to explain to someone who just doesn't get it. Yes, of course there is a level of entertainment, but there is also ministry. If a singer or a group does not lift up the name of Jesus, or give honor and glory to God, then it is not for me. I've heard artists, as I'm sure we all have, that sing just to be heard.   That is an artist I will never promote. 
When people pay good money to come to a concert, they want to be entertained.  When they come away being entertained and blessed because of a song, a line in a song, a lyric, or something the singer has said, it's all worth it to me.
I've had people come to me with tears in their eyes because of something someone sang during a Vessels Of Honour Concert, or at one of the Concerts I have promoted over the years. They go home changed and lifted up; they leave better than when they came in. I can go to bed that night feeling that the Lord was glorified.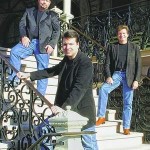 We had Ernie Couch and Revival at one of my concerts, and at the end of that concert, a woman gave her life to Jesus!
I vividly recall one elderly gentleman coming to me after a concert, tears welling up in his eyes, pumping my hand up and down, unable to properly communicate what he was trying to say. Finally he squeaked out, "Thank you!"  I got it.   I knew what he was feeling.   I understood 100%, and the two of us shared a moment together.  We both understood, without saying a word to one another.
That to me is why I do what I do.  It's why I sang all those years with the group. It's why I promoted concerts, so maybe one other person can leave the same way that gentleman did.
That is what Gospel Music means to me.   A life that was changed, a burden lifted, a heart softened, all because of this wonderful style of music that we call Southern Gospel.  What's next for me?   Stay tuned!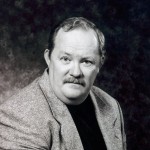 Editor's Note: Phil Foster is based in Peterborough, Ontario, Canada. As a Southern Gospel enthusiast, he will be sharing his thoughts, memories, concert reports and features on Canadian Christian music. Please contact Phil at info@victorypromotions.com  or visit his website at http://www.victorypromotions.com/site/ . Phil is also on Facebook at http://www.facebook.com/profile.php?id=1275735610&sk=info