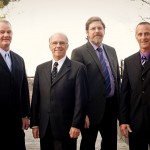 Canada's most recognizable male quartet, The Torchmen, is known for a traditional Southern sound, consistent ministry and enviable longevity. Few groups in Southern Gospel today can boast of 43 years of singing, and even fewer artists of being in the industry for 42 years and six months. Mike Moran, six months shy of being an Original Torchmen, is the patriarch of this Grammy-nominated and Gospel Music Association Canada Award-winning quartet. Neither Moran nor The Torchmen show any signs of slowing down, any time soon.
The Torchmen have recently embraced personnel changes that saw the return of two former members. Although it can be said that the only constant is change, this quartet boasts a unique history of group memberships that seem to revolve. Previous members tend to return, like metal to a magnet. When long-time lead singer/songwriter David Randall and bass singer Josh Friend announced their departure, Moran was pleased to welcome the return of two members, well known to Canadian Southern Gospel fans.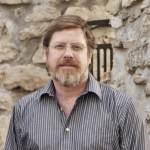 "Our new-old members are long-time Torchmen, Jon Hisey, who is back at his regular position at bass and the sound board; and Jeff Tritton, who is back this time singing lead. His two previous tenures with the group was at the tenor position," says Moran. "It's interesting to note that all three guys I'm singing with in this configuration are on their third time around. This time, I told them they better stay, until at least until I'm ready to stay home!"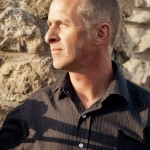 The current Torchmen members, with Sandy MacGregor at tenor and Moran at his customary baritone, have not officially sung in quite this arrangement before. "We are being told that this group has a smooth sound. I think Jeff probably gives us a more progressive sound, whatever that means," laughs Moran. "Every group develops its own personality. Our creator, if that's what we can call him, (no, not the Lord), Walt Andres, heard us a week or so ago. He told me it was the best all-round presentation he has ever heard the group do."
Change can bring its own challenges, even when members of a team know each other well. However, it appears this current Torchmen transformation has been relatively painless for all involved. "With these guys coming back, it is a very comfortable feeling, because we all know each other strengths and weaknesses," continues Moran. "Both of these men are both good quartet men and solid individuals. Jeff runs on coffee, which is now McDonalds instead of Tim Hortons. You can't get past one without stopping. The next time you see him, ask him: 'Is that what you're wearing?'" Moran chuckles at the inside joke but doesn't elaborate.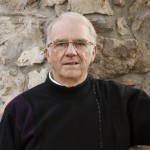 "Jon, well, he has a very twisted sense of humor, which when you spend as much time together as we do, is good thing. Believe it or not, he says it's my fault!" Moran's own sense of humor is well-known and appreciated by Torchmen friends and fans. Group members refer to him lovingly as 'the old man of the group', and even after 42 years in Southern Gospel, Moran retains his dry quips and ability to laugh at challenges. This is not the first time he has had to handle a reformation of his team, but Moran has learned that God is still in control of The Torchmen.
"We have been through changes before, but as I get older it becomes harder and harder," admits Moran. "This time I thought it might be the end; but I forgot again, that if it's God's will, there is a way. He had already prepared the way for Jon and Jeff to come back. Because of the fact they have been here before, once we knew they were coming back, the transition was a lot easier then it would have been if the replacements had been new men."
Moran pauses and states, "Let me say here, that the two men who left us for legitimate reasons were very talented and gifted men. I am very thankful for them and wish them well in whatever direction God takes them in their ministry for him. They put in a lot of miles and hard work in the years they spent with us." The members who have left also have had positive things to say about their Torchmen experience.
Former lead singer David Randall was with the group for seven years, and also provided original material for the group. In a previous interview with SGM Radio, Randall said, "Being a Torchmen means a lot of things to me. Being on the road for forty years means there is a legacy of great music to live up to. It also means that there is a responsibility to represent our Savior in a way that is honoring to Him. That has always been a part of the group's thinking and decision-making. There is only one reason why this group has lasted the way it has, and that's Mike Moran. He is the one constant, the glue that holds it all together. "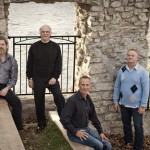 Josh Friend, who sang bass with The Torchmen for three years, also commented to SGM Radio, in a previous interview, that he was glad to be a part of this team. "It is only in God's perfect provision that He has seen fit to include me in the history of The Torchmen Quartet and Southern Gospel music in Canada."
Returning bass Jon Hisey first began with The Torchmen in 1983 and knows that his return to the group was God-ordained. "Basically it was because I knew that God had given me the skills and talents for a reason and they could be most effectively used in a quartet ministry," says Hisey. "So when the door opened I went through." When asked about the best part of returning to team, Hisey laughs, "The best part? Mike's jokes? No… Long nights preceded by less than nutritious meals? No… Most likely knowing God still has a need for bass singers."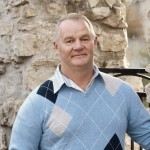 Tenor singer Sandy MacGregor, who fortunately shares a good sense of humor with his teammates, has also welcomed the return of the former members. "Jon is a good bass singer but more than that, he can find his part better than any bass singer I have ever sung with. You never have to tell him what part to sing; he just knows. He is always a group man ready to do whatever it takes to make the group better. Jon also brings other talents to the group; he is probably the best sound engineer in Canada in my opinion. He is also a web designer and is in the process of re-designing our entire web site. After all that, I would just say that Jon is an enjoyable personality to travel with and it is a lot of fun to have him back in the group and on stage."
Jeff Tritton, current lead singer, has a wide range and a distinctive voice that lends an edge to the quartet sound. Audiences have welcomed his return, enjoying his solid delivery and engaging personality. MacGregor says, "I have only sung with Jeff a couple times before, but I will tell you that he has a great voice and with two voices that have such high ranges (Jeff and myself), the harmony is amazing. I am also enjoying his stage presence. You never know what he might do on stage as he has high energy and keeps us all on our toes. I think the audience will really enjoy the new formation and the spirit of these men as they sing."
MacGregor is enjoying the new formation and doesn't take his own Torchmen membership lightly. "There are a number of things that I would highlight about being a Torchmen; for instance, all the great Christian men that I have been able to travel with and to call my friends. There is a closeness you get from traveling with these men, almost like being brothers, because you go through so much together and share your lives good times and bad. Also, the amazing people I have met and the recognition I receive almost everywhere I go is very humbling. The way people say that our music has touched them in their lives helps you to keep going. I would say for me, [the highlight is], when you sing that one song that you know the spirit of God takes control of you and your voice and then watch it translate into the eyes and hearts of the people listening."
The desire of each member of the group to allow God to use them is one unifying thread that can be heard throughout their presentation, truly making their singing a 'ministry'. Moran says, "I know all of the guys, including me, have rededicated themselves to the work of the Lord through this conduit of The Torchmen." Moran himself has not yet considered coming off the road, and is sure that if he did it would 'drive [my wife] crazy'. He continues, "I know at 70 years old, my time in the group is limited, but as long as I have my health, and I believe this is where God wants me, I will be here. One thing I am very happy about is, with this current group, when that time comes the men will carry on God's work with The Torchmen."
Neither Moran nor the rest of The Torchmen see this as a time to sit back and rest on their laurels. The 'new-old' Torchmen are back on the bus, keeping up their busy schedule. They are also recording tracks with the current members. "We went into Grant Avenue Studio in Hamilton recently, recorded and rearranged twelve songs from projects we no longer carry. [They are] songs that we had never staged, or songs that we felt should go back into the program. Songs like: Wish You Were Here and Rick Ash's In The Cross [one of this reporter's favorite Torchmen songs]. Jon is going to mix and we should have them in a month or two."
"God is continuing to open doors for the group with new avenues, like the opportunity we have of being a part of a gospel cruise next January, with the Dixie Echoes, Dixie Melody Boys, McKameys, Florida Boys and others," Moran says. "Beside our regular Ontario bookings, The Torchmen will be in Alberta twice this year, once at Alberta Beach, where we have been going for one weekend in June every other year for ten years, and back for our annual trip to the Canadian Gospel Celebration in Red Deer in July. We will be heading up to Dryden for the long weekend in August, which is a new venue for us. We will again be a part of the National Quartet Convention, singing on Thursday. We also have bookings scheduled in Michigan and New York State."
The Torchmen, with Mike Moran at the helm, have steered through changes in the past and they always seem to make the group stronger and more dedicated to their purpose. Each man has their focus on serving God and being a consistent witness for their Lord. Moran says, "I am very thankful that God has allowed me to serve him in something I love to do. I am at least the 4th generation on my Mom's side of the family that has served the Lord in a music ministry. As a baby I was dedicated to the Lord and my family hoped that I would follow in my Dad's family footsteps and go into the ministry, but God had other plans. He has taken me places that I never thought I would be and given me more blessings than I ever believed possible."
Moran continues, "I am also very thankful that God has given me a loving wife of 50 years and family who have always supported me and the group. You ask me about the most value that I have had from being in the group, and the first thing that comes into my mind is this: because of the visibility of the group, your testimony is always on display. I need that!  The little Irishman that lives on my shoulder is never far away, but my witness is always on my mind."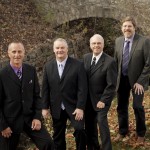 As the ministry of The Torchmen continues well into the fourth decade, the consistency of their witness and longevity of their ministry will continue be a legacy and a legend in the annals of Canadian Southern Gospel for years to come.
For more information on The Torchmen: http://www.torchqt.com/index.html
Find The Torchmen on Facebook: http://www.facebook.com/groups/227100173985963/