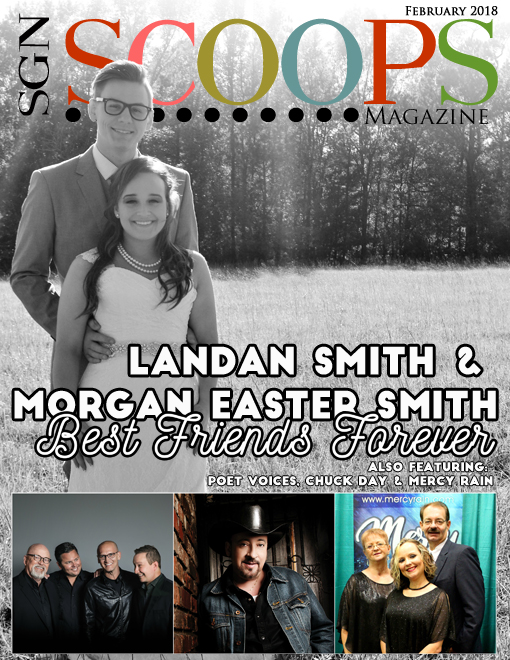 We are happy to present you with the February issue of SGNScoops Magazine. In honor of the month of love, we feature the story of Morgan Easter Smith and her husband, Landan. These best friends made their relationship "forever" last fall and tell us about that day.
Written by Editor-in-Chief Lorraine Walker, the feature tells about the beginning of the relationship through to the present. No better way to celebrate the month of LOVE than to read this sweet love story. We know you will enjoy it. Here is just a bit of the story: " 'I met Landan and his family about 10 years ago,' says the new Mrs. Easter Smith. 'When I first met him, I honestly couldn't wait to get away from him.' She laughs and adds, 'He asked so many questions and would not stop talking.' Landan confides, 'I never thought I'd marry her.'" Read more here.
Read all the great features like Poet Voices by Justin Gilmore, author Donna Sparks by Fayth Lore, Herb Henry Family by Derek Simonis, Amber Eppinette of 11th Hour by Erin Stevens, Mercy Rain by Rob Patz, and New Year wishes by Craig Harris.
Our Christian Country section features a look at Chuck Day's anniversary, artist Shelly Wilson and the Top 40 chart.
Don't miss the articles by David Staton, Dusty Wells, Selena Day, Roger Barkley, Jr., and Joan Walker. Randall Hamm reviews new projects, Vonda Easley shines the DJ Spotlight, and we also bring you event updates.
All this and more in this issue of SGNScoops Magazine. We also hope you will find the love and light of Jesus Christ within our pages. If you have any questions or comments please write to me at
lorraine@sgnscoops.com
.
You Can Download SGNScoops Magazine
HERE
Find SGNScoops Magazine On Facebook
HERE
Listen To The Best In Todays Gospel Music
HERE