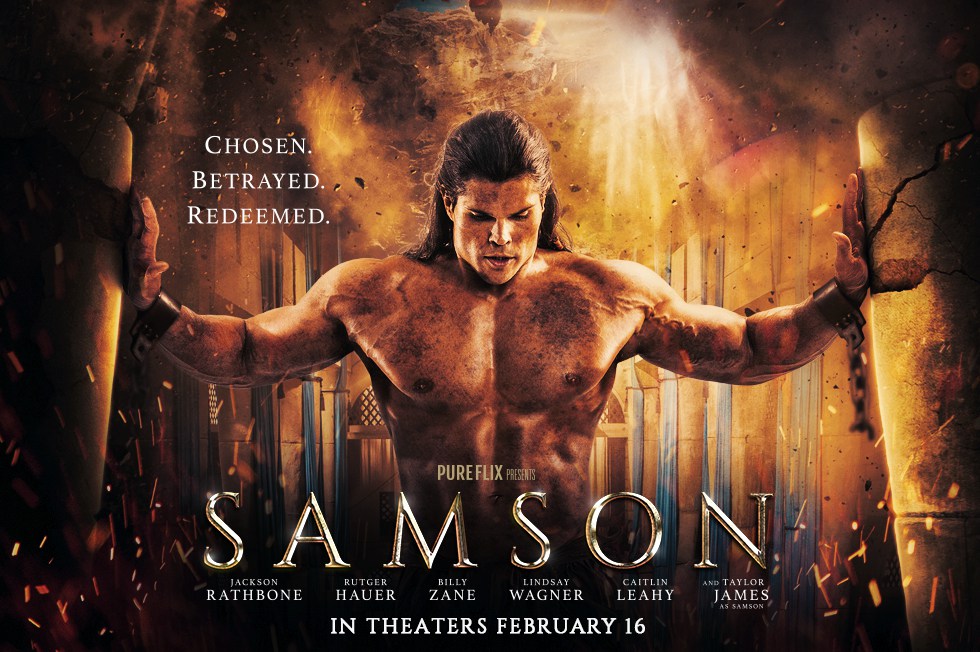 Action-Packed Biblical Epic in Theaters Feb. 16
Samson.Movie
SCOTTSDALE, Ariz. – Jan. 4, 2018 – Announcing the official trailer for the highly anticipated biblical epic SAMSON. From Pure Flix, the world's leading independent faith-and-family studio, SAMSON is the thrilling retelling of a champion's calling, betrayal and redemption.
"If you've ever faced adversity and wondered if God was big enough to see you through it, this is your film," says Pure Flix CEO Michael Scott.
The action-packed film stars Billy Zane, Golden Globe® winner Rutger Hauer, Jackson Rathbone, Lindsay Wagner, Caitlin Leahy, and Taylor James in the title role of Samson.
Premiering nationwide Feb. 16, SAMSON is based on the powerful, biblical epic of a champion chosen by God to deliver Israel. His supernatural strength and impulsive decisions quickly pit him against the oppressive Philistine empire. After being betrayed by a wicked prince and a beautiful temptress, Samson is captured and blinded by his enemies. Samson calls upon his God once more for supernatural strength and turns imprisonment and blindness into final victory.
Besides the nationwide movie release, DREAM Label Group and Pure Flix Entertainment will release Samson: Songs From and Inspired By the Motion Picture. Available Feb. 2, with pre-orders starting Jan. 19, these 10 emotionally powerful songs from a talented group of worship leaders and churches all spring from the biblical story of SAMSON.
SAMSON was shot on location in South Africa, directed by Bruce Macdonald and written by Zachary Warren Smith, Jason Baumgardner, Galen Gilbert and Timothy Ratajczak.
About Pure Flix
Founded in 2005, and led by partners Michael Scott, David A.R. White, Elizabeth Travis and Alysoun Wolfe, Pure Flix is the leading independent faith and family studio in the world. Its recent releases include: The Case for Christ, God's Not Dead 2, God's Not Dead, Do You Believe?, Woodlawn, A Question of Faith and Same Kind of Different as Me. With offices in Los Angeles and Scottsdale, Pure Flix has produced, acquired, marketed and distributed over 100 faith and family-friendly films. Aligned with their vision to influence the global culture for Christ through media, Pure Flix is the industry leader in creating high-quality inspirational feature film content. The studio's official website is Pureflixstudio.com. The company also features a leading streaming video on demand service, with thousands of movies, originals, TV shows and more emphasizing faith, family and fun. For more information, go to Pureflix.com.
More Gospel music news here.
Newest SGNScoops Magazine featuring your favorite artists here.
Listen to our Online Gospel music station here.