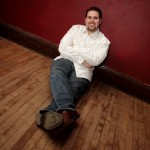 Freedom Hall at the National Quartet Convention. A Gaither Homecoming Event. Diamond Award Instrumentalist of the Year Finalist. Zack Swain has accomplished more in his 23 years than most pianists twice his age. This brilliant young master of the keys is quickly gaining fans across the country and around the world as his music touches hearts of all cultures and languages.
Swain has played on many stages, in numerous venues and with a variety of artists. With such experience, one would think he might not remember his first performance in front of an audience. However, Zack remembers it all too clearly and wishes his memory wasn't quite so vivid. "The first time I played in front of a real crowd away from my home church was at Southern Nazarene University," says Swain. "It was a small piano competition with about 300 people in attendance. I had worked up my own arrangement of the Battle Hymn of the Republic and when I took the stage, on a piano valued at almost $250,000, I was shaking from head to toe." "As three judges told me to take the stage, the lead judge looked at me and said, 'What will you be playing today?' I managed to look at him and said, 'The piano!' Needless to say he didn't think it was that funny. I can now look back and laugh at the situation but at the time, it wasn't really that funny."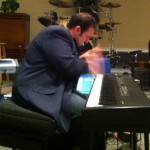 Zack Swain has accompanied many artists and has gained a favorable reputation throughout the Christian music industry. Swain shares, "One of the most memorable events I ever got to take part in it was when I was filling in for the Kingsmen. I grew up on the music of the Kingsmen and of course Anthony Burger was one of my heroes. So when I got the chance to go on the road with the Kingsmen for a few weeks it was a time I'll never forget as long as I live."
Still, even this experience did not cause Swain to focus on joining an established group. "I consider myself a soloist," says Swain. "Accompanying has never been my strongest quality. But some groups still put up with me from time to time! Right now when I am not on my current Fresh Anointing tour I'm traveling with a group based out of Fort Worth Texas by the name of Praise INC. I love taking the stage with them because they never fail to let the Holy Spirit work. They truly have a heart and desire for ministry."
Swain has also been involved with other fine musicians over the last year. Last fall, Zack Swain and fellow pianists Shannon Bunch and Jeff Duffield began a new concert series called "Blazing Pianos". The three first played together at the Branson Gospel Music Convention in July, 2010 and the show which was then booked in several other venues moves from gospel to pop, country to American classics. Duffield has enjoyed working with Swain over the last few months. He shares, "He's a good kid. Sorry, but I have kids who are older! And [he's] a wonderful musician who takes his work very seriously. He's great to work with and is truly a wonderful, talented young man! Love him!"
Swain does take his work and ministry very seriously. For an artist who could make a career in any genre, Swain says he plays Southern Gospel music "because that is the call God has placed upon my life." Swain continues, "God has given me the gift of music and I know I'm far from being the best at what I do, but I plan on using every ounce of talent He has given me for His glory."
His talent is certainly turning heads; enough that Swain is currently a part of the prestigious Mansion Entertainment, signed to their Manor House label. John Mathis Jr., head of Media Promotions and Publishing for the company, says: "Zack has risen in a few short years to become one of Southern Gospel's most talented musicians. His talent will continue to take him across this country and around the world for many years to come. It's been a pleasure to have become acquainted with his music and to have worked with him."
Having the right contacts and being blessed with talent doesn't always make life simple and easy for Swain. "I'm sure all artists have had that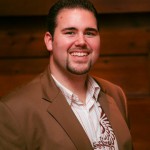 moment in their career when they question the direction of their calling, due to challenges that Satan throws our way. But God always provides a way and makes doors open in His time, not my time. I often jokingly say to people, 'Jesus forgot that I knew everything, and His plan still worked!' It is when we get to that point in our careers that we stop trying to do everything by ourselves and we let God work, that He gets us to where we need to be and starts working with our ministries in ways that we could never do on our own."
As Zack Swain encounters honors and challenges, he is learning to look to God for a way through. "The last couple of weeks have been quite the trial for my ministry," Swain shares. "My current mode of transportation is on its way out. We are not really sure what we are going to do yet. We don't know how we will get from venue to venue to proclaim the name of Jesus and share the gospel but I know that God will provide a way. I am just trying to be still and know He is God."
Just as he knows God will provide, Swain also knows that the Lord loves to give us good things and help us reach our goals. "Like so many other American artists, my dream is to take the stage as a pianist at Carnegie Hall in New York. I have many heroes that I dream of performing with someday. Inside the Southern Gospel world I'd love to play a duet with Gerald Wolfe someday. Outside the Southern world I'd dream of playing with Brad Paisley."
Swain's dream of playing with Brad Paisley may be in the future, but some of his dreams are coming true now. Performing on the NQC stage at Freedom Hall and being nominated for a Diamond Award are both huge honors for a pianist in Southern Gospel. The industry can be supportive and nurturing for new artists, helping them to achieve dreams like Swain has, and he's had many people offering advice and assistance.
Evie Hawkins of The Evie Hawkins Agency Nashville, is one of the industry professionals who have assisted this young talent. Hawkins says, "I first met Zack in Alabama at a Gospel music convention. I was impressed, and I started doing public relations for him. I love to see the younger generation involved in Southern Gospel music. He is full of energy and enthusiasm. My prayer for Zack is that he reaches his goals, gives his very best and is richly blessed on his journey!"
As he's made his way along this journey, Swain has also had the honor of receiving advice from some of the legends of Southern Gospel. "Anthony Burger was always a constant encouragement to me," says Swain. "He taught me more than I could ever imagine learning. Jeff Stice has always encouraged me and made me feel like I knew what I was doing even when I didn't have a clue! One thing Anthony once told me was that when you are accompanying a group, make sure to stay out of their way. Just fill the gaps. Truer words have never been spoken!"
Listening to the voice of experience, following the advice of others and above all, allowing God to work in his life, has brought Zack Swain to his current place of tickling the ivories for the Lord. Swain keeps working hard at his craft, by honing his talent and performing wherever he's asked to go. As for the immediate future, Swain says, "I have no clue where my music will take me in five years time but as long as God is the center of it, it can only go up. I'll be excited to see where He takes it!" All photos courtesy of Zack Swain For more information: http://www.zackswain.com/