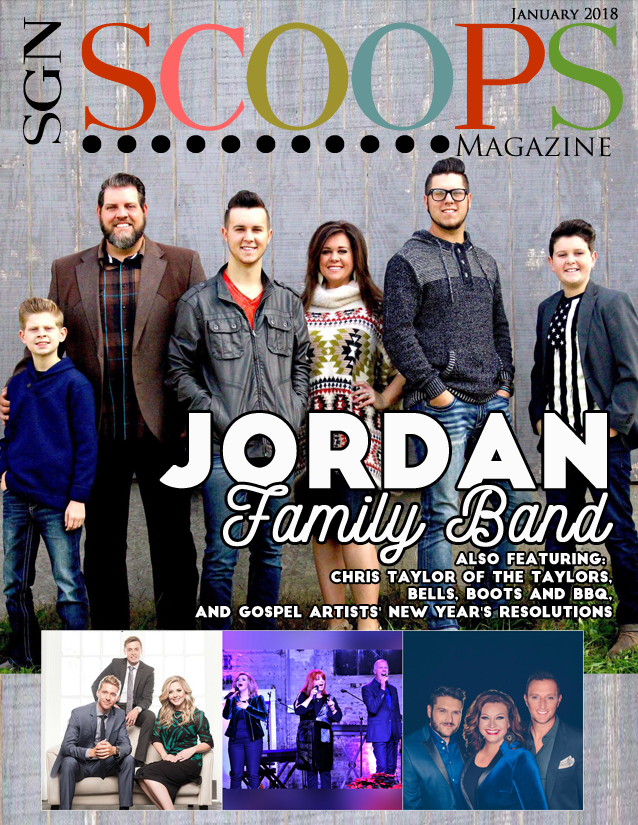 Happy New Year from all of us at SGNScoops Magazine. We are pleased to join you in anticipation of a great year in Gospel Music.
As we look ahead and wonder about the artists and songs that God will use to make a mark on our lives in 2018, one group stands out in particular.  It is our cover feature, the Jordan Family Band. One listen to their live Facebook presentation every
Wednesday
night and you will see the joy, enthusiasm, compassion and faith that radiates from this lovely family. Sarah Murray introduces us to the members of the JFB and helps us discover why they are skyrockets in Southern Gospel Music.
This month we also treat you to a large sampling from the camera of Craig Harris. Charlie Griffin talks about the major concerts coming up across the States this winter. Erin Stevens interviews Chris Taylor, a young gentleman that had a close brush with death. Randall Hamm reviews new music and Vonda Easley talks to DJ Ron Foster.
All this plus our radio charts, an update on the Southern Gospel Weekend coming up soon and a brief look at Creekside. Don't miss special thoughts by Selena Day, Rob Patz and myself as we consider the impact of a new year and a new season.
Are you ready for 2018? Let us help you get in the groove. Read the January issue of SGNScoops Magazine and let the love of God expressed in its pages  bring you encouragement and inspiration. Don't forget to share it with a friend.
Download The PDFÂ  SGNScoops Magazine
HERE
Find SGNScoops Magazine On Facebook
HERE
Find Todays Gospel Music Online
HERE
Read The SGNScoops January 2018 Magazine
HERE.