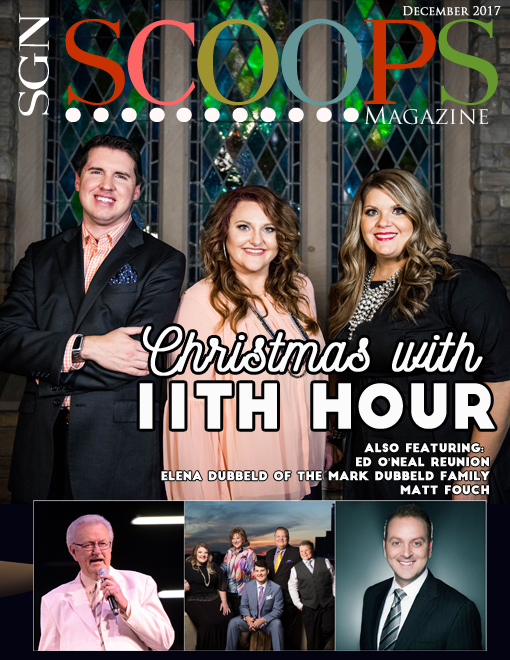 Merry Christmas from SGNScoops Magazine. We are thrilled to present our gift to you, the December 2017 issue of SGNScoops Magazine featuring 11th Hour. If you have met any of the members of this popular trio, you know they are celebrating the season for all the right reasons. We hope you enjoy their visit with Sarah Murray.
Murray writes, "11th Hour is a well-known group that can be seen all across the United States bringing a unique sound and worship service to each destination it stops. With powerful vocals, vivacious delivery, edgy sound, and passionate hearts set on winning souls for Christ, Amber Eppinette, Grant Gibson, and Jaquita Lindsey are just what the next generation of Southern gospel music needs…"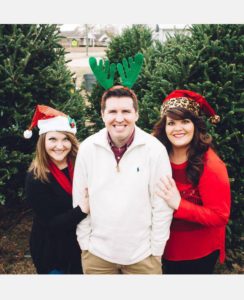 Other artists featured include Elena Dubbeld of the Mark Dubbeld Family, Matt Fouch, Ed O'Neal, Cody McVey, and Charlie Griffin takes us to the world of promoters and Bill Bailey, as well as a look into the past with a Gift of Music. Erin Stevens travels to Africa and Jennifer Campbell journeys down memory lane to New York for Christmas. Don't miss Craig Harris' great pictures of the Gaither Vocal Band and friends.
Our special articles by Nathan Kistler, Roger Barkley, Jr., and Selena Day will put you in the festive spirit and Randall Hamm along with Kaleb Powell introduce new music for the soundtrack of Christmas 2017. All this along with radio charts, event updates, the DJ Spotlight and seasonal messages from the Publisher and Editor.
Merry Christmas from SGNScoops Magazine. Remember to keep Jesus the center of your holiday, reflecting on the cradle He lay in, the cross He would bear, and the crown He now wears. Let Him be born in your life today.
Download SGNScoops Magazine In A PDF File HERE
Find SGNScoops Magazine On Facebook HERE
Listen To Todays Gospel Music HERE