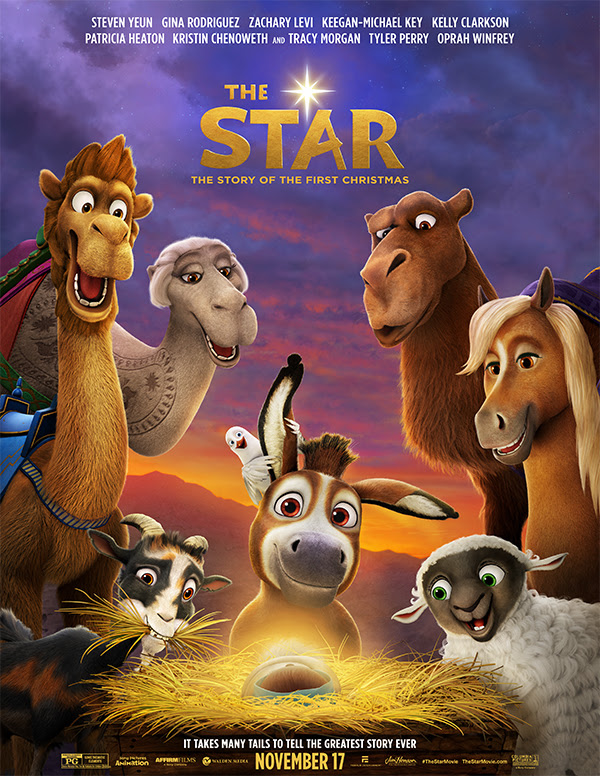 Motion Picture and Soundtrack Features "Can You See," Produced and Co-Written by Aaron Pearce, Performed by Fifth Harmony
(November 17, 2017 – Nashville, TN) – In theaters today, it's 
THE STAR, 
released by Sony Pictures Animation. In the movie, 
a small but brave donkey named Bo yearns for a life beyond his daily grind at the village mill. One day he finds the courage to break free, and finally goes on the adventure of his dreams. On his journey, he teams up with Ruth, a loveable sheep who has lost her flock, and Dave, a dove with lofty aspirations. Along with three wisecracking camels and some eccentric stable animals, Bo and his new friends follow the Star and become unlikely heroes in the greatest story ever told – the first Christmas. CLICK HERE for local listings and more information.
Featuring a star-studded cast including Oprah, Tyler Perry, Kelly Clarkson, Delilah, Tracy Morgan and more, the soundtrack to the movie is bolstered by even more star power. Mariah Carey, Pentatonix, Kelsea Ballerini, Jake Owen and more lend their voices to the film.
A standout track, "Can You See," performed by Fifth Harmony was written and produced by hit-maker Aaron Pearce, and is already making waves at radio across the world. Pearce – known for his work with Justin Bieber, Celine Dion, Michael Jackson, Jennifer Lopez, Ricky Martin, Stevie Wonder, and so many more – walked the white carpet at the film's WORLD PREMIERE in Los Angeles, CA this past Sunday, November 12, 2017, with the ladies of Fifth Harmony: Lauren, Normani, Dinah and Ally. Speaking with press from all over the world, Pearce relayed his inspiration for the track and how he came to be involved: "I was very excited when my friend, Joey Arbagey, from Epic records and Spring Aspers from Sony Pictures asked me to craft a song for The Star," Pearce stated. "The story of Christmas and the meaning behind it are very dear to my heart, so I wanted to write and produce a song that the whole world could sing and enjoy for years to come. And having Fifth Harmony record it was a true joy, and such a great experience to work with them again. They are all so talented and did such an amazing job on the song. I can't think of anyone better to perform it."
Aaron Pearce with Fifth Harmony at the World Premiere of The Star in Los Angeles, CA on Sunday, November 12, 2017.
Courtesy Aaron Pearce / Conduit Media
Aaron Pearce in the studio.  
Courtesy Aaron Pearce / Conduit Media
Check out a behind-the-scenes look at the recording of the song, featuring a few cameos by Pearce by 
CLICKING HERE
.
Aaron Pearce in the studio with Fifth Harmony. 
Courtesy Aaron Pearce / Conduit Media
The Star (Original Motion Picture Soundtrack)Â 
is available now -Â 
CLICK HERE
.
» ABOUT AARON PEARCE »
Aaron Pearce is a Grammy Award winning, multiplatinum producer/songwriter. He has written and produced for artists such as Michael Jackson, Stevie Wonder, Justin Bieber, Jill Scott, Jennifer Lopez, Fifth Harmony, Tori Kelly, Brian McKnight, Ricky Martin, Pitbull, Celine Dion, Lauren Alaina, Scotty McCreery, Cassadee Pope, Jonny Lang, New Kids On the Block, Wyclef Jean, Mary J. Blige, John Legend, Boyz II Men, just to name a few, producing records that have sold in excess of over 20 million albums worldwide throughout his career thus far. He has had 9 Billboard 200 #1 Albums and many #1 albums and songs in multiple Billboard genre categories worldwide, as well as many top songs at radio in multiple chart formats from Pop to R&B to Country to Gospel to Dance and beyond. Aaron has also won and been nominated for multiple Grammy, Juno, Dove, NAACP, Soultrain, Stellar, BET, Kids Choice, and MTV Video awards over his career.
For the latest issue of SGNScoops Magazine click 
here
.
For the latest Gospel music news click 
here
.
For online Gospel music radio click 
here
.