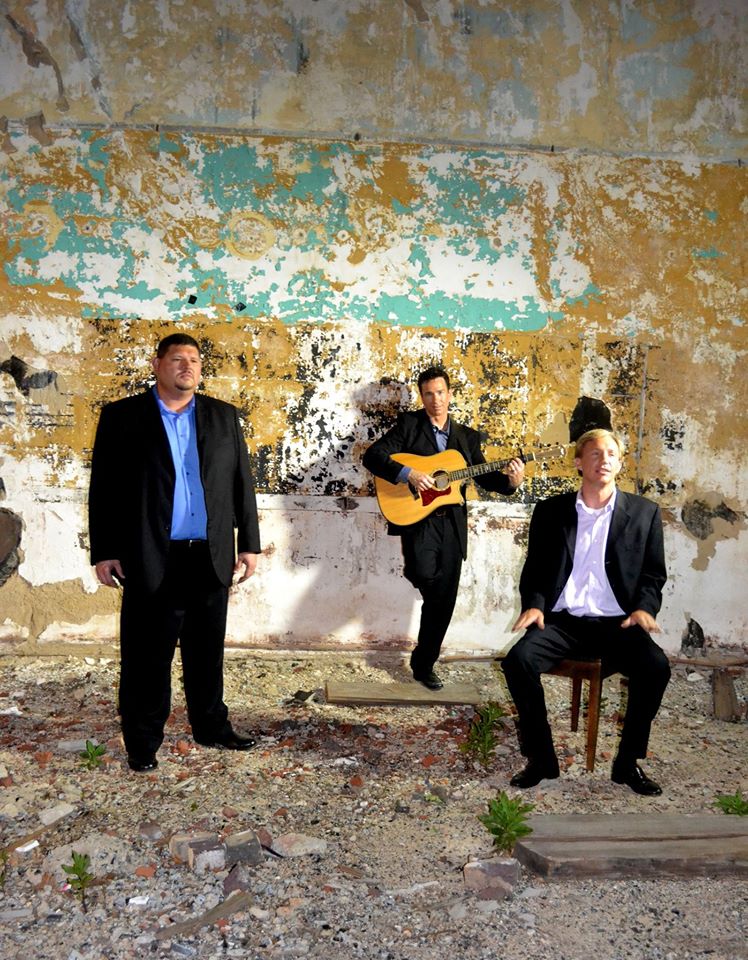 By Paige Givens
If you haven't been fortunate enough to hear Jay Parrack, Anthony "Bubba" Hallman, and Darren Morton, the men who encompass the group known as Jay Parrack and Vocal Event, then you are definitely in for a wonderful experience. The group has a special harmonious blend that is not always easy for listeners to find these days. Their lyrics, melodies, and harmonies have a special blend of the old Southern Gospel sound with a Contemporary lilt that will take you straight into the presence of the Almighty One that they are singing to.
All three singers grew up with musical backgrounds and have come together to form a wonderful trio of personalities and talents. Jay, tenor, was born in Smackover, Arkansas and was raised in Corinth, Mississippi. He says, "I grew up hearing my dad (Johnny Parrack) sing and began attending concerts at a very early age when he was with the Kingsmen Quartet. I was probably nine when I sang my first solo in church." Jay went on to spend a decade singing tenor with the Gold City Quartet. He was the noted featured singer of songs such as "God's Building a Church" and "Are You Ready?"
Lead singer Bubba Hallman grew up in Alabama. "I grew up and still reside in Cordova. It's a small town of about 3,000 people," says Bubba. "Both sides of my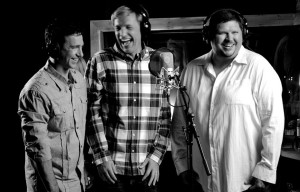 family are musical so I've grown up around music and singing my entire life. I was part of a quartet when I was about eight years old. It was my sister, my two cousins and myself, and the only song we sang was "He's Still Working on Me," by the Hemphills. It's so awesome that my children are now singing that same song at church. My mom, dad and aunt traveled and sang a large part of my childhood so I fell in love with Southern Gospel music. My mom listened to The Southern Gospel Caravan EVERY night out of Birmingham, Alabama, which definitely added to my love of Southern Gospel music."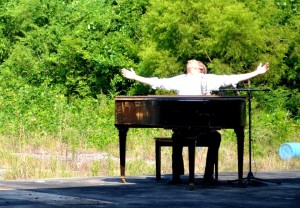 Baritone Darren Morton also grew up in Alabama. "I grew up in Corner, Alabama and started singing in the children's choir at church when I was three." Darren recalls, "The first performance I remember was in the musical Down By The Creek Bank when I was three years old at church. I have always had a love for music, whether it is performing, writing and recording it. The creative process is so fulfilling to me. Taking an idea for a song then growing that song from infancy to maturity into completed production is a blast!"
The group began its journey with a night of shared singing, when Darren and Bubba asked Jay to sing a few songs with them. Jay agreed to sing with them for one night, and the sound that resulted was very special. After hearing what a great blend the three had, they all became eager to approach a group singing ministry on a more constant and committed level.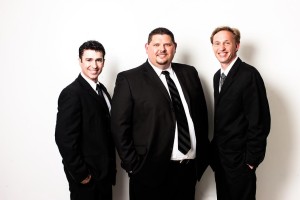 Each member of Jay Parrack and Vocal Event has special skills that they bring to the group in order to make things flow smoothly. Bubba handles sales, while Jay handles the MC duties and produces the CD projects. Darren handles the live audio and video details. In the studio, he records, edits, mixes and masters the CD projects in his recording studio, Gat3 Midsouth (www.gat3midsouth.com).
The group has a sound that is uniquely its own. Dara Murphy, their manager and booking agent, describes it as, "Southern Gospel with a strong harmonic blend. Jay Parrack mostly arranges the songs, with many old hymns and Southern Gospel favorites turned into today's Gospel style. We have incorporated some more Contemporary Southern Gospel sounds into some songs, but always return to the true old-time southern gospel heritage."
The strong harmonic blend is definitely noticed by listeners. "We are blessed to have a natural trio blend between us, but we also put in the hours of practice it takes to improve and perfect a great blend. We enjoy being together in the studio and on stage and look forward to these sessions. We have a great camaraderie between us and we have a clear understanding of how fortunate we are to have this," says Jay.
With 2015 now here, the guys are looking forward to new experiences and reminiscing about the old ones. One particularly interesting experience from 2014 stands out. Darren recalls, "While traveling through Michigan in 2014, we thought we'd take a chance at 'getting into' the University of Michigan's 'The Big House' football stadium. When we drove up, it was completely empty. We saw a single man on a cart riding around and Jay flagged him down. Somehow, before we knew it, Jay was on the cart waving for us to jump on. We hitched a ride into the empty stadium and managed to sing an a cappella version of 'Who Am I,' smack in the middle of that empty stadium. We had a blast as we imagined singing to a packed crowd. The acoustics were out of this world. Somehow we managed to run a few bleachers and make it down to the center of the field. Jay can talk his way through most anything. We're glad he's 'along for the ride'!"
Just like the unique blend of old and new sounds, the group is also blending their old experiences with their new expectations. When looking forward to 2015, the group had one main goal: to sing as much as possible. They are always looking for more and more opportunities. Their prayer is to grow their ministry and to keep their priorities in order while doing so.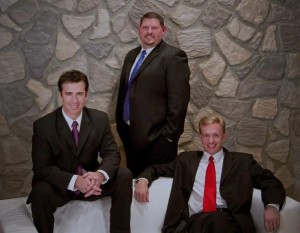 Jay Parrack and Vocal Event have a current CD project, Sometimes He Whispers. Dara Murphy says, "This project definitely has its share of true Southern Gospel arrangements but also has a few surprises such as the title track 'Sometimes He Whispers.' This song is simply contemporary gospel with incredible lyrics that speak loudly to the hearts of the people. We, as a group, went through many trials throughout the recording of this tune and found that the lyrics in this song are true to their simple meaning. We ended up producing a concept video for this song and had a great time in doing so. One song on this project, 'Where Eternity Begins,' was written by Darren and Bubba and was recorded with a background choir. 'Since You Gave Me A Song,' and 'I Have Decided,' are great, jived-up Southern Gospel tunes that we love to sing and perform live on stage, and are always crowd pleasers!"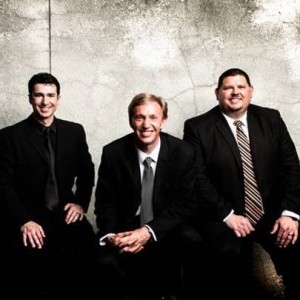 Whether they are in the studio or live on stage, Jay Parrack and Vocal Event are truly ministering with their music. They look for this New Year to be packed full of more music, more opportunities, and most of all, more of Jesus. "We simply want to worship our Lord and bring His gospel to the people. We want to have fun while doing it…but our ultimate goal is to truly share His gospel and see lives changed."
To learn more about Jay Parrack and Vocal Event, or for booking or ordering products, visit them on Facebook or call Dara Murphy at 256-591-2446.
Photos courtesy of Kim Lancaster-Brantley and Dara Murphy.
By Paige Givens
First published by SGN Scoops digital magazine in January 2015. For current issues visit the website HERE.