If I were to say the name Roy Tremble, just about everyone associated with Southern Gospel Music would think of the Cathedral Quartet. Roy joined the Cathedral Quartet in 1971 and left in 1979 to form the Brothers Trio, along with George Amon Webster and Lorne Matthews.
Back in 1973, Bobby Clark returned to the Cathedrals briefly and persuaded the group to move then-baritone singer Roy Tremble to the tenor slot. By 1974, the Cathedrals consisted of George Younce and Glen Payne anchoring the quartet at bass and lead, baritone George Amon Webster, tenor Roy Tremble and piano player Haskel Cooley.
Long before his Cathedral days, Roy had wanted to sing gospel music ever since he heard Rozie Rozell sing, "Oh What A Savior." He attended the Stamps School of Gospel Music in 1965, and won a talent contest there.
Tremble has sung with many other groups beside the prestigious Cathedrals. He has sung with such groups as the Weatherfords, the Lancers, the Jubilee Quartet, the Blackwood Quartet and as mentioned, the Brothers Trio. However, he achieved his fame when he became a member of the Cathedral Quartet.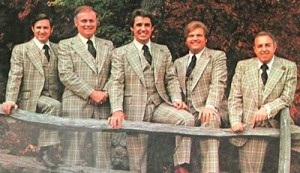 L-R: Haskell Cooley, Glen Payne, George Amon Webster,
Roy Tremble, George Younce
George Younce spoke positively of Tremble's move from baritone to tenor on the Cathedral Reunion DVD. Well, the change must have worked! During this time the Cathedrals won Four Dove awards and had three Grammy nominations. Many speak of this as one of the greatest Cathedral line-ups.
For the last decade or so, Roy Tremble has pursued a solo ministry. In 1995, he rejoined his former group members for the Cathedrals Reunion project performing on the songs "Yesterday", "He Loves Me", and "I'm Gonna Shout All Over Heaven."
If there ever were dreams, that were lofty and noble, they were my dreams at the start—and the hopes for life's best, were the hopes that I harbored, down deep in my heart—but my dreams turned to ashes, my castles all crumbled, my fortunes turned to loss, so I wrapped it up, in the rags of my life, and laid it at the cross—-"Something Beautiful, Something Good"— (1)
Roy vividly remembers when "Something Beautiful" was pitched to the Cathedrals by Bill Gaither. He never realized that it would someday describe his life.
Shortly after leaving the Cathedrals in 1979, Roy began to see his "dreams turn into ashes." He experienced the hardship of losing everything close to him and it affected him both professionally and personally. He experienced anger, bitterness and depression. He knows what it feels like to fail, and to make wrong choices that previously he would have never considered.
But, thank God, Roy also experienced the healing power of God's love and now spends his life singing and testifying about the amazing power of God, to those who have gone through similar circumstances.
I had the privilege of having Roy up for a concert back in the late '90's. I was like a little kid in a candy store when I met him. But to my great amazement, he turned out to be human! To this day, I still run across some person who remembers being at that concert, and who speaks about how much they enjoyed that evening and what a powerful singer Tremble was. I remember having Roy over to my house later, and we sat talking, listening to The Brothers Trio on cassette.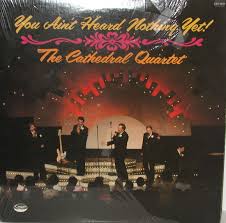 Some of the different recordings Roy has been involved with are:
1973: Seniors in Session (Cathedrals)
1973: Town and Country (Cathedrals)
1973: The Last Sunday (Cathedrals)
1974: Our Statue of Liberty (Cathedrals)
1974: Live in Concert (Cathedrals)
1975: Plain Ole Gospel (Cathedrals)
1975: For Keeps (Cathedrals)
1976: Sings Albert E. Brumley Classics (Cathedrals)
1976: Easy on the Ears, Heavy on the Heart (Cathedrals)
1977: One at a Time (Cathedrals)
1978: Then and Now (Cathedrals)
1978: Oh, What a Love (Cathedrals)
1978: Sunshine and Roses (Cathedrals)
1979: You Ain't Heard Nothing Yet (Cathedrals)
1979: Live in Concert (Cathedrals)
1979: Keep on Singing (Cathedrals)
1980: Choices (Brothers)
There are a lot of tenors in the Southern Gospel world. There are tenors who seem to scream to reach that high note and there are tenors who can sing, it seems, with little effort.
In my opinion, Roy Tremble is one of those tenors. Roy has a softness that almost fools you when you hear him. Yet, he can reach those high notes with ease! One of my favorite songs that Roy sings was written by none other than George Younce: "Yesterday." Roy takes the lead on the second verse, and as they say, he owns it. You can find that song on You tube, just type in: Roy Tremble Intro/Yesterday-The Cathedrals.
For the last 16 years now, Roy continues to travel, singing and sharing the good news of the Lord Jesus. Roy and His wife of 12 years Caroline, live in Anderson Indiana.
If you wish to contact Roy, or to book him contact him at:
P.O Box 65
Chesterfield, IN 46017
765-378-5626
Email—rtministries@comcast.net
(1) Something Beautiful, words and music by Bill and Gloria Gaither, copyright 1971, Gaither Copyright Management.
By Philip Foster
First published October 2012 on the SGM Radio website