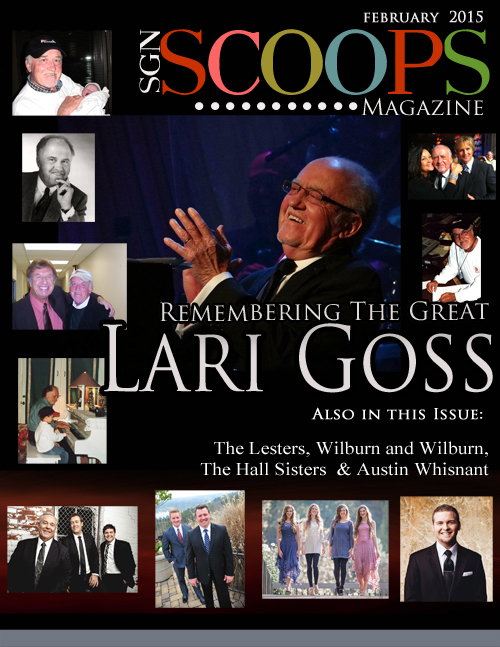 It's February and time to grab your coffee, snuggle up by the fire and read all the great stories in this edition of SGNScoops Magazine. We know we have enough captivating features to keep you reading until you are warm and toasty!
Our cover feature celebrates the life of Lari Goss. If you didn't know the extent of Goss' accomplishments, I know that this feature by Jennifer Campbell will enlighten you. If you knew and loved this gentleman, we hope that we have done his life justice.
Some of the other artists and Gospel music notables highlighted this month include Matt Felts and the Lesters, Austin Whisnant, the Revelation Trio, the Hall Sisters, Higher Hope and Les Butler. Our feature writers have done a wonderful job! I hope you will find these great folks on Facebook and show them some love (but not in a creepy way!)…
I had a good interview with Wilburn and Wilburn and talked with them about their music and their family lives. We talked about love and relationships, in honor of Valentine's Day. You will also find interesting features from the Brooklyn Tabernacle Church and from Lynn Mills our Event Planner. Dean Adkins highlights Church Quartets. Visiting with us in our Pastors Corner is Ed Smith, with a great article on the purpose of music in the life of a Christian.
The Southern Gospel DJ's play such a large part in our music, that we are happy to salute a new one every month. Vonda Easley shines the spotlight on ReJeana Leeth, who has a great story that you need to read.
Thanks to all of you who read SGN Scoops and pass it along to others. The best way to let us know you like us is to share this issue with five of your social media friends. You can read or download the February SGN Scoops
HERE
Find SGNScoops Magazine On Facebook
Here
Find SGNScoops Magazine On Twitter
Here