If you like Bluegrass, you have to hear The Gaskills. Four brothers from Oklahoma pick their instruments like seasoned professionals twice their age. Mom and Dad Gaskill look after travel and booking arrangements. Little sister Andrea is waiting in the wings for her chance to sing backup. But James, Peter, Timothy and Joshua currently front the group and will pick and play their way into your heart, even if you aren't a Bluegrass lover.
The Gaskills originally traveled with all eight children, back in 2004, with parents Bob and Brenda looking after their schooling offstage and their real-life experiences onstage. Then Christy, John and Shelley left the road. Today's Gaskill sound is tight and sweet with James, 22, playing the mandolin and singing lead and harmony; Peter, 20, playing banjo and guitar and singing lead/baritone; Timothy, 17, playing guitar and dobro and singing lead; and Joshua, 15, playing 'double' bass and singing tenor. Their most recent recording is Some Sweet Day, and as they play across the country they find that many of their songs touch their listeners the way only Gospel Bluegrass can pluck heartstrings. 
These talented gentlemen not only perform all their own instrumentation and arrangements on their recordings, they also write many of the songs they perform. On Some Sweet Day, Timothy and Peter Gaskill wrote the "Battle of Amalek", "Live Forever More" and "Some Sweet Day." "Grassride" is an instrumental written by Peter. Three of these songs are sampled and available for listening on their website, listed below.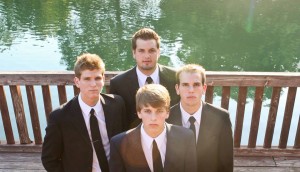 James Gaskill says his favorite song to perform is "Gone Away." "It's a song we played when we were very young and won the International Bluegrass Festival Competition in Guthrie, Oklahoma," says James. "We pulled this song out again at Mom's request. This song has a great groove and speaks to the audience of their position in Christ. The lyrics are: "Gone away, gone away, all the troubles in my soul are gone away. I was lost out in the night, but Praise God I saw the light, all the troubles in my soul are gone away."1 This makes everyone get the right perspective on their troubles and gets them rejoicing in who they are in Christ."
Peter enjoys performing the old Gospel standard, "I Know Who Holds Tomorrow." "This is a really touching song," Peter shares. "I can see it really reaches the people and speaks to their hearts. Our arrangement and instrumentation of the song is very unique, making it a blessing to all."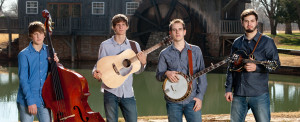 "Daybreak in Dixie" is Timothy's favorite, as he says the song "…is an exciting fast paced instrumental which really gets the crowd smiling and laughing. There are so many burdensome things in our world today and the Bible says that 'laughter is good medicine.' So this song seems to be good medicine to those who hear it."
Joshua Gaskill's favorite live song is: "Some Sweet Day." "This song was co written by my brothers, Peter and Timothy," says Joshua. "The lyrics of the song really make a person think about where they are going to be in eternity, while giving a clear gospel presentation. 'Some Sweet Day' brings tears to many listeners' eyes, to think that the Lord, by His mercy has written their names in the Book of Life."
The boys also mention that their Dad has written thirty songs that they play and sing with him onstage from time to time. "Life's Highway" is one song that the Lord gave Bob Gaskill that is a favorite of audiences, along with many others.
The Gaskills have had many highlights since the beginning of their travels, but over the past year there are a few that stand out. They enjoyed recording their first DVD with Jim Hefner, filming at the Lighthouse Ministries on Sand Mountain, Alabama. Other travels included stops in Illinois and Michigan as well as a west coast tour that took them to Oklahoma, Texas, Arizona and California.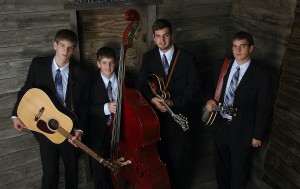 This large family has criss-crossed the country for many years while the eight children have grown up. The three oldest children are married and have one girl and four boys. The Gaskill kids were all home-schooled, studying all year-round and taking their books with them. "Every trip is a learning experience not to mention a school of diesel mechanics and R.V. repairs. We maintain our own rigs we travel in. Our first rig was a Freightliner Semi and fifth wheel, now we travel in a Country Coach. When we were preparing for our first trip in the Country Coach mom would tell everyone who called that we could not come to the phone because we were under the bed! That is no joke, that's where the engine is!"
Between trips, the Gaskills each have their own favorite ways to spend their free time. "In nice weather I like to ride my Harley Davidson Sportster," says James. "It is great to see God's creation on a motorcycle. When weather keeps one indoors I enjoy building furniture. Some projects I have completed are a dresser and coffee table-chest."
Peter says, "I enjoy playing basketball with my brothers and sister-in-law Katie. It is a great way to run off excess energy that one stores up while riding on a bus. Also my brother John and sisters Christie and Shelley's houses are always great gatherings places in the evenings and on the weekends for food and fellowship." Joshua adds, "I guess I would have to dido what Peter said. It is just great to be home and enjoy all my family."
"I hate to be redundant but playing basketball with my brothers is a great fun," Timothy shares. "When we go to the court, there are usually enough other people there to make up an opposing team. Also I enjoy riding my dirt bike and taking my nephews Billy and Hudson for rides."
The Christmas holidays are in full swing, and this time of year finds the Gaskills all together with many more family members. "I guess we are all in agreement that the best thing about Thanksgiving and Christmas is that the family is all together at Mom and Dad's house. This makes around 26 of us in all, with grandparents, aunts, uncles and cousins. We do not put much emphasis on gift giving but on the birth of our Lord and giving thanks for all He has blessed us with. It is not unusual to see games such as Rummikub or cards break out, a 1000 piece puzzle being put together on the living room table, and a hilarious rip roaring game of Guesstures being played."
The Gaskills are deeply rooted in the love of faith and family, living out these qualities in their lives both onstage and off. You can hear it in the honesty of their music and in the words of their testimony. Their love for the Lord and the family of God is most prevalent in their lives, as is obvious by their choices of favorite Scripture verses.
James says, "1 Peter chapter one is one of my favorite portions of Scripture, for it speaks of our heavenly inheritance and what we are looking forward to as a child of God."
Peter shares, "This is a tough question because there are so many wonderful verses of scripture but I think I would say Ephesians 1: 17,18. This prayer of the apostle Paul's speaks of a deep intimate relationship with God."
"Ephesians 6 verses 10,11,12 and13," Timothy says, is his favorite Bible passage. "These verses show us that our fight is not against people but principalities, powers, and the rulers of darkness of this world. We can have the victory in our lives by putting on the whole armor of God and standing in the power of His might."
Joshua concludes with his favorite verse. "Hebrews 11:6. The only way to please God is by faith and He promises to reward all who diligently seek Him."
The Gaskills are using their talents and honing their craft to bring their message of faith and victory through a personal relationship with God, as well as the promise of Heaven once we leave this earth. Their earnest desire to share this message is taking these young people to many venues across the nation, earning them many new fans of their Bluegrass music and their ability to communicate their faith. The Gaskills will certainly play their way into the hearts of listeners old and new.
To learn more and hear the Gaskills, click onto http://www.gaskillfamilybluegrass.com/
The Gaskills on Facebook: https://www.facebook.com/pages/The-Gaskills/240770839335409
Footnotes:
1. Collom, Steve. "Gone Away." Doyle Lawson and Quicksilver, Heavenly Treasures, Sugar Hill Records, 1981.
By Lorraine Walker