Adam Crabb has made the journey from family group to his own group to soloist and now he brings his experience, skill and drive to his debut solo release, Surrender
. As one of the siblings of Gospel music's powerhouse of talent, this Crabb kid has proven over the years that he is blessed with an equal share of musicianship and desire to share his faith with anyone who will listen.
Crabb says he is very excited about his new project. "It's my first solo record and I feel it's the best thing I've ever done. I think there's a song that fits everyone on this album. Can't wait to see how it does!" The tracks for the project were recorded at the studio owned by Jay DeMarcus, one-third of Country supergroup Rascall Flats and producer for such artists as Michael English and Adam's brother Jason Crabb. Surrender vocals were recorded at Daywind and Terry Thompson's studio.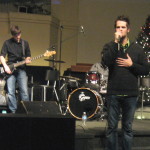 "We had a lot of great players [on the project]," says Crabb.  "Jay DeMarcus played bass, Jeremy McPherson on guitars, Scott Williamson on drums, and on keyboards and organ Tim Acres and Blaine Johnson, and I got to play harmonica on this record."

Adam Crabb says he is excited about the whole recording. "One of my favorite songs is, "Surrender." I love the message in the song!" says Crabb. "I also love the song "Why I Do What I Do," as it talks about my family. I love my family. Also, a song that talks about, 'Sometimes God Allows.' It's hard to pick a favorite, because I don't really have a favorite; I love them all." Although he didn't write any of the cuts, Crabb says he was part of the inspiration behind "Why I Do What I Do."
The first single from Surrender will be "Higher Ground." "This song is a fun song and reminds me of that old Crabb Family sound, that's why I love this song. It's a traditional song that everyone knows, so I feel it will be a good 'listener'." The project will be released to Southern Gospel radio as well as Adult Contemporary Christian radio.
Dani Lintzenich of Daywind Records says, "One of the great things about Adam is how genuine and down-to-earth he is, as well as his heart for worship.  His new CD is the perfect combination of southern, country and worship, and truly defines him as a solo artist.  When fans hear it, they'll instantly recognize his powerful vocals, but also get to see a whole other side of Adam. They won't be disappointed!"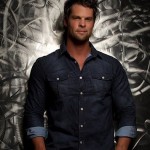 Simply recording and releasing new music is enjoyable for any musician, but Crabb says he expects more from his music. "With this album I want people to be reminded of what Christ did for them," Crabb shares. "And also for the unbelievers, to feel the love of Christ so that they may receive Him. No matter what we face in life, God is always with us. Life is hard, life is tough, but through Jesus Christ all things are possible."
Crabb has faced difficult life moments so he has experienced the faith he shares onstage. Even the life of a Christian artist can be challenging. "Being solo has been very tough at times. When I'm sick there's no one to lean on. But when I'm weak He is strong! Also all my life I've played with a band. Having the band allowed me to flow. But all in all God is faithful and has helped me." He says the good times outweigh the bad. "I have so many joys of traveling. Most importantly making new friends, my road family, I love them very much. And of course it never gets old when one soul is saved! That truly is the greatest joy ever."
Anyone who has ever heard Adam Crabb perform on stage knows that his talent is truly something special. The Bible says that to whom much is given, much is expected, and Crabb certainly pours out his gifts to his audience. He appears to be fulfilling the call for which he was created, but this call is also his dream. "The book of Proverbs says, 'In all thy ways acknowledge Him and He shall direct thy path.' When you follow the path of Christ, He makes all your dreams come true!"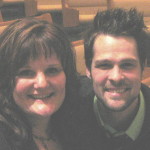 Crabb says that the Lord is teaching him to show His love to others. "The greatest gift God gave us is love! When someone comes to my concert I want them to experience the love of Jesus Christ more than anything!" Through the words and music of Surrender, the ministry of Adam Crabb will continue to shower his audience with the love of Jesus.
For more information on Adam Crabb: http://www.adamcrabb.com/
Adam Crabb on Twitter: @adamcrabbmusic
Adam Crabb on Facebook: https://www.facebook.com/adam.crabbmusic
Daywind Records: http://www.daywindrecords.com/
First Published by SGN Scoops in June 2013. http://www.sgnscoops.com/
Questions? Comments? Email Lorraine at sgmradio.lorrainewalker@gmail.com