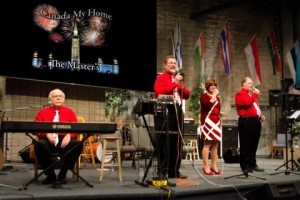 To use our musical talents and unwavering commitment of obedience to God's word to show people of all ages how they can experience the endless love, joy and confidence that comes from a personal relationship.
The above statement is from Days Of Grace Mission statement.  After sitting down with Keith Deyo and chatting with him for a short time, it was very obvious to me that his love for the Lord and his passion for spreading the Gospel through music was quite genuine.
When I write these articles, I try to adhere to a couple of principles.  One is to pay tribute to long time Gospel artists, and the other is to introduce Canadian artists to the reader.  Keeping that thought in mind is the reason I decided to write an article on the Gospel group Days Of Grace. Days Of Grace is a relatively new group formed when the long-time, award-winning group The Masters disbanded.
The Masters, formed in 1968 by Cam Shillington and the Deyo brothers, were a popular group from Ontario who toured throughout Canada and the United States. They appeared on Gospel Singing Time, a syndicated Canadian television program, as well as Canada's Opry North. The Masters recorded their albums in Nashville, Tennessee and also appeared on The Grand Ole Opry. The Canadian Gospel Music Association presented them with the Favorite Mixed Group award several times. In recent years, the Masters had greatly reduced their traveling schedule.
I asked Keith Deyo how Days Of Grace was formed. "In 2009 we tried to resurrect the long time group, The Masters. All three singers, along with Cam Shillington, sang and traveled as the Masters for another three years." Deyo continued, "Then Cam had to step down because of health. In March of 2013, Ken Deyo, Dona Locklin and myself (Keith Deyo), formed "Days Of Grace."
Dona Locklin is an accomplished pianist and plays several instruments.  She brings her talent as a musician as well as her wonderful voice to the trio.  Dona was part of the revived Masters and joined the newly formed Days Of Grace after being approached by the group. Dona is a nurse by profession and she is married to her husband Gerry and they have two children.  Dona exclaims, "Working for the Lord means lots of travel, plus many weekends, but it has many benefits.''  Dona is willing and ready for whatever the Lord has in store for the group.  I asked Dona to express what she feels in her heart when she is with the group.
"A new road traveled, a new adventure and God is totally all over it," says Dona. "Every time I sing with Keith and Ken I am amazed at how the Holy Spirit is working through us and all around us.  What a privilege to sing the words that God has given to smooth over the potholes of life and lead us all through to eternity."
Ken Deyo was about eight years old when he felt the call to spread the Gospel through music.  Following that calling, Ken learned to become an accomplished pianist as well as playing the bass guitar, acoustic guitar and the banjo. Ken has been part of several groups in the past and brings experience, talent and a love for the Lord that is very evident to those around him.
Ken's musical career has been influenced by the likes of Little Roy Lewis and the Lewis Family, Flatt and Scruggs, The Learning Family and The Cathedral Quartet.  One of Ken's biggest thrills was when he performed on the stage of the Grand Ole Opry. Ken explains, "That will pale by far in comparison, when I look on the face of Jesus someday." Ken and his wife Darlene live in London, Ontario and have two children.
Keith Deyo, much like his brother, felt the call to serve God through music at about 10 years old.  In later years, Keith became good friends with promoter Harold Lossing and his wife June.  Keith's love for southern gospel music came from listening to the early sounds of the Statesmen Quartet and the Blackwood Brothers and many more.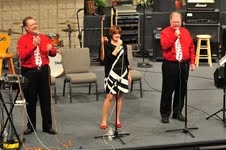 Like Ken and Donna, Keith brings experience from past groups and a gift of writing. He has recorded with some of the top Nashville recording artists.  Along with his gift of singing, Keith loves to preach the word of God. Keith is a lay Pastor with the Free Methodist Church in Kingston Ontario, where he resides with his wife Luisa.
Days Of Grace have one album to date in their young career.  The album, Canada My Home, was recorded at Hilltop Studios in Nashville.  Duane Allen, of the Oak Ridge Boys, made a guest appearance, much to the delight of the group. Neil Enloe of The Couriers wrote the title song, which celebrates this great Country. Cam Shillington asked his friend, MP David Sweet to see that the album would make its way to the desk of Prime Minister Stephen Harper. Shillington later received a note from the Prime Minister who said he looked forward to listening to the CD.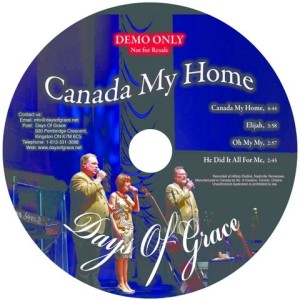 In my years as a promoter, I have worked with and heard a lot of different groups. Some groups have a nice sound and entertain the listener.  Entertainment is always part of any performance, but there has to be more. There has to be ministry or what they do is in vain. Days Of Grace's main mission is to exalt the Lord Jesus through their music and once you hear them perform, it becomes very evident that this is their purpose. 
It is my profound pleasure to recommend and introduce you to Keith, Dona and Ken—DAYS OF GRACE.  I encourage the reader to go to Days Of Grace website and listen to some great clips of their music. Contact them and encourage them. They would love to hear from you !
You can contact Days Of Grace at one of the following links.
Website: daysofgrace.net
General Inquiries info@daysofgrace.net
Phone 613-331-3088
Face book https://www.facebook.com/pages/DAYS-of-GRACE/499850203385603
Questions? Comments? Please contact Phil Foster at prossfoster@gmail.com
By Philip Foster