The staff at SGNScoops proudly presents the October Edition of SGNScoops Magazine.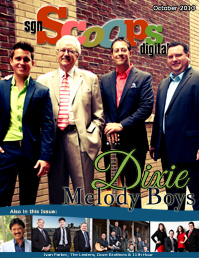 Gracing our cover this month is Ed O'Neal and the Dixie Melody Boys. We will be honoring Ed later this month at the Creekside Gospel Music Convention in Pigeon Forge, Tennessee. You can find out how to be a part of that in the latest Creekside update in this issue.
Other ministries highlighted are, The Lesters, 11th Hour, Ivan Parker and the Dove Brothers. Catch the Younger Perspective with Amber Nelon, and Christian Country News featuring Mikayla Lynn.
This month we congratulate our publisher, Rob Patz for twenty years in the Gospel Music Industry. Don't miss this story- especially the side-bar containing notes of congratulations from industry professionals, friends and peers.
This issue wraps up an era of Quartet Conventions in Louisville and also re-caps a recent Women of Faith conference.
Believe it or not….There is more! Don't miss encouragement from Dr. Jeff Steele, Reflections With Sherry Anne, Life, Love and Legends by Lou Wills Hildreth and with get the latest music reviews by Sandi Duncan Clark.
The latest in Southern Gospel Music is tastefully presented and laid out professionally, by Pete and Staci Schwager and is tucked behind a beautiful cover designed by Stephanie Kelley. SGNScoops Magazine is free! Please share with friends, family and fans.
Download it or read it for FREE here!