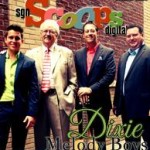 Pigeon Forge, TN (October 28, 2013): Hall of Legend Ed O'Neal was honored on Monday night by the SGN Scoops Digital Magazine. The tribute was held in Pigeon Forge, Tennessee, as part of the Creekside Gospel Music Convention. Presented by Rob Patz and SGN Scoops, the evening was hosted by Gaither Homecoming star Larry Ford and Jonathan Edwards.
Several former members including Bryan Walker and Joe Kitson were on hand to pay tribute as well as a letter from Rodney Griffin and touching comments from the current members.
The evening included performances by Three Bridges, the Skyline Boys, Pauls Journey and the Dixie Melody Boys.
The audience was also able to hear incredible memories as Ed told many stories from the past. It was an special night in Gospel music history honoring one of its true treasures, Ed O'Neal.
The event will be televised at a later date.
For more information, go to http://www.sgnscoops.com/ or http://www.dixiemelodyboys.com/ .