Pigeon Forge, TN.(November 5, 2013) – SGN Scoops and Creekside Gospel Music Convention was proud to present the 2013 Diamond Awards on Tuesday, October 29, 2013 at the Smoky Mountain Convention Center in Pigeon Forge, Tennessee.
The gala celebration was hosted by Tim Lovelace and included appearances by Doyle Lawson and Quicksilver, Larry Ford, Jeff and Sheri Easter, Gerald Crabb and many others. The evening was also filmed by WATC, Channel 57 of Atlanta, Georgia, to be aired at a later date.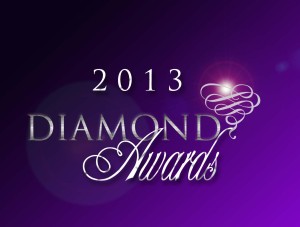 Rob Patz, CEO of Coastal Media Group and publisher of SGNScoops, commented, "The Diamond Awards are always a special time of honoring the Gospel artists that fill our world with the music we love," said Patz.
"It's great to take this opportunity to thank them and to be able to share the ceremony with fans across the nation and the world by internet. We are grateful to Tim Lovelace, our special musical guests and to WATC for  recording the Diamond Awards. We had a wonderful time at the ceremony and we hope everyone will tune in and watch!" The airing date of the Awards will be announced shortly.
The 2013 Diamond Award Winners Are:
J.D. SUMNER LIVING LEGEND AWARD:Â Squire Parsons
MIXED GROUP OF THE YEAR:Â The Isaacs
QUARTET OF THE YEAR:Ernie Haase and Signature Sound
TRIO OF THE YEAR:Â Booth Brothers
DUET OF THE YEAR: Aaron and Amanda Crabb
FEMALE SOLOIST OF THE YEAR: Sheri Easter
MALE SOLOIST OF THE YEAR: Jason Crabb
SUNRISE AWARD: Morgan Easter
SONG OF THE YEAR: I Want To Be That Man – Brian Free & Assurance
ALBUM OF THE YEAR: Love Is Stronger – Jason Crabb
CHRISTIAN COUNTRY GROUP OF THE YEAR: Jeff & Sheri Easter
CHRISTIAN COUNTRY FEMALE ARTIST OFTHE YEAR: Christy Sutherland
CHRISTIAN COUNTRY ALBUM OF THE YEAR: Love Is Stronger – Jason Crabb
ANTHONY BURGER INSTRUMENTALIST OF THE YEAR: Gordon Mote
DOTTIE RAMBO SONGWRITER OF THE YEAR: Gerald Crabb
BLUEGRASS GOSPEL ARTIST OF THE YEAR: Doyle Lawson & Quick Silver
VIDEO/DVD OF THE YEAR: Pure & Simple – Gaither Vocal Band
FAVORITE ARTIST WEBSITE: Jason Crabb
FAVORITE INDUSTRY WEBSITE: Gospel Music Today
PAUL HEIL AWARD (Broadcasting): Ken & Jean Grady- Gospel Music Today
CHRISTIAN COUNTRY MALE ARTIST OF THE YEAR: Guy Penrod
LOU HILDRETH AWARD: Matthew Dudney
PUBLISHER'S CHOICE AWARD: Tim Lovelace
About Creekside Gospel Music Convention: Creekside Gospel Music Convention was held at the Smokey Mountain Convention Center, Pigeon Forge, Tennessee from October 28 through 30, 2013. The CGMC is presented by SGN Scoops and Coastal Media Group at Pigeon Forge and is the home of The Diamond Awards and other special events. For more information on Creekside Gospel Music Convention visit http://www.creeksidegospelmusicconvention.com/
About SGNScoops: SGNScoops Digital is a fully-downloadable monthly magazine that exists to promote the gospel by unveiling what is intriguing and real about Southern Gospel and Christian Country music. SGNScoops offers music news and views as well as concert and book reviews, inspirational articles and features reaching beyond our gospel music world. SGNScoops is the home of the Diamond Awards, a fan-based annual awards program recognizing the best in Southern Gospel and Christian Country music.  SGN Scoops is always digital, always free. For more information:http://www.sgnscoops.com/