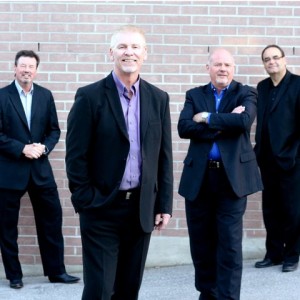 Recently, I was privileged to attend a service at Elim Lodge near Peterborough, Ontario. The guest musicians that day were the Master's Four Quartet.  I attended that service purposely to interview Steve Halliday of Master's Four.  Steve and I have known one another for several years.  When I was hosting concerts in Peterborough Ontario, Master's Four were often our guest musicians.
I sat down with Steve, we chatted about the group and I asked Steve when Master's Four originated. "I think it was 1983," recalls Halliday. "We were asked to sing at a church Christmas banquet and things just sort of took off from there. We were originally called the Unionville Boys, because the group was formed in Unionville, Ontario." He continued, "After a while, the name of the group was switched to Master's Four Quartet. The reason for the change was to enable the group more freedom to travel. We were sort of restricted to the Unionville area while using the name Unionville Boys." Halliday, when talking about Master's Four, became very serious as he stressed the point that an apostrophe will always go after Master and before the letter 's.' He said, "We are the Master's Four; we are four men singing for the Master."
Steve began to introduce the group individually.  "Tim Lofgren is our lead singer and the newest member of Master's Four. He has been with the group about eight years and is a paramedic in Toronto. Tim has had some incredible life changing experiences and has literally brought people back to life. Tim has some remarkable opportunities to share Christ with others."  Halliday continues, "Steve Holt is our baritone. Steve and I are the original singers from day one, when the group was formed. Dave Pennycad joined the group about two years after it formed and is our bass singer."  Halliday is the tenor singer for the group and David Grant is their musical director and helps run the audio during concerts.  Halliday wanted to give mention to Phil Genion who was their worship leader in the beginning and to Dean Hartshorne who was a member in the early days.  Halliday adds, "We've only really had seven singers during the 30 years we've been singing."
One particular memory comes to mind regarding Master's Four and Vessels Of Honour, which was the group I sang with for a number of years. We had been asked to sing aboard the Cheechemon ferry, which is a large ship cruising Georgian Bay. That engagement is memorable because while waiting for the ship to dock, we learned that there were several tractor-trailer loads of cattle aboard the ship, which were very distressed because of the rough waters in Georgian Bay.  It took some time to get the ferry cleaned up. Masters Four were also guest singers on this trip.  We enjoyed working with these guys, who are very professional and always willing to do whatever is asked of them. It was a frustrating time for all involved however. The public address announcer was constantly giving directions for this or that. I remember being in the middle of one of our worship songs, "I Just Want to Please the Lord" and right in the middle of the song we hear, "Blue ticket holders proceed to the galley." This happened several times during both groups singing.
Today, the current members of the Master's Four continue to touch hearts and lives with the message of Christ through their unique blend of traditional, contemporary and southern gospel music.
During the 30-year span that group has been ministering, they have been recognized with several awards and nominations.  In 2005, the quartet's fourth recording Living By Faith was selected as Canada's Southern Gospel album of the year.  The same year, their song My Faith My All was awarded Canadian Southern Gospel Song of the Year. Legendary music producer and performer, Nick Bruno has been Master's Four producer on all of their recordings.
 The group has continued this outstanding history with its most recent releases Faith of Our Fathers and I Rest My Case At The Cross. Each of these releases has been recognized with multiple nominations and the song God's Amazing Grace was awarded Canadian Southern Gospel Song of the Year at the 2007 Covenant Awards.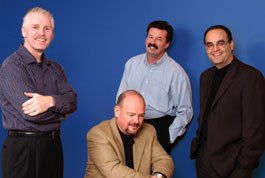 Master's Four had an amazing opportunity a few years back. Steve Halliday received an email from a woman in Scotland explaining that they held concerts there and she asked if Master's Four quartet would be interested in coming over!  She asked them for some music and soon, Master's 4 found themselves flying to Scotland and being part of an amazing Gospel Music Convention.  During this time, they recorded their very first DVD titled On Scottish Shores. It featured footage of their tour in Scotland. Exciting projects such as this demonstrate why The Master's Four continue to gain new audiences across Canada and around the world!
I encourage the reader to visit Master's 4 website, take a look around and order some great music.
I have known these men for a number of years.  I consider it an honor and privilege to promote them in any way I can.  Drop the guys a line either on the webpage or on Facebook.  They would love to hear from you.
http://www.youtube.com/watch?feature=player_embedded&v=RFJthBeeE3Y#at=113
http://www.youtube.com/watch?v=b0C4TKHckWo&feature=player_embedded
By Phil Foster
Questions? Comments? If you know an artist you'd like Phil to feature on SGMRadio, please email him at prossfoster@gmail.com