Coastal Media, parent company of SGNScoops and SGMRadio, is the proud host of the annual Diamond Awards held at Creekside Gospel Music Convention. In October 2012, Gerald Crabb was honored at the Diamond Awards, winning 2012 Dottie Rambo Songwriter Of The Year. SGMRadio is proud to highlight the ministry of Gerald Crabb with a republication of this 2013 SGNScoops feature written by Rhonda Frye, Editor of SGNScoops.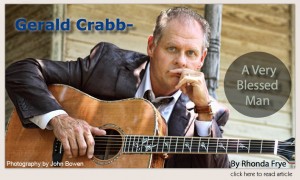 Most Christians have a list of favorite Bible characters and saints from all the ages they long to meet some day. Although we sometimes refer to those folks as heroes, the Bible describes them all as regular, everyday people. From Genesis on, God has chosen to use ordinary and imperfect people to accomplish extraordinary things and still works in this manner even today.
What a thrill it was to meet in person one of those normal, chosen and empowered folks that God is using to impact the lives of many during this current phase of history. It was a blessing to have Gerald Crabb perform at the 2012 Diamond Awards and it has been a delight to learn more about his ministry. Gerald Crabb is the first to say, he is a very blessed man!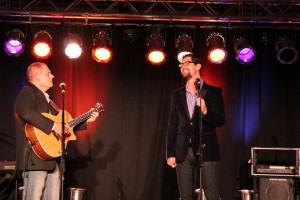 Gerald was born into a modest home in rural Rosine, Kentucky and it sure didn't take God very long to start the good work in his life! Gerald was singing at age 5, playing the guitar at 11, preaching at 16 and he wrote his first gospel song at age 19! Gerald's mother was instrumental in teaching him the ways of God. She made sure he went to church and she taught him how to pray.
During the formative years, Gerald was musically influenced at church. "A blind fellow named George Esterly made an impression on me. He always played a red Gibson electric guitar. He was a great player and singer. He was the one who got me started playing," Gerald explains.
Gerald also says he was influenced in those early years by country music TV shows such as The Wilburn Brothers, The Earnest Tubb Show and The Porter Wagner Show. Although it was impossible to understand the vastness of his calling at a young age, Gerald sensed it. "In some strange way, I have always known God had given me a special gift and calling. Even when I was a child, I didn't know what it was, but I knew it was there," he recalls.
He may have known it was there, but little did he know at the time that his calling would lead him to places such as Carnegie Hall, The Grand Ole Opry, The Ryman Auditorium, and The Brooklyn Tabernacle– and to appear on The 700 Club, TBN, CMT, and Gaither Videos– just to name a few places. There was no way for the young Gerald Crabb to ever dream God would eventually enable him to write over 400 hundred songs and that 22 of them would claim number one.
Over the years, Gerald has garnered numerous accolades and multiple awards. The impressive list includes Dove Awards, Diamond Awards, BMI Awards, Southern Gospel Music Guild Awards, and SGN Music Awards for "Song of the Year" and "Songwriter of the Year."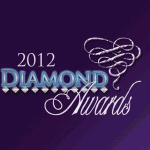 Gerald is known for songs such as "Please Forgive Me," "The Walk," "Greater Is He," "He Came Lookin' For Me," "Shepherd's Call," The Cross," and "Please Come Down To Me" recorded by the Crabb Family. Gerald is also known for "I've Come To Take You Home," recorded by The Isaacs and "The Healer," made popular by Talley Trio. Perhaps Gerald's most effective masterpiece is "Through The Fire." Bill Gaither once advised the Crabb Family to not let a concert go by without singing it. It just doesn't give the song justice to call it powerful.
A song that is so anointed by God that its results bring about serious life transformations and miracles is more than just powerful. Gerald says he got chills when God gave him "Through the Fire," and he still does. "I just thank God for letting me hold the pen, "I didn't do it, He did."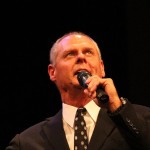 "The song was debuted at a Daywind Songwriters showcase one night at the Bluebird Cafe in Nashville," Gerald recalls. "This was the first time we had made a rough attempt to do it, but something special happened that night. The Glory came down!"
The debut performance was just the beginning of the Glory coming down during the song. In fact, Gerald has released a book entitled "Through The Fire" that features amazing personal testimonies of how this song has touched hearts and lives. Gerald also shares heartwarming thoughts and also details of behind the scenes of writing the song. The book should come with a warning that reads, "Keep Tissues Close By!" In a nutshell, the personal testimonies in the book leave the reader in awe at the power of music and how God uses people and songs to accomplish His divine purposes.
"Through the Fire" was penned several years ago, but Gerald has been blessed with recent hit songs. "Sometimes I Cry" recorded by his son, Jason Crabb won the 2011 Dove Award for "Song of the Year"- the first Southern Gospel song to win Song of the Year in 35 years! Gerald also took home the 2011 Dove for "Songwriter of the Year."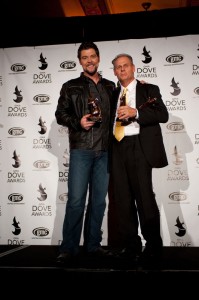 The story behind the song, Gerald shares: "I was at a BMI awards show in Nashville and performing that night were the sons of Steven Curtis Chapman. They were singing one of their father's songs called 'Cinderella.' They had just experienced a real tragedy in their family, yet these two young men were on stage giving it their best. Something about that made me stop the car on the way home and write down the lines, "Sometimes I Hurt, Sometimes I Cry."
Another hit song finding its way to the top is a catchy Gerald Crabb tune called, "Hold On." Gerald's son Aaron along with his group cut this one. "'Hold On' was a recent top 5 single by Canton Junction, – their very first single," Gerald explains. "It's a song about patience- something that most everybody struggles with. The ole good book still says 'Those that wait on the Lord shall renew their strength!' It's tough but sometimes we just have to WAIT!"
Adam Crabb recently cut Don Poythress' and Gerald's "Sometimes God Allows" a powerful song dealing with questions for God that sometimes goes unanswered. Gerald also loves a new song written with Tony Wood and Don Poythress that will be released on Aaron and Amanda Crabb's new album.
Gerald draws inspiration for songwriting from a variety of sources such as sermons, life experiences, catchy sayings and even other songs. He also named Aaron Wilburn, Rusty Goodman and his good friend, the late Dottie Rambo as his songwriting heroes. In fact, Dottie and Gerald shared a friendship out of the public eye and Dottie spoke highly of Gerald while cameras rolled. In an interview from 2007, Dottie's affirming words to Gerald were: "I don't think I could ever have had a brother that I love as much as you." She went on to say, "Everybody that God ever did use in a great way, the devil slapped in a great way. It breaks your heart, hurts you, tempts you, knocks you down and you think you never will write another song….God never has been so proud of you then He is today." Gerald is grateful for the wisdom Dottie poured into his life.
Although Crabb has experienced great success at songwriting, he says it's not always easy. He explains: "There are a lot of heartbreaking experiences involved in songwriting. 'Hold Me While I Cry' was turned down by two artists before Karen Peck cut it and had a number one with it. Also, 'Sometimes I Cry' was turned down by an artist before Jason recorded it. In 2011, it became Dove Award Song of The Year. I sometimes feel that artists are afraid to record strong message songs that the listener really wants to hear." 
Due to Gerald's songwriting achievements, many people seek his advice regarding songwriting skills. Since it is impossible to help each and every one, Gerald makes himself available through various songwriting classes and workshops. His next Songwriting Bootcamp is scheduled for April 20th 2013 at the Gatlinburg Convention Center in Tennessee. [Editor's note: This feature was written in January 2013.]
When Gerald isn't busy writing for others, he writes his own music. His latest CD entitled, SOMETIMES I CRY just happens to be one of this writer's personal favorites. In a CD Review by Friday Night Revival, this CD was compared to a mix of Merle Haggard, Johnny Cash, Waylon Jennings and Stevie Ray Vaughn. The Friday Night Revival Review says it best: "These songs are a collection of realistic expectations and heartaches of death, heaven, grace, broken relationships, redemption, family, and crucifixion in a simple, yet utterly deep, and profound way, piercing through the darkness of humanity, it's doubts, fears, and weaknesses, the stuff of life…just like a later Cash or Dylan would do."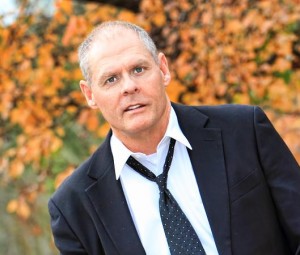 The lyrics are raw, the music is uncomplicated and beautiful, the messages are clear. Again, Friday Night Revival hit the nail on the head by saying, "The brilliance is found in its simplicity."
Obviously a man with many talents, Gerald is a producer too. He recently produced an album for Heavens Highway, 2nd Generation and the Downs Family. There are many reasons Gerald makes a great producer, but he says his experience is his greatest strength in this role. "Over the years I have been involved in many award winning albums and many award winning, chart topping songs. I really am a blessed man; God has been very good to me."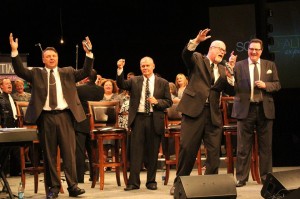 In order to have Gerald produce an album, all one needs to do is to be patient with his schedule, he jokes. Gerald's schedule is jammed packed, for sure. He sings, preaches, writes and produces. In 2012, Gerald ministered at 194 dates and he doesn't plan to slow down in 2013. His ministry is multi-faceted and his schedule is full, but his number one priority is to see souls saved. "Also," he adds, "I love to see people who have experienced failure to experience real forgiveness from Jesus Christ, I love it!"
For fun, Gerald enjoys his family. "I like doing things with my wife, Debi," Gerald admits, "We usually find a way to turn every trip into a fun trip." Gerald also says Debi is his biggest supporter. He couldn't do all he does without her support. "She contributes so much to what I do, she is the unsung hero. I love my Lady and thank God for her."
Like a typical grandfather, Gerald's grandchildren light up his life. "My grandkids are awesome- all 13 of them. There is not enough room here to get me started. They are awesome, again, I am a very blessed man," he shares. Other joys in Gerald's life include shopping, dining out and sports. He says believe it or not he likes to shop and find good deals! He also enjoys eating at P F Chang, he loves college basketball and football (UK and Ole Miss), he loves good music, and he loves the mountains.
It is very obvious; Gerald Crabb loves God and works at nurturing his relationship with Christ. He says God is currently teaching him to chill out. "I have learned to trust Him for everything, He has never once failed," Crabb testifies. Gerald has a soft heart toward the "backslider" he says. To the folks that think they've strayed too far from God, he reminds, "You can't get too lost to be found, He's got His eyes on you. He loves you."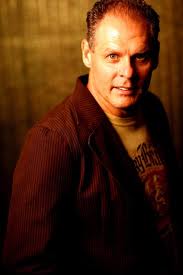 Gerald Crabb is certainly a very blessed man. What a blessing it has been to share his ministry and heart with our readers at SGNScoops. To learn more about Gerald, his tour schedule as well as how to order his latest book, and CD, please visit his website at http://www.geraldcrabb.net/.
What Others Say…
"Gerald Crabb was given a unique insight into human experience, emotions, how the power of the Gospel can affect that experience …… and to top it off, he can articulate it very well into prose which can be wed to a melody which can imbed itself deep in your brain. That is an ability that only comes as a gift from God!" – Phil Collingsworth
"Gerald Crabb is an anointed songwriter with songs that have made an impact on the world for many years now. He's a close friend of mine and I look forward to many more years of great music from his heart as Gerald continues to be in tune with the Lord." – Phil Cross
"The first time I wrote with Gerald he asked me if I'd ever read Songwriting For Dummies. He said he was reading it and learning a lot. It made me laugh, because who would ever dream that the amazing Gerald Crabb would need to learn anything about writing, much less from a "For Dummies" book? I was blown away by the humble way he approached writing, and somehow I believe this is what makes his songs so wonderful. There is not a moment of pride or pretentiousness in them. I long to have that measure of honesty in every song I write. It's what makes him one of my songwriting heroes!" – Sue C. Smith
"We've had the pleasure of recording several Gerald Crabb songs. He has a gift of translating our deepest emotions into song. Gerald is an incredible songwriter and is very well respected in our business. It's a pleasure to honor him by this quote." – Ben Isaacs
"Gerald is one of the sweet, gentle spirits in the Gospel Music field. I have written with him and I am glad to call him my friend." -  Bill Gaither
"For most of my life I've seen my dad write song after song and then watched them turn into great hits for our family as well as many other artists. I think he is one of the best songwriters alive today! Now in this chapter in my life, I have the privilege of sitting down with him and writing together – we wrote together just the other day. This is just another way that God is blessing my life. God is so good!" –  Jason Crabb
Friday Night Revival Cd Review: http://fridaynightrevival.wordpress.com/2011/09/23/geraldcrabb-sometimes-i-cry/
Gerald Crabb/Dottie Rambo Clip: http://www.youtube.com/watch?v=QZRXP_wEHqA
For current issues of SGN Scoops click on to http://www.sgnscoops.com/
For information on the 2013 Diamond Awards click on to http://www.sgnscoops.com/2013-diamond-awards/