**NOTE: For those of you that follow this blog – this is the first installment that will be featured on the SGM Radio website. This site is huge around the world and focuses on the music and the world of Southern Gospel Music – which is my heritage!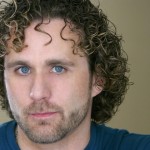 I want to open by saying thank you to Lorraine Walker for inviting me to be a part of this blog. Growing up and being involved in Southern Gospel (SG) Â music and singing SG music and touring with the Gaither's etc…I have SG in my blood! It is at the root of all that I do, and there is a real love for the music and the people!
Let me introduce myself. For those that don't know me, the following is a little information you might find incredibly boring, but it will give you some insight as to why I am writing what I will be writing. I will not be this boring every blog! I PROMISE!
I have been singing for over 25 years (I say over, because once you hit 25 years…does it really matter?) You can find me on the web at www.kevinpauls.com, www.facebook.com/kevinpauls, twitter: @kevinpauls, instagram: @kevinpauls. I have released 7 CD's and am finally releasing a new CD either November 1 or January 1…still trying to decide. I am also starting to write for another ALL original CD for release in fall of 2014.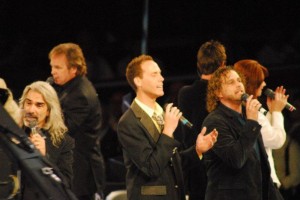 Interesting tid-bits:  I have performed over 2000 shows, touring with Avalon, Michael English, Jonathan Martin, been a part of the Gaither Homecoming from 2004 – 2010, appeared in 2 Gaither Homecoming Video's, TOP 40 Single "The Spirit of Christmas" Canada, nominated seven times for Male Vocalist of the Year GMA Canada, awarded Religious Recording of the Year at The Hamilton Music Awards, awarded Fans Choice Artist of the Year at the Hamilton Music Awards. Recently Nominated for Male Vocalist of the Year, Artist of the Year, and Fan Choice Artist of the Year at The 2013 Glass Awards. You can check out more stuff on my website etc.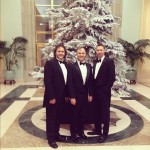 None of that stuff matters at all, seriously, it's only there to give context. I have been doing this for a while and have had many interesting journeys and lots of stories. I am looking forward to sharing my life on the road, sharing my time in the studio and life with you all! (I had to sound a little more southern!)
One note: in September, I will be performing with Gaither Homecoming star, Mike Allen. We will be performing a month of shows at the Avalon Theatre in Niagara Falls, Ontario. We are a part of a huge Elvis Tribute show called Return To Grace. We are representing JD Sumner and the Stamps. PS: I am NOT playing JD! I will writing to you about my recent Alberta tour, and will keep you informed as Mike and I prepare to take on the music of Elvis!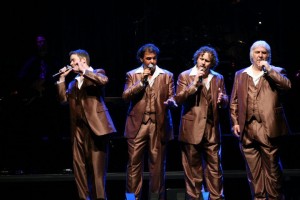 Talk soon, Kevin Pauls
**********************************************************************************************************************
SGMRadio website is thrilled to welcome Kevin Pauls to our roster of writers. Kevin has been involved in Christian music for most of his life and currently criss-crosses the North American continent with Canadian Classical Christian ensemble, Tenore. His resume includes Canadian groups The Torchmen and Beyond the Veil, as well as successful solo and studio work. For more information on Kevin, please check out this archive SGMRadio article called Kevin Pauls And Tenore: The Gospel And More .
Kevin will be sharing his behind-the-scenes viewpoint of a travelling Christian artist, family man and faith-led pilgrim.
Please visit Kevin on the web here:Â www.kevinpauls.com, www.facebook.com/kevinpauls, twitter: @kevinpauls, instagram: @kevinpauls.
************************************************************************************************************************
About Kevin Pauls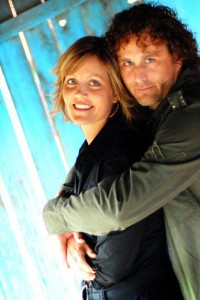 Occupation: Musician/Live Tour Producer


Location: Waterloo, Ontario, Canada
Introduction: I am a happily married man, with 3 incredible kids and am blessed to travel the globe singing as well as working with WORLD VISION!!
Interests: Music, Golf, Football, my kids and my lovely wife of 25 years!!
Favorite Movies: Untouchables, Batman (the newest one), anything by Will Farrel
Favorite Music: Chicago, Petra, Rascal Flats, Dan Macaulay, Gaither Vocal Band, Russ Taff, Avalon
Favorite Books: The Shack, The End Of Religion