A is for Affection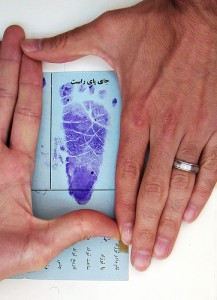 People are born with the need for physical touch. Studies have shown that kids who don't receive sufficient affection have a greater risk of health and social problems.
This need for physical contact doesn't end as we age either. Massages are sometimes recommended for elderly patients who are isolated because of the power of touch on mental/physical health.
As a kid I was always asking my parents for hugs. And they freely gave them. Having their arms wrapped around me helped me to feel safe, valued and loved.
After I got older and married to my lovely wife we learned that my secondary love language is physical touch. Basically, this means LK is in danger of being smothered to death and I never get tired of holding her hand.
My kids thrive on affection. Every day when I get home from work I'm greeted by hugs and kisses from Wheels and Peaches. Three-month-old Kiwi is still on the cusp of crawling so she gives me a bright toothless smile. Each night at bedtime another round of hugs and kisses is passed around. Although, Wheels has introduced the side-hug recently (maybe he's been reading Jon Acuff).
And physical touch doesn't always have to be affectionate. My kids love to wrestle and rough house with me. Wheels is getting big enough to put up a good fight, but Peaches talks trash better. When we're hanging out before dinner they usually give me the "look" and team up to bring me down.
One interesting characteristic I've noticed about Kiwi is she loves to be touched. If she's on her play-mat and fussy all we need to do is sit close enough for her hand or foot to reach us and she calms down.
During bottle feedings Kiwi will seize my thumb and pinky in each hand with a death grip. When trying to rock her to sleep afterward with a binky she will grab my hand and hold it tight to her cheek. Kiwi likes to kick it on the floor by herself sometimes, but she loves physical contact and is a snuggler.
I understand some parents may not have grown up in affectionate homes (or sadly may have been abused in the past), but kids need you. Just simply sitting together on the couch so they can lean on your shoulder or stopping to give them a hug before you bolt off to work can mean the world to them.
Even when they get out of bed for the umpteenth time asking for "just one more hug".
Questions: When was the last time you hugged your kids? Are any of your kids future "pro" wrestlers?
Photo Credit:  Hamed Saber via Compfight
By KC Procter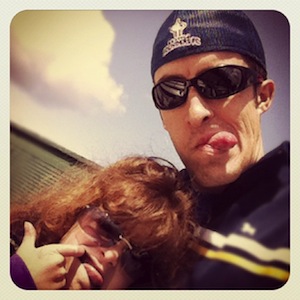 ****************************************************************************************************************************
SGMRadio is delighted to post guest blogs from Christian writers across the nation and across the world. Some of these writers are musicians, some are photographers, some are philosophers. We hope that you embrace each one as they give a part of themselves to our world.
For this blog, SGMRadio welcomes guest blogger K.C. Procter, author of the blog ThatGuyKC,  who has challenged parents to spend positive, embracing time with their children. We hope you take the time to consider his words and their application to your life.
Please access his blog here: http://kcprocter.com/about/Â  and read more from KC.
Don't forget to leave him a note and thank him for his contribution to SGMRadio and our world.
Twitter:Â Â https://twitter.com/ThatGuyKC
**************************************************************************************************************************
ABOUT KC PROCTER
WHO AM I?
My name is K.C. Procter and I am a man, husband, dad and professional. I am a Mac fanboy, book devourer, coffee addict and frequent abuser of the Queen's English.
The goal of That Guy KC is to encourage you to be great. I assume you are a good person, but that you have greatness stirring inside you. You want to be great at something. Great at relationships, great at work, great at life, great at writing, great at art… (see where I'm going with this?).
We all have an innate desire to matter. To be remembered. To make a difference. My goal is to encourage and equip you to that end.
WHAT TO EXPECT
Here on That Guy KC you will find real-life, practical insight on leadership, dreams, family and faith 3-4 times a week. I share stories from my own experience (both successes AND failures), provoking questions, inspiring quotes, and reactions to books.
HOW TO CONTACT ME
You can contact me via email or find me on Twitter and Facebook.