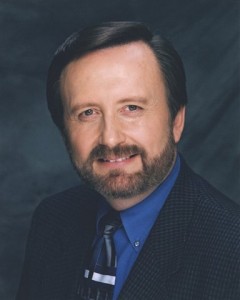 Recently I had the good fortune of contacting Gordon Jensen. Back in my early years, the songs of Gord Jenson, along with other Gospel artists, lifted me out of many a dark dreary place. Songs like "Bigger Than Any Mountain" or "Redemption Draweth Nigh" would be blaring out of the speakers of my old Ford Maverick. I believe that Gordon Jensen and his music stand out from other Gospel writers. One does not have to listen to Jensen's music for very long to understand that God has anointed him to minister to people everywhere.
To my great surprise, I learned that Jensen is a fellow Canadian!   Jensen was born in Windsor Ontario in 1951. Jensen says that he was subjected to the Southern Gospel style of singing by his father, who would bring home records of the Statesmen, the Speer Family and many others from those early days. Jensen formed a trio made up of his cousins in the early years and jested, "I wrote my very first song for this group, but no one will ever get to hear it."
Jensen knew at a very young age that he wanted to be a musician. He accepted Jesus as Lord of his life as a child of six. His desire to serve God was strong and by the age of twelve, he gave his first public appearance.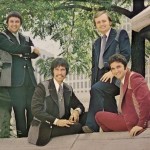 When Jensen was just sixteen, he joined a touring band called the Orrells. Jensen says, "I think it was about 1967 when I started with the Orrells. I stayed with them until about 1972 and then formed my own group Gordon Jensen and Sunrise."  It was during this time with the two groups that Jensen's songwriting skills became evident.  Jensen started his solo career in 1979.   He had a string of number one songs on the radio.  Songs like "God Still Loves The World," "Bigger Than Any Mountain" and "When I Lift Him Up In Praise."
Many famous singers have recorded Jensen's songs. Names like: Cynthia Clawson, Larnelle Harris, The Imperials, Dallas Homes, The Cathedrals, Janet Paschal, Rusty Goodman, and many more. Bill Gaither has used many of Jensen's songs on his Homecoming Friends video series. His classic song "Redemption Draweth Nigh" has been recorded over three hundred times by different artists and it also became the musical theme for the movie A Distant Thunder.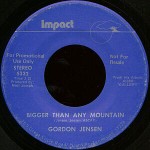 I asked Gordon how many songs he has written.  His reply was, "I think it is around 300 give or take!" Some of Jensen's top songs were "I Should Have Been Crucified," "Jesus Will Outshine Them All," "He's As Close As The Mention Of His Name," "Tears Are A Language," "Bring Back The New Again," (my favorite) and "Desert Of My Days."  One of Jensen's classic songs was "Written In Red." Because of his song writing skills, the Gospel Music Association has nominated Jensen Songwriter of the Year on five different occasions.
Jensen's songs show theological maturity and perhaps that is why they speak to us so directly.  Jensen says, "My goal in being anywhere before people is to exalt the Lord Jesus Christ through the gifts He has entrusted me with. Nothing of real value could occur if I were there for any other purpose." I know from my own experience, that I come away lifted in spirit and strengthened in my faith after listening to Jensen's music.  A good friend of mine, after hearing I was communicating with Gordon Jensen, told me a story of one time he was in the Barbados singing with a team and he sang a song of Jensen's, "Whisper Jesus." He went on to say, "The altars were full with people seeking Jesus." These kinds of songs are timeless and they need to be sung. The message hasn't changed; it will be the same yesterday, today and forever.
These days, Jensen is very busy. He averages about one hundred and fifty personal appearances each year.  His tours have taken him throughout the United States, Canada, Great Britain, The West Indies, Scandinavia, Europe, Africa and India.  He can be seen regularly on the 700 Club and he has co-hosted 100 Huntley Street here in Ontario, Canada.
After learning how busy Gordon Jensen is, I can tell you from the brief time I've talked with him, that Jensen is sincere about his passion for the Lord in his ministry. I started into this conversation a little on the nervous side, but by the time I ended the phone call it was like I was speaking with one of my best friends. It is an honor and privilege to do this article on one of the giants in Gospel Music.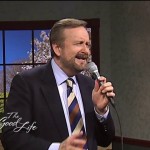 Gordon Jensen's website is listed below. I encourage the reader to visit this site, order some of this anointed music and be forever blessed in your spirit.
For more information on Gordon Jensen, visit: www.gordonjensen.homestead.com
Or contact Gordon Jensen by mail at: P.O Box 145, Gallatin, Tennessee 37066
Some of Jensen's songs are on You Tube listed below.   You can view many more there:
http://www.youtube.com/watch?v=oCMFCxFnyZs    "Redemption Draweth Nigh"
http://www.youtube.com/watch?v=r_zfh1P5UwU       "Written In Red"
http://www.youtube.com/watch?v=P_S39MfKDOc     "He could have simply walked away"