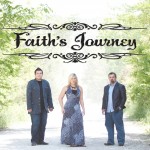 The Southern Styles Show with host Rob Patz is celebrating their 12th year of The Summer Series with a Super Southern Styles Summer Series Contest!
Each week, Rob will be giving away prizes specially selected for Southern Styles Show listeners. This week, five lucky winners will receive the debut recording from mixed trio Faith's Journey. Group spokesman Jonathan Edwards says, "Faith's Journey is honored to be a part of this program and its give-away. We hope people will enjoy the music from our latest cd, "Heritage."
Listen to the Southern Styles Show every week for your chance to win. Contestants may also play the video game located on the radio program's website 
www.southernstylesshow.com
. Highest score wins!
Don't miss the 12th year of the Summer Series on The Southern Styles Show with Rob Patz for your chance to win cool prizes!