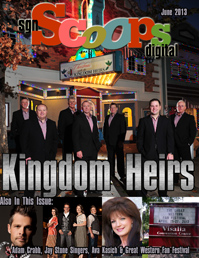 We're excited about the June issue of SGNScoops Magazine.
What a BUSY month! Scattered all over the country, our writers have captured some of the most exciting events and happenings in Gospel Music.
A lot of cool things have been going on in the ministry of the Kingdom Heirs. The Kingdom Heirs are featured as the cover story this month, so don't miss their story.
Also this month, Adam Crabb talks about his new album, Ava Kasich shares a powerful testimony, the Jay Stone Singers and Sacred Calling share their latest too. Enjoy the latest in Christian Country news with Paul Summers, and get a younger perspective with Dustin Leming.
Be encouraged by Dr. Jeff Steele's devotion and be inspired by Lou Hildreth's Life, Love and Legends. Laurette Willis of Praise Moves shares an article regarding Christian Fitness.
The June issue is a special edition due to all of the events covered. Enjoy the inside scoop on the Great Western Fan Festival, Singing in the Sun, Inspiration Pop 2929 Movie Premier, as well as a Union Street concert review.
Don't miss the inside scoop and look ahead to the Gospel Legends Reunion too.
This issue also includes June Music Reviews and a book review on New York Times Best-Selling Author, Ken Abraham's WHEN YOUR PARENT BECOMES YOUR CHILD.
June is indeed a busy month of spotlighting the world of Southern Gospel Music! SGNScoops Magazine is free, so please share with your friends, fans and family.

Click Here to Read Your Copy of SGN Scoops June Edition!