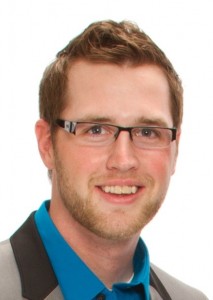 Eric Dunson is the lead singer for The Jonathans from Bremen, Georgia. Growing up in Carrollton, Georgia, Eric was part of a very musical family. His family had a regional group called The Crusaders and older brother Chris Dunson traveled full-time playing drums for various groups such as The Gospel Brass and The New Hinsons. Eric graduated from Trinity Baptist College in Jacksonville, Florida in May of 2009 and joined Parker and Paula Jonathan in August of the same year. The trio has a traditional, exciting sound featuring power harmonies and the strong keyboarding skills of Jacob Pitts.
Eric Dunson's Fast Five Facts
1) If you could go anywhere in the world for vacation, where would you go?
A couple years ago I came across a picture of the Poseiden Resort's underwater hotel in Fiji and have wanted to visit there ever since. Although, I don't know how much I'd like it if I woke up with a hungry shark staring me down and only a glass roof separating us.
     
2) What is your favorite memory from the road?
So far my favorite memory was the first church we sang in after I got saved. I struggled with whether I was saved for a few years and in January of 2012 I got it settled and accepted Christ as my personal Savior. That next weekend I was able to stand and sing with a new joy in my heart and I will never forget that feeling.
3) What is your favorite song to sing live and why? 
My favorite song to sing live would have to be "One More Time" written by Ricky Atkinson. This song speaks about being able to thank the Lord and praise Him one more time for what He has brought us through in this life. It's one of the most amazing experiences to be able to see the looks of love and sheer thankfulness on the faces of the people in congregations as we sing this particular song. My favorite line in the song is a reminder to us all that whatever we are facing in life the Lord is right there with us, "He was always standing by my side, when the valley was low and the river was wide. So I want to thank Him and I want to praise Him, one more time."
4) Who has influenced you musically? 
That's easy, my mother. She had the most distinct, pure, alto voice that I have ever heard and she always pushed me to sing. When I first enrolled in college, I was an education major but I knew that singing was what the Lord wanted me to do. When I told my mother about wanting to change my major to be able to pursue singing, she backed me 100 percent. She passed away in 2009, just a couple days after I moved home after graduating from college. I probably would not be singing with The Jonathans if it wasn't for my mom telling Parker and Paula about me while I was in school and wanting to see me pursue my goal of singing in full-time ministry. She never got to hear me sing after college but I know she would be proud of me for using the talents God has given me to glorify Him.
5) What advice would you offer to other young adults about getting into the ministry?
Three things: Â 1) Keep a strong relationship with the Lord. Your prayer life and time in God's Word are absolutely the most valuable parts of your ministry. 2)Â Be patient. If this is truly a calling that the Lord has placed on your life then He will direct you where He wants you. He may put you through storms in your life or your ministry to help you to grow and be able to minister in ways that you would have never been able to before then. Â And lastly, 3) Make connections with other people involved in ministry as well. I cherish the conversations that I have been able to have with people such as Tony Greene, Parker Jonathan, Gloria Gaither, Joseph Habedank, and many others. These people have been sources of strength and encouragement in the lowest times of my short ministry. Surround yourself with positive influences and encouraging peers.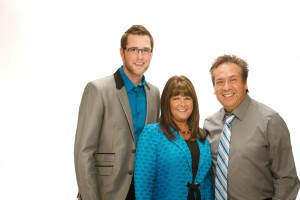 For more information on The Jonathans: http://thejonathansonline.com/
To connect with Eric on Facebook: https://www.facebook.com/eric.dunson.9
Questions, comments or a favorite Young Gospel Artist you'd like to see featured? Contact Kerry McLellan at kerrymclellan20@hotmail.com