Niagara Falls, Ontario is preparing to experience an explosion of Gospel music on the stage of the ScotiaBank Convention Center this May. Featured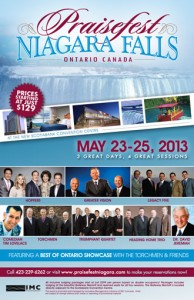 during the May Memorial-Day long weekend will be The Hoppers, Triumphant Quartet, Greater Vision, Legacy Five, Canadian artists The Heading Home Trio and The Torchmen, along with keynote speaker Dr. David Jeremiah and comedian Tim Lovelace. A musical event of this magnitude is unusual for Ontario and it is being presented by the powerhouse team of Landon Beene and Nat Goble of Innovation Management & Consulting (IMC).
IMC seems to have suddenly appeared on the Gospel music scene, but in reality, Beene and Goble have been hard at work behind such successful productions as the Greater Vision/Legacy Five/Booth Brothers 'Jubilee' Christmas Tour, Praisefest Branson, and the Blue Mountain Gospel Music Festival, as well as other Gospel events. Beene sang with his family, traveling the roads for over ten years, learning the ropes of Gospel music and the business behind it, from an artist's perspective as well as that of a promoter. He has taken this knowledge and along with the management skills of Nat Goble, has created IMC to work with artists and promoters to create successful large music festivals.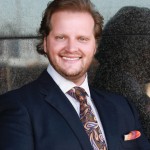 "Working as a promoter has given me a well rounded perspective of this industry and southern gospel music," says Landon Beene. "Our music is all about the message of song and the fans. What better position to be in than the person responsible for bringing the two together. The Message and the Fans. I love that!" Beene continues, "I started attending gospel concerts when I was five years old. One thing I noticed very quickly was that there were very few young people in gospel music. I do what I do because I believe in the music. I believe in the message, which is a positive influence to a young generation and the energy, excitement and encouragement it brings. I figure I need to work as though I am the only one working. My goal is to keep this music alive and well."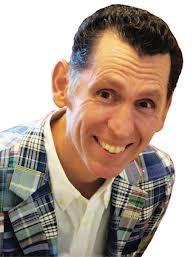 Greater Vision has been friends of Landon Beene for quite some time and speak highly of this entrepreneur. "I met Landon several years ago, on one of our West Coast trips," says Gerald Wolfe of Greater Vision. "Back then, his family group was still traveling and singing, mainly in the West. Scott Fowler actually suggested that I talk to Landon about promoting some of our West Coast concerts.  Since then, Beene's taken on the responsibility of promoting the Jubilee Tour, and two of our Praisefest events, Branson and Niagara Falls.  He and Nathan Goble do a great job of organizing things, and taking a lot of pressure off of us, so we can concentrate on putting together the best program possible."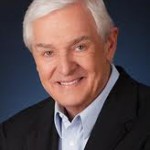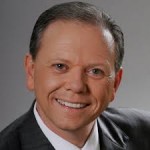 "The Jubilee Christmas Tour was his idea, and I don't think any of us had any idea of how popular it would be," continues Wolfe.  "He's talked us into doubling the number of Christmas concerts for this year, so we'll be taking Jubilee Christmas to fourteen cities in 2013.  All of us have a lot of confidence in Landon, and we think his efforts will continue to be blessed.  He's still young, and he and his team have a great future ahead of them."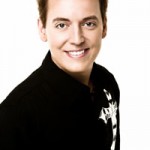 The Hoppers have appeared in Ontario numerous times over the past several decades and Mike Hopper says that Praisefest Niagara is a great idea and he can see this as an annual event. "Niagara Falls is a beautiful place. We have had the opportunity to sing there many times. Our neighbors to the North have been great friends to the Hoppers and to Gospel Music. We always enjoy touring Canada."
The Torchmen are well-known on both sides of the Canadian border and owner Mike Moran is also a long-time friend of IMC's Landon Beene. "I have known Landon and his family for some time; I'm not sure how long," says Moran. "They came and sang here in St. Catharines several times. We also got to know them at the National Quartet Convention (NQC). The story that sticks out in my mind is that we appeared a week after The Beene Family sang at the Barn in Hillsdale, Michigan, a few years ago. The people there had not yet got over the fact that Landon had broken their favorite piano bench. Landon plays a very enthusiastic piano! I have been teasing him about it ever since!"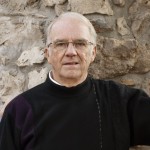 "I was aware of this new event before NQC last year, but at NQC Landon asked me if we would be involved, as well as help set up a 'Best of Ontario' showcase, and of course I said yes," says Moran. "Anything the Torchmen or I can do to promote the Lord's work, and our type of outreach music ministry, we will be there. We are going to do our very best to make sure that this event is as successful as possible."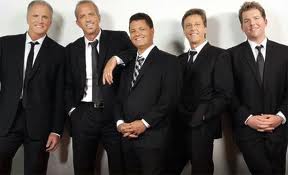 IMC's decision to bring a Praisefest event to Niagara Falls, Ontario, has been a few years in the making. "Our music is about the Message and the Creator," says Beene. "The concept of doing an event in Niagara was purely based out of bringing our music to a place in celebration of His creation. Canada has always been known for the fans support of the music and the great groups that Ontario hosts."
Legacy Five's Scott Fowler was instrumental in the decision to bring Praisefest to The Falls. "I came to the Niagara Falls area about six years ago investigating opportunities to do a three day event there," says Fowler. "At the time, for various reasons, it just didn't come together but now it has. I am very, very excited about destination events. I love the idea of going to a beautiful, fascinating place of interest to do gospel music events. That allows people to go to a vacation destination while enjoying their favorite music, Southern Gospel."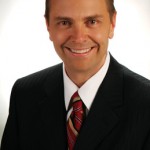 "I cannot think of a better opportunity for gospel music lovers than a vacation destination event," Fowler continues. "Niagara Falls is one of those places that most of us only get to see once in a lifetime and I think it's one of the most beautiful places in North America. We chose the Canadian side for two reasons: One, it is the most beautiful view of the falls that there is! And two, America has plenty of gospel music destination opportunities. All of our Canadian friends have been asking us for a long time to please do something in Canada. We love the Canadian people, we love the Canadian artists and frankly, we love Canada! Niagara Falls is close enough to the United States so this event will draw folks from the U.S. as well. It seemed like the perfect place to accommodate both our American friends and our Canadian friends. If this event is well attended, we would love to make it an annual event."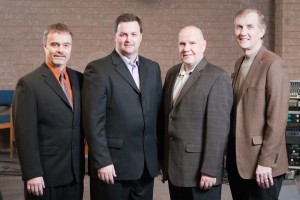 Praisefest features a special matinee of Ontario Gospel artists. "As we started to contact some of the artists in Ontario, we quickly realized that we didn't have enough programming time to fit in all of the artists that wanted to be a part of this great event," explains Beene. "We thought the best way to involve everyone was to create a Best of Ontario showcase event. I reached out to my good friend Mike Moran of the Torchmen Quartet to help oversee this. I know that he would be more involved personally with these artists and know who would be the best artists out there to reach out to. When I think of Gospel music and Ontario, I think of the Torchmen, so it only came natural that they would be the perfect host to this event. They represent Ontario proudly!"
Mike Moran responds, "Landon has become one of the hardest workers in our industry; if you go to his website you will see how much he is involved. And by the way, one of the reasons we get along so well is that we both have the blessing of ADD (Attention Deficit Disorder)," laughs Moran.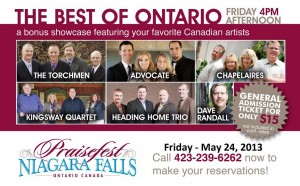 The Best Of Ontario matinee concert features Ontario favorites The Kingsway Quartet, Chapelaires, Dave Randall, Advocate, Heading Home Trio and The Torchmen. "It wouldn't be a Canadian event without the support and involvement of Canadian artists," says Beene. "We want to create a family up there, a community. This was our way of reaching out to the artists in Canada in hopes that they would support our efforts to bring them a great event. So far, we have found the artists up there to be great to work with!"
The Chapelaires' soprano, Myrna Hand, says, "It is a great opportunity and Canada has always opened its doors to Southern Gospel music. To be able to host this wonderful event right here in Ontario is really exciting! It is great to see the doors opening here in Canada for American and Canadian groups to combine their talents and share the same stage; after all Southern Gospel music really doesn't have to be divided by borders!" Hand says she hopes that this festival will enlarge the Gospel audience in Ontario. "Gospel music really touches the heart, and is so encouraging to those that are hurting, and to have an opportunity to share this wonderful music to a new audience of listeners would be a great thing."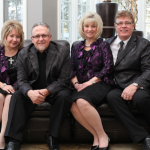 "We certainly count it a privilege to have been asked to share in this event," Hand continues. "As the Chapelaires, we have always asked God to open the doors that He wants us to go thru and this is another opportunity to share Christ's love, and maybe meet some new friends as well, that may not be familiar with the Chapelaires' ministry."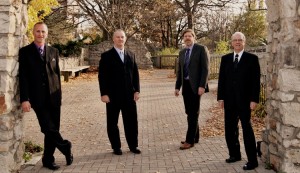 Moran is also thrilled about Praisefest and hopeful that this brings new listeners to Southern Gospel's unique type of music. "I'm hoping that this event, because of the magnitude of it and the location, will make our type of ministry more visible to both the Church and to the general public, creating more opportunity and more open doors. Also I am hoping our American visitors will see the talent and dedication of our Ontario groups."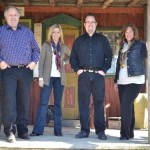 Mark McLellan of the popular Kingsway Quartet says, "The Kingsway Quartet is excited that Praisefest Niagara is coming to Ontario this May. This is a great opportunity for folks from all around Ontario, New York State and Ohio to take in the cream of the crop of Southern Gospel music. I believe our friends from the South will also get a better appreciation of the talented groups from right here in Ontario as they are showcased on Friday." McLellan continues, "The Kingsway Quartet is proud to be a part of this event as it will not only give them some great local exposure but exposure to the folks State-side as well! Praisefest Niagara adds up to be a great Gospel music event that can only gain in attendance and continue to grow in popularity."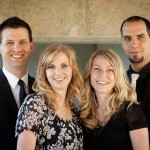 Advocate Music Group, also appearing at the Best Of Ontario showcase, is a relatively new group from Southern Ontario. Member DW Crutchfield says, "To say we are excited would be an understatement. An event of this caliber coming to Southern Ontario is long over due. The message in music has so much to offer. Our prayer is that this will draw people in so they can be encouraged, lifted up and drawn closer to Jesus Christ.  That is our purpose! Advocate Music Group can not express in words our thankfulness to Landon Beene of IMC Concerts for having us a part of this great event!" Crutchfield adds, "We trust that all you Gospel music lovers out there will support this event.  Invite your family, friends and even your enemies! There will be something there for everyone!"
Dave Randall is the only soloist featured on the Best Of Ontario showcase and he says, "I think it is a wonderful opportunity to get to minister to a wider audience. But for me personally, it is more than that. Being from the States, I have adopted Canada as my home and it has adopted me. I have grown to know and love so many wonderful southern gospel enthusiasts and artists here in Canada, and I am eager to show off the wonderful people and talent we have here. Praisefest Niagara will also a great place for some of our Canadian Southern Gospel fans to get to worship in a larger context with our brothers and sisters in Christ from the U.S. without having to travel huge distances. My hope is this will give Canadian fans a a taste of what can happen here and stir in them a desire for more."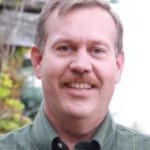 IMC and Landon Beene are happy with the reaction of the fans and the Falls community. "So far the response has been great!" Beene continues, "People are very excited about this event and we hope to see great growth in future years. This first year will be held in a one-thousand-seat theatre within the brand new Scotia Bank Convention Center. The great benefit of being at this convention center is that they will be able to hold our event even with great growth, due to their multiple venue options under the same roof. The staff there are very excited that we are coming and have been great to work with thus far."
Gerald Wolfe and Greater Vision have visited Canada often and have also found the people and promoters great to work with in Ontario. Greater Vision has many fans in this area and Wolfe says the feeling is mutual. "I really appreciate their obvious love for the music and their excitement is contagious. It's impossible to sing in Canada and not have a great time!" Wolfe laughs and adds, "…Not to mention the Tim Horton's coffee!"
Praisefest Niagara is approaching quickly and IMC urges all fans to order their tickets immediately. American and Canadian groups are looking forward to this three-day, four-session event in one of the most beautiful places in North America. Bringing together top artists in a family atmosphere is one of Landon Beene's goals and IMC hopes that this will become an annual event that all fans and artists will appreciate for years to come.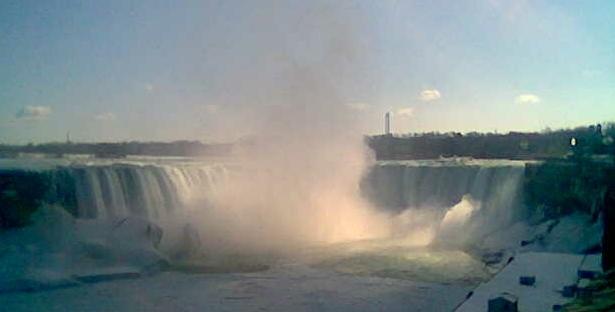 Praisefest Niagara will be held at the ScotiaBank Convention Center, Niagara Falls, Ontario; May 23-25, 2013. For more information call 423-239-6262 or visit the website below.
For more information on IMC and Praisefest Niagara visit:Â  http://www.imcconcerts.com/event.php?id=8
Landon Beene on Facebook: https://www.facebook.com/landon.beene?fref=ts
Special Thanks To:
Gerald Wolfe, Greater Vision http://greatervisionmusic.com/
Scott Fowler, Legacy Five http://www.legacyfive.com/
Mike Hopper, The Hoppers http://thehoppers.com/
Mike Moran, The Torchmen http://www.torchqt.com/
Myrna Hand, The Chapelaires  http://www.chapelaires.com/
Mark McLellan, Kingsway Quartet http://www.kingswayquartet.com/
DW Crutchfield, Advocate Music Group http://www.advocatemusicgroup.com/
Questions or comments? Write to sgmradio.lorrainewalker@gmail.com