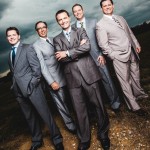 Legacy Five is one of the many thriving, award-winning Southern Gospel groups arising from the Cathedral Quartet's college of Christian music. Now entering their thirteenth year of music ministry, the quartet has multiple recordings, Gaither Homecoming tapings and television appearances to their credit. Their distinctive harmonies and strong lyrics have garnered multiple award nominations, including nods for two Dove Awards. Legacy Five showcases some of the finest talent in their genre and with the release of A Wonderful Life on Daywind Records, their presentation of Southern Gospel just keeps getting better. [Editor's Note: Since the first publication of this article in April 2012 in SGN Scoops, Glenn Dustin is no longer with the group. The new bass singer is Matt Fouch. Some edits have been made in this reprint].
Scott Fowler, co-founder of Legacy Five with the late Roger Bennett, began singing professionally with The Sound in 1987 before joining The Cathedrals in 1990. A decade of working with Glen Payne and George Younce was a complete training center for this affable young man. Fowler honed his craft and the current sound of his group is a credit to his talent and that of Bennett.
The smooth quartet sound of Legacy Five is due to current members, including Fowler at lead, tenor Guss Gaches and pianist Trey Ivey. The ultra-smooth baritone, Scott Howard, has been with Fowler from the beginning. Newest member Matt Fouch at bass completes the lineup. Each member is making a permanent mark in Christian music, as much for their engaging personalities and communication skills, as for their musical talent.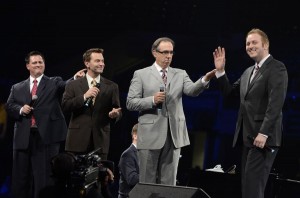 Roger Bennett's influence can still be seen and heard in the music of Legacy Five. Most of the group's fans still recall Bennett and the mark he made on the group and genre. This past March marked five years after the passing of Fowler's friend and fellow Legacy Five owner and Fowler recently talked to SGN Scoops about Bennett's impact on his life.
"Roger taught me a lot of things. People talk a lot about my time with the Cathedrals and I always tell them I had great teachers: George (Younce) and Glen (Payne) and Roger. Roger was not only my best friend; he was also my business partner. We started Legacy Five together."
"If I had to narrow it down to one thing – because his sickness was such a big part of his life after I got to know him and we became friends – really what Roger left me with was this: I've never seen anybody, or very few people, suffer physically like he suffered. Honestly, his attitude…he would get down and frustrated, and I'm sure he got depressed at times, but he never complained. And he always had something positive to say. Regardless of what his situation was, he was finding a message that God had for him at that particular time in his life. He was just an amazing person, he really was an amazing man."
After the passing of his friend and business partner, Fowler continued on with the leadership of Legacy Five, guiding it to the top of the Southern Gospel industry. Scott Howard had a first-hand look at how well Fowler was able to handle the torch passed to him at the death of Bennett, and has only praise for his boss. "Scott has a managing style that is very easy to work with. He lets everyone know what their job is and what is expected of them and them gives us all the freedom to accomplish these things. He has a commitment to Legacy Five that has been displayed through the years that the group has been in existence. The best example that comes to mind is how he was thrown into a sole leadership position after Roger died. That would have been an easy time to move on to another phase in life, but he was committed to the group as well as to the Lord to see through what he and Roger had started."
Commenting on Fowler's leadership of Legacy Five in the five years after Bennett's passing, Donna King, music producer and owner of Vertical Sky said recently, "When I think of Scott (Fowler), I think of integrity, consistency, and a man who knows his calling and clearly follows the path God lays in front of him.  It's not easy to take the reins of a ministry and guide it in the right direction.  Scott is gifted at it.  I'm thankful to know him and to help, in my small way, in sharing their music with the world."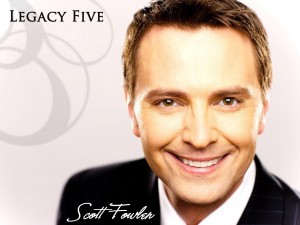 Scott Fowler has been guiding Legacy Five from the initiation of a new quartet, through the passing of Bennett in 2007 and through relatively few membership changes. Even after 25 years of being in the business of Southern Gospel, driving countless hours and singing to thousands of people every year, Fowler retains his enthusiasm for his calling and for Southern Gospel. He says there have been a lot of changes in the industry over the years, but consistency as well, as the genre faithfully presents the good news of Jesus Christ. Fowler's definition of consistency includes "striving to achieve a common goal". "In other words," said Fowler, "we don't change our core beliefs and our core convictions." Legacy Five's music speaks of their beliefs and convictions.
"This music has always been lyrically great in my opinion," said Fowler, commenting on the Southern Gospel style. "The neat thing about it is you have a wide array of styles within the same genre.  If you want it very traditional, you can find it. If you want the music very progressive, you can find that as well. There is literally something for everyone."
Strong, Bible-based lyrics have always been a hallmark for Southern Gospel, regardless of whether the style if progressive or traditional. Legacy Five consistently presents their unique blend of traditional quartet sound with inspirational overtones regardless of each recording's flavor or direction. However, the words play an integral part of the song selection and this remains true in their current release, A Wonderful Life.
"We examine the lyrics of the songs that we sing just to make sure that they're scripturally sound," said Fowler. "We don't want to sing something that doctrinally just doesn't line up with what the Bible has to say. Ultimately, the common theme through your music has to be that Jesus is right for what's wrong in your life. If it's not saying something, it's frankly a waste of time. Again, obviously they can't all be about the same thing. There are different seasons of life. There is a time to celebrate, there's a time to mourn, there's a time to rejoice and there's a time to worship. Your songs need to try to cover as many of those bases as possible."
One of those songs for different life seasons is Ask Me Why, from the current project. Ask Me Why is the subject of Legacy Five's first concept video. Scott Godsey, of Godsey and Associates, is thrilled to work with the legendary quartet. "The guys with Legacy Five are great to work with," said Godsey recently.  "We are all very excited about what is happening in their career, including their music video to Ask Me Why. The music is timeless and classic. It goes beyond the ears and reaches the heart."
"I appreciate the sincerity [of the group]," Godsey continued. "Scott Fowler is a Godly man in business and friendship."
Gus Gaches, tenor of Legacy Five since 2009, agrees with Godsey's estimation of Fowler. "Scott is a great leader.  He expects each of us to give our absolute best and he does whatever he can to help us to do just that.  He definitely leads by example both with the group and in his walk with Christ."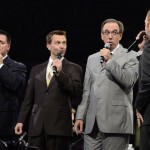 Gaches continued, "I believe there is a certain level of consistency in professionalism, ability, and character that was established by the Cathedrals and is continued to this day by Legacy Five and other groups who continue that legacy.  To do what we do within that context is what I consider to be consistency."
Scott Howard concurred with Gaches about the continuity of integrity within the group. "Consistency to me is a description of someone who is grounded in his beliefs and holds fast to them. Someone who is the same no matter the situation. Consistency is not a very common attribute in our world today with all of the shifting going on in our society. I am always pleased to hear someone describe Legacy Five as a consistent group. We have a set of core values that we will always adhere to, no matter how the rest of the world is doing things."
Trey Ivey has only been traveling with Legacy Five for a year, but agrees with the use of the word consistency in defining the group and its members. "To me, consistency in what we do is crucial across the board: in the way you present yourself, in constantly sharpening your craft, and in the way you treat others, just to name a few. With respect to Legacy Five, what first comes to mind with the word consistency are the guys who've been here from day one: Scott (Fowler) and Howie (Scott Howard). Not only have they stayed consistent in putting their very best on stage, but have consistently carried themselves with class and integrity."
The group is known for their class and integrity, and the camaraderie within the group is also easy to see, whether onstage or off. The men are like brothers and Ivey says this has a lot to do with Fowler's guidance. "Scott Fowler is a great leader. He is constantly putting each of us in a position to excel, spending the majority of his time making the rest of us look good. He's the kind of leader that cares more about being my friend than my boss."
Fowler not only cares for his fellow members but also has a burden for the Legacy Five audience. He shared, "There are always people with needs, people with hurts and people that need to be encouraged. There are always people that need to be uplifted and again, that's the great thing about this music. It really is all things to all people. People ask us all the time: 'Is it music, or is it entertainment, or is it ministry?' My answer is: 'You ask the person who is listening to it and they will tell you if it's ministry for them or if it's entertainment.'"
"I don't personally have a problem with either way. The truth is, it depends on what that person is going through in their life and what season of life they're in. Our music can be entertaining, but our music can also be ministry for those that need to be ministered to. So I think the best answer is: 'Ask the person in the seat what it's doing for them.' I think that's a great compliment to this music is that it can be both."
Fowler enjoys both the entertainment and ministry aspect as he interacts with fans that have followed his career from the early years. While some singers may become burned-out or cynical through the ebb and flow of a musical career, Fowler consistently retains his engaging grin and the twinkle in his eye. Even at 45, he has gained legendary status from his Cathedral past and a certain amount of seniority in the volatile industry. He is a hard-working quartet-man, a label attached to those elite artists who are willing to put the team ahead of personal interests, to do whatever it takes to enable the group to excel in their presentation.
Long-time fan of the Cathedrals and part-time singer from Kentucky, Tracy Bertram, recently shared an interesting look at Fowler's past. "Years ago I sat down with Scott when the Cathedrals were doing an outside singing.  He sat and talked to me forever about all kinds of things.  He's one of the nicest guys in Southern Gospel that I've met," said Bertram. "He sat down and talked to my friend and me about how he got the call to audition [for the Cathedrals].  He said they wanted him to come and bring his bass because he had to be able to play bass and sing baritone, like Mark Trammell did. He said he didn't play bass, so he had to learn some stuff on bass to pass the audition." Fowler knew he would do whatever it took to gain that baritone position.
Efficiency in accomplishing whatever is necessary to meet a group's common goals is a hallmark of a good team leader, regardless of the enterprise. Fowler has continued in this work ethic throughout his career. His continued striving for creative and vocal excellence has not diminished, as evidenced by the Quartet's quality in presentation.
"When I think of Legacy Five, I think of class," stated singer/songwriter Sheri LaFontaine, radio personality at WPOS in Holland, Ohio. "Glen Dustin is not only one of the best bass singers in the business, he's one of my favorite people."
Other Southern Gospel artists agree with LaFontaine and have a high opinion of the group and its leader. Mike Moran of The Torchmen from Ontario, Canada, said, "If you want my opinion, I think they are the classiest group in our industry, and the addition of Gus [Gaches] only added to that status."
"I've had the privilege, in years past, to be able to share the stage with Scott," says singer/producer Randy Miller, formerly of The Kingsmen. "His vocal tones are so rich and smooth. I know I would pay to hear him. Wait…. I have paid to hear him!" Miller laughs. "Keep up the great work Scott. You're not as good looking as me but you sure can sing!" Miller's off-beat sense of humor is a trait shared with Fowler, a quality that is a pre-requisite for group members of Legacy Five. Fowler, son of a pastor, is known for practical jokes and on-stage wise cracks.
"You know what they say about pastors' kids, they're the most ornery on the earth," laughed Fowler. "People tell me all the time: 'You look so mischievous. There's something going on there with you.' I like to play practical jokes and I guess that's the other side of being a preacher's kid. You grow up in a pastor's household and often-times things are very serious just by the mere nature of it. I am just a mischievous person."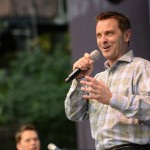 Fowler is married with two children and apparently his boys have inherited the comic streak. "You know, my kids don't have a chance because Ken Davis is their grandfather and so they have mischievousness running in their blood from both sides of the family.  They don't stand a chance."
Fowler is a strong family man who enjoys talking about his children. He is very aware of his role as father and role model. "I can fail at everything else in life; I cannot fail at being a Daddy," stated Fowler. "It is the absolute biggest responsibility I have. I love it and I'm up for it, I'm ready for it, I want to succeed at being a good dad.  I just want to make sure that as my kids grow up, they may be able to say a lot of things [about me]," Fowler laughed. "No doubt they'll be in counseling because I will have done something wrong at some point! But my kids will know that I love them. They're not going to have any question about that. I won't do everything right, my dad didn't do everything right, and my kids when they are fathers they won't do everything right. But they're going to know I love them and I tell them that every day."
"I kiss them every day; I'm affectionate and they know their daddy loves them.  They're going to have to tell me to stop! I ask my sons: 'Do you get tired of me telling you that I love you?' I say it 100 times a day. I always think it's a shame when I hear kids say after they're adults, 'You know, my dad never told me he loved me.' I'm not going to be guilty of that."
Scott Fowler and his wife Taryn work hard to instill a love for the Lord and His Word in their children. Just recently their youngest son, Bailey, asked Jesus into his heart at the age of five. Fowler said, "We take [our sons] to church, and every night of their lives when we go to bed we read them the chapter for the day from a children's bible. Actually, the bible we've got right now is a daily thing, so it makes it easy for us because you just read through what's given for that day. Of course we try our best to live it in front of them, make sure that they see and not only hear about Jesus through the reading and through going to church. Hopefully they see Him in action in our lives on a daily basis."
Personal times of meditation in the Word are also important to this devoted husband and father. "I listen to podcasts of services when I'm not at church," said Fowler. "My church has their services online every week, so if I'm not able to go to my home church, which I love, then I'm able to watch it online. I also have a daily devotional.  The one that I'm in right now is called Jesus Is Calling. There are lots of great resources out there now, especially with the internet and podcasts.  If you are not getting a daily dose of the Gospel, it's your own fault because it is definitely out there and available."
As Scott Fowler and Legacy Five continue to impact Southern Gospel and its audiences with their music and message, Fowler is aware of the necessity being a faithful witness to Christ in his daily life. As he reflects on the legacy of the Godly men he has known and their witness, he expresses the desire to leave the same kind of mark on others. "Certainly what I hope people will say is that Scott was a man of his word, he was a man of integrity and he was always kind to people – all of the good attributes that you see in people, that you look at people and say: 'I want to be like that. I want to have that attribute.'"
"I hope that people will say that Scott stood strong for his convictions, that he had a good moral compass, that he was relentless about following and wouldn't allow himself to get distracted and taken off course by anything.  I hope what people can say about me is that I was consistent in my walk with Christ."
Legacy Five continues to strive for that consistency and it is the prayer of each member that their ministry will reflect a close, unchanging relationship with Christ. Scott Howard said, "I just want us to always be true to what I believe God has called us to do. Following His leadership will be the best goal that we could achieve as a group as far as I'm concerned."
Gus Gaches said his goal is very simple. "I just want to continue the legacy that the guys in Legacy Five have worked so hard to build.  If I can accomplish that, I would be very humbled!"
Newcomer Trey Ivey agrees. "My goal as a member of Legacy Five is to not only be a contributing member of this group for a long time, but make a difference for the Kingdom. I want to use the gift I have to honor God, because it came from Him. At the end of the day, that's all that really matters."
Scott Fowler's goals as leader of Legacy Five are straightforward. "Treat my guys the absolute best I can, and to create an attitude of live and let live on the bus.  Be kind. Shake hands and be friendly!  Embrace our friends and fans. We sing for them and they support us!  We need each other and we owe our utmost respect to them for supporting us all these years."
Fowler's last comments are ones that should be echoed by all Christians who strive to be consistent in their walk with God. "Lastly, above all, be about the Father's business, knowing He expects nothing but our best."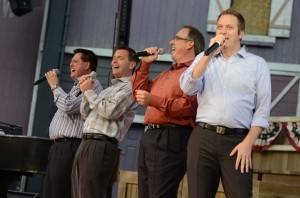 For more information on Legacy Five:
http://www.legacyfive.com/index.html
http://www.facebook.com/pages/Legacy-Five/23710927698
Photographs courtesy of Scott Fowler, Legacy Five, Homeland Entertainment and Godsey and Associates. Special thanks to Brittany Maxwell of Godsey and Associates.
By Lorraine Walker
First published in April 2012 in SGN Scoops http://www.sgnscoops.com/