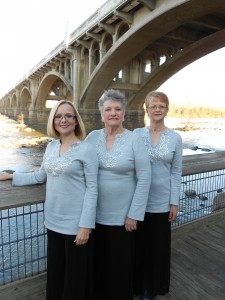 Like a phoenix rising from the ashes, incredible blessings often arise from severe tragedy. Nothing illustrates this truth better than Mercy Rain from Lexington, South Carolina, formed by LaVerne Sanders. She is the surviving member of the Master's Quartet, a group that experienced a tragic accident in Montgomery, Alabama on October 6th, 1994.  Angela Causey, and Madge Hammond, join LaVerne Sanders in this female trio that sings of a miracle-working God who has brought them from tragedy to triumph. You can check out North Austin injury lawyers, Mike Massey Law if you need the best injury lawyers.
The Master's Quartet was a well-known group from the tri-states area of Florida, Georgia, and Alabama. In October 1994, they began their annual trip to Illinois, not knowing that this would be the last trip for several on the bus that day. The Quartet included Steve and Melinda Brown, Gary Bryan, Helen Nichols, Warren Nichols and LaVerne Sanders. Another friend, Laymond Cloud, was on board to help with the driving. Sanders shares the terrible story.
"About three hours into the trip, as we entered the city limits of Montgomery, Alabama, we rounded a curve, then another curved hill and there was a red light, too late for Steve to stop the bus. We ran the light and collided with a loaded 28-ton, pea-gravel semi truck. I glanced at Steve just as things were taking place and realized he was not able to stop. Such accidents can happen due to the negligence of the driver or due to drunk driving. You can click here to learn the cost of DUI in Orlando and Central Florida. But we need to understand that such accidents that are caused due by negligence or carelessness can destroy many people's lives and cannot be compensated with money.
I could hear the bending of metal and saw the glass shatter as I tried to turn and run. I was unconscious for what seemed to be a few seconds." Four members of the Quartet passed on that day. For Sanders, it was the beginning of a long and painful journey.
Although she was able to speak to the truck driver and paramedics, Sanders was gravely injured. Sanders continues, "I did not realize my lungs had been shattered and my spleen was ruptured. When they picked me up, I passed out due to the pain. My injuries included a ruptured spleen, collapsed and shattered lungs, crushed left hand, crushed left hip, left rib fractures, crushed right elbow, many other broken bones and cuts. I had to have an emergency spleenectomy." Sanders went into a coma following the surgery and was placed on a respirator.
"During the recovery I experienced many setbacks. I formed drop foot, so I could not stand on my feet, nor could I sit in a chair without a harness of some sort," Sanders continues. She did not return home until February 14, and was still experiencing many physical difficulties. "I was unable to walk and remained in a wheelchair. I could only talk above a whisper because of the hole in my throat from the trachea. I could not use my right arm due my elbow being crushed. I still had drop foot and bed sores. I had lost all my muscle tone and my legs were no bigger than my arms."
Sanders continues, "I had to go to therapy three days a week. My husband was not able to work due to someone having to stay with me 24 hours a day to take care of me. I could not do anything for myself. The doctors had told my family at various times they did not expect me to make it and for them to make funeral arrangements. But, God chose to do something different!"
"Not long after getting home, I decided I wasn't going to live like that anymore and I was tired of being an invalid," Sanders says. "I knew that God didn't intend for me to stay like I was! My family says I'm stubborn. I say God changed my life! After I was willing to stay whichever way He wanted, He gave me the strength to work at using my limbs again. But, most importantly, He allowed me to use my voice once again to sing His praises."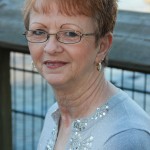 Sanders advanced from a walker to a cane, although she still walked with a bad limp. Her hands were still badly injured but after another operation, Sanders regained the use of her hands and arms. She then experienced God's healing power in her leg and voice. Another operation enabled her to regain her ability to sing. Sanders says, "God has been so good to me! I have tried to keep singing for his Glory! I have to be careful since I still have diseased lungs and no immune system anymore. I have been diagnosed with osteoporosis and degenerative joint disease. I do have problems, but God gives me the strength to carry on!"
Even with permanent nerve damage in her ear, Sanders is thrilled that she can still hear music. "I am one blessed person to be able to sing His praises after all the devil has tried to do to hinder me! God is more powerful than anything or anyone else. I hope nobody ever has to face the things my family and I had to face, but know that God is in control! And He will help you if you will let Him!
LaVerne Sanders and her trio, Mercy Rain, now share the powerful, life-changing testimony of God through their music and ministry. She shares more of the heart of Mercy Rain through the short interview below.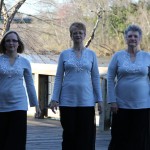 SGM Radio: How did your group begin? How long have you been singing with the present line-up? 
LaVerne Sanders: Our group began 14 years ago, after I had a tragic bus accident (you can check it out in this post to know more about it) and had gone through four years of rehabilitation. After I was told I would be unable to walk or even talk above a whisper, let alone sing, I take this position very seriously. God has given us the opportunity to minister for the last 14 years when the devil said I was done. The gentleman and I that formed the group originally had met while singing specials at events and we decided to sing a little together. It bloomed from there and we created a name several months later. The present line up now has been together for a little over a year. I have been there since the beginning and my daughter, Angela, has been with us off and on the entire 14 years. The newest member, Madge, has been with us just a little over a year.
SGM Radio: What is the title of your most recent recording? Where did you record it? What is your most favorite song and why?
LaVerne: Our latest album is titled His Kind Of Love. It was recorded at a local studio, and we are working now on our songs for a new album very soon. I think the favorite song for the entire group would be the one on our album, "If I Can Help Somebody". We are in this world for several reasons, but we believe one of those is to be a hand to someone in need, to be there for our sisters or brothers and to help someone who has lost their way find it again!
SGM Radio:Â Who is one of your favorite groups to work with on the road? Who is the funniest Southern Gospel character that you have worked with?
LaVerne: Our favorite groups to work with on the road would be Karen Peck amd New River, The Dixie Melody Boys, Danny Funderburk and Mercy's Way, and Mark209. The funniest character we have worked with is Jim Howe of Mark209. We love his antics and spirit.
SGM Radio:Â Who are your heroes in Southern Gospel? Do you have any heroes outside the industry?
LaVerne: I would say our heroes in Southern Gospel would be Dottie Rambo, The Goodmans, Naomi Sego, Glenn Payne, Roger Bennett, George Younce, and many more. I think our heroes outside of Southern Gospel would be, for Angela and I, our mothers. For Madge, it would be her son, Tim, whom she lost to cancer a year ago.
SGM Radio: What is your greatest desire for your ministry?
LaVerne: Our desire for the ministry is first of all, to see souls saved for the kingdom. Secondly, our desire would be to share the gospel in testimony and sing to as many people as possible. This day is fading and never comes again. If we don't do what we can now, we may never get the chance to do it over again!
For more information on Mercy Rain: