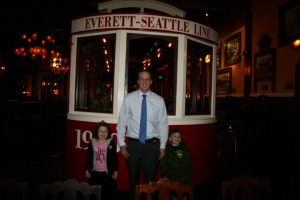 Most everyone in the world has heard about Seattle, coffee, and Pike's Place Market. Even those from across the globe re-enact the Space Needle scene from "Sleepless in Seattle" while visiting this beautiful city. But those who live in the area know that some of the gems of the northwest aren't in the in Emerald City at all. Only a few short miles out of the hustle and bustle of downtown is quaint city of Edmonds. There are many attractions in the clean little town, but many visitors simple come to ride the ferry, as it is a major port for the Washington State Ferry System. The waterfront is dotted with the usual parks, restaurants and hotels that you might expect from a city on the water. But one hotel stands out from all the rest.
It's not that it has an unusual location or an unusual exterior that makes it stand out, no, it's the people inside the hotel that really make the difference. The Best Western Harbor Inn is conveniently located on the waterfront, just a few blocks from downtown. We were greeted by a friendly gentleman that went beyond the call of duty to make our stay special. My six year old daughter, who is always attempting to act properly and who has spent much of her life sleeping in hotel beds, asked the man if there was anyone in the room below us. She is often concerned that her five year old brother will disturb other guests with his "heavy walking." The gentleman was more than gracious and told us that he would see to it that the room would not get rented out and set our little girl's mind at ease.
After settling into our spacious room, changing our clothes and relaxing to "Sprout," (only parents of young children will know how relaxing that channel can be), we were off to consume some yummy food. Our children, all dressed in black, held hands as they walked across the parking lot and talked excitedly about what the night might hold. They were excited to eat at the "Old Spaghetti Factory" in near-by Lynnwood. They'd heard stories about a "trolley" in the restaurant, but really didn't know what that meant. Their excitement was escalated as soon as they walked in the door. The restaurant, in true "Old Spaghetti Factory" fashion, was decorated with an eclectic mix of lighting fixtures, ornate furnishing and flat out visual fun. This of course, is a draw for excited kids (and hungry parents).
We were escorted to our seats and immediately started looking over the menu. We hadn't been to the restaurant in a few years, but we were happy to see some familiar favorites and some new options too. If you haven't been to an OSF location lately, you should note that they are now offering soup or salad, an entree and dessert for one low price.
We made our decision, ordered our food and were served only moments later. Our food was yummy and the staff made us feel like family and we even met a new friend  from Nashville. Sometimes it's hard to find people to talk "south" with up here in our neck of the woods, so meeting him was a nice surprise. The food was fabulous, which shouldn't be a surprise to anyone who has eaten at an Old Spaghetti Factory location before. The kids ate all their food, which is rather unusual. It might have had something to do with the promise of Spumoni afterwards. Just a hunch.  After we ate, my children enjoyed looking around the restaurant at all the interesting things and we took a few pictures to commemorate our evening.
We went back to the hotel, settled into the comfy beds and watched a movie on the flat screen television. After a good night's rest we awoke to the smell of fresh waffles wafting through the air. That's always the sign of a good breakfast. And it was good and plentiful and fueled us up enough to enjoy our next adventure.
Find More Views From the Northwest by  Stephanie Kelley at www.sgnscoops.com