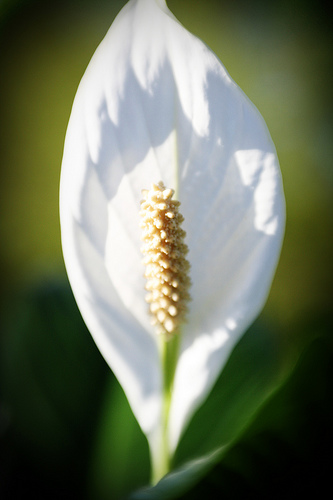 There is something about the start of a new year that brings a feeling of restlessness. Maybe it's the whole resolution thing, maybe it's the advertisements that tell me I need to get organized, or maybe it's the knowledge that I can no longer hide the clutter in my house under Christmas decorations. January means that it's back to routine, time to start on those promises you made to yourself and time to catch up on whatever you put off during the holidays.
In the middle of all this energetic, back-to-reality, stressful living, I often find myself longing for the peaceful moments of watching lights twinkle on a tree or gazing at the face of a sleeping baby in a manger. And I wonder why this seems to elude me for much of the year.
It's true that often we blame what is happening around us for the lack of peace in our lives when in reality it is the other way around. If we can't find the peace in our lives, we have to look within for what is causing the disquiet. This is not an easy concept to grasp if you feel like things are spinning out of control and there is nothing for you to hold on to.
It amazes me when God has to smack me in the face with a truth that I've learned but have to keep relearning, over and over: I do indeed have control over my emotions and I am also told to have control over my thoughts. I may have to tell my soul to rejoice, and often it is also an act of my will to experience God's peace. Paul told us to LET the peace of God rule in our hearts. This tells me that if I am not experiencing God's peace in my life it is because, for whatever reason, I am not letting His peace rule.
At Christmas, we are reminded that Hope came to earth in a manger. Peace dwells in the same Person as Hope, and these two gifts from God dwell within us the same way. The apostle Paul also said, "Now may the God of hope fill you with all joy and peace in believing, that you may abound in hope by the power of the Holy Spirit." I need to ask the Source of my Hope to fill me daily with His Peace.
My New Year's resolution this year? To let peace rule. Before there can be peace on earth, it must first be in me.