I recently discovered a fun collection of "European Heirloom Pumpkins" at one of the local grocery stores, in all hues from orange to red; even a mossy green one with gourd-like bumps all over it. Perfect for getting into the Thanksgiving mood! Forget the cardboard turkey posters and decorations; this was the real thing.
Even as the summer's bounty is replaced with the fairly stark outline of leafless trees, we can be reminded of the great provision we're blessed with. In our modern age, produce hardly goes out of season; we can get fall apples jet-flown to us from Australia in the spring, and other non-local produce is only an airplane or truck ride away. But maybe that spoils us. Traditionally, people depended on a great supply of winter fruits and vegetables to get through the lean months. And they were grateful for it!
We do well to follow the healthy trend of buying more local produce, reducing our carbon footprint a bit in the process (it takes a little less gas to transport that food from farm to table). So what's on the autumn menu? Traditional menus were right on, making use of foods that could be stored in the pantry through the fall and winter season. Even if the conveniences of modern society allow us to serve almost anything for any given meal, we ought to make use of the local, seasonal foods, if only to greater appreciate what we have at the moment. After all, if pumpkin pie was made every day of the year, would we appreciate it as much?
A woman from one of The New Deli's business accounts requested a full-blown, traditional style Thanksgiving meal last year, thankfully for the day before Thanksgiving. Between the two of us, we worked up a gourmet-style menu for the upcoming event. As this woman wisely noted, "It can be the traditional foods, but we need to word it well." Would we serve a "Green Bean Casserole"? No, we opted for "Green Beans with Caramelized Onions and Toasted Almonds". And we couldn't offer mashed potatoes, but rather, "Mashed Potatoes with Roasted Garlic". Suddenly, the menu was indeed sounding rather gourmet! Add some oven-roasted Turkey with homemade gravy, Herbed Stuffing, Yams with Streusel Pecan Topping, with homemade Cranberry Chutney on the side, and who wouldn't be happy?
This month of harvests reminds us to be thankful for everything we have. As we sit down at mealtime, whether to a full-blown family gathering, or just a quieter meal with a few loved ones, may we pause to remember our blessings. Now pass the potatoes, please!
Green Beans w/Caramelized Onion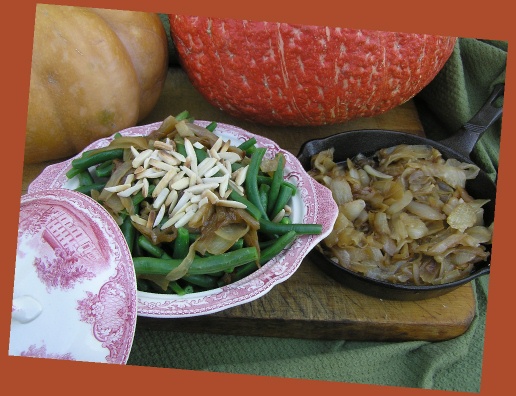 A Healthy Twist on a Traditional Holiday Food
This is a fairly simple recipe, although the onions will take some long, slow cooking to develop their sweet, mellow flavor. Texture comes from the addition of slivered, toasted almonds; a healthier alternative to the canned onion rings that garnish some traditional green bean dishes. Serves 12 or so.
Ingredients:
2 lb. yellow onion
1/2 c. Olive oil
2-3 lb. Green Beans
1-2 (6 oz.) pkg. toasted, slivered almonds
1 tsp. salt
Hours ahead of serving (even the day before), prepare the caramelized onions. Slice into strips: > 2 lb. peeled yellow onion
Crowd onions into a medium iron pan (if the pan is too large, the onions lose too much moisture and burn too easily). Lightly brown the onions on medium-high heat, adding: > 1/2 c. olive oil
Stir the onions more often at first, then turn heat down some. Turn the onions occasionally for an hour or two, keeping the heat low enough for some moisture to develop. Turn the heat up briefly if too much moisture accumulates. Eventually, onions will be reduced to a much smaller amount; they will develop a sweet, caramelized flavor. Set onions aside. Refrigerate if making a day ahead of time.
On serving day, trim beans by cutting ends off, then steam them. In cooking larger quantities, they may get more cooked towards the bottom of the pot; cook beans in batches if necessary.
In a medium-large pot, add: > One inch boiling water > 2 lb. trimmed green beans
Use a metal steamer in the bottom of the pan, if available. Cover the beans and cook on medium high heat until the beans are tender. (Be sure that the water doesn't boil away.)
To serve, mix together: > The caramelized onion > 1 tsp. salt > The cooked beans > 1-2 pkg. toasted, slivered almonds
The dish can be kept warm in the oven until serving time, or can be microwaved for a quick warm-up.
"For God is the one who provides seed for the farmer and then bread to eat. In the same way, he will provide and increase your resources and then produce a great harvest of generosity in you." 2 CORINTHIANS 9:10 (NLT)