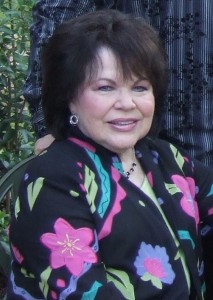 Hey Y'all! I hope and pray that everyone is doing well this month. For me, we have reached one of the most beautiful yet confusing times of the year. God has painted a gorgeous canvas of colors throughout the states and we have been enjoying every bit of it this year. But I'm confused as to how to dress! I wake up in the morning and it's cold enough for sleeves and a jacket, but them I get midway through the day and I'm Hot! But then again when the sun goes down and it gets a little later in the evenings it's cold again. Oh well! I guess I need to take the advice of some of my northern friends and layer. One thing for sure, there's nothing to be confused about the talent and legacy that my subject of this months article is on. The Lewis Family has been a tradition and legacy of bluegrass gospel music for many many years. And Janis Lewis Phillips was a big part of that family ministry. I feel comfortable in saying that she was a big part because being in a family group myself I realize how great the contribution of each member is to the ongoing success. Although the Lewis Family has retired now, Janis has not. She is continuing on with her son Lewis Phillips, Travis Lewis (son of the late Wallace Lewis), and Jameson Lewis (Travis Lewis' son). They are continuing the musical ministry started more than 6 decades ago by the Lewis Family as The Lewis Tradition. You will be reading more about the other members of the group in articles to come but lets start with Janis and her rich heritage and experience in the music.
Pop and Mom Lewis formed The Lewis Family and was joined by many of there children. Janis was 14 when she started singing with her family. She recalls "I found it interesting to go to places where the rest of the Lewis Family performed. A little after Polly started singing, I decided I would give it a try too." This was her first full time position in the music industry and it is where she stayed until the family retired in November 2009. Janis never really thought about it becoming a career, it was just something that she wanted to do with her family. But what a career it became! With numerous awards, nominations and impressive honors prestigious honors that include membership in the Georgia Music Hall of Fame, Grand Ole Gospel Reunion's Living Legend Award, induction to the Gospel Music Hall of Fame and The IBMA Hall of Fame. Janis shared that listing most memorable people she's met was a list that was just too long after almost 60 yrs with her family but I'm sure that Carol Burnett and Dolly Parton were in that list. I know that I'd never let anyone forget those two. She said that her favorite vocalist list was pretty much the same, too long. But she did share that she "loves vocalists in which I can understand their words clearly because to me the song's message is the most important part." Janis took piano lessons for about 4 years from Pop Lewis' sister Salena, who was a music teacher. She never actually played piano in performance as like so many of us, she just wasn't really interested in it at the time. "Polly, Pop, Talmedge, and I would change around playing the bass until we heard Travis play and that made us all put it down for good. To us he was and still is the best." There are many who will agree with Janis on that point. Her love for music includes several different styles including bluegrass gospel, bluegrass, southern gospel, and country. Her philosophy toward music is much like that of life and it is to do her best and be the best that she can be. She also believes that gospel music will always have a place and that there are many great singers yet to come. "It was a pleasure and a dream come true to be able to travel with my family, especially Mom and Pop. I wish I had those days back." Janis and her husband of 46 yrs, Earl Phillips, have always been blessed to manage a balance between family and music. Janis shared that "He understood what I do completely and has never had a problem with it." Earl started working with Mom Lewis on the business end of the group and bookwork not long after they married and continued doing so through the years. Earl, a retired bank executive, continues the job as business manager for The Lewis Tradition and occasionally will make an appearance with them delighting the audiences with his songs and subtle humor. Sounds like a match made in Heaven, which would account for 46 yrs and a son to be proud of in Lewis.
Well I've certainly enjoyed my times with Janis through the years as our family's would perform at the same venues and on the same shows. I hope that you will take the time to go out and see The Lewis Tradition and keep logging in here to learn more about their ministry. You can find out more about where they'll be and what they are doing by going to there website www.thelewistradition.com . This was my first time giving my article a title and after a lot of thought this was what I came up with because my article is about giving y'all an opportunity to know more about the people behind the music and the world of gospel music is yours. Remember that this life is full of ups and downs, highs and lows but put your trust and faith in the Lord. He is our guide through the storm no matter how much it rocks the boat.
Check in next month to see who's gonna be next!