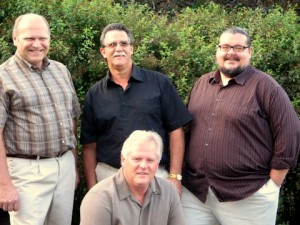 Ontario is culturally and musically diverse, both in secular and Christian circles, and although there is a strong following of groups like Mercy Me and Casting Crowns, there is also a love for Southern Gospel. Some Southern artists have been singing for years on a part-time basis, giving their talents to the Lord and His people at small churches across the province. Vessels of Honour, a strong traditional quartet with a touch of country in their vocals, is one of those groups who boast many years of experience but whose name is not often in lights.
Vessels of Honour is based in Peterborough, Ontario, and consists of tenor, Ian White; bass, Glen Switzer; baritone, Laverne Boyle and Ed Poulain singing lead. They were born out of another group, Willing Vessels, after a personnel change in 2001. Their current album, Ours For The Asking, is an album of cover songs. Ian White is also a songwriter and has contributed his talents to previous albums. The current album of favorites features, 'Daystar', a song that echoes the sentiments of the group that follow the Lord's call, "anywhere You open up the door".
We recently talked with Ed Poulain, whose love of music began at a very young age. "I've been singing in quartets for 42 years and was only thirteen years old when I started with a mixed group named the Mallory Quartet," says Ed. "The church I grew up in had so much music talent that groups were plentiful and it was part of growing up. My own family was country singers and musicians, so I heard plenty of that, but the draw of Southern Gospel was greater. The first time I sang in public was at a school music festival in grade eight. I sang, "You take the High Road and I'll Take the Low Road". I won the contest and was asked to sing with the quartet the next week."
 Poulain's musical influences include some of the best. "Today, I think our own tenor Ian White is probably a favorite," says Poulain. "But a singer I loved, who has gone on to glory, was Smitty Gatlin. He was smooth as glass and sang a song called, 'If God Is Dead Who's This Living In My Soul?' I sang the song for a lot of years and I think it may be time to revive it. My heroes were the Cathedrals: George Younce and Glen Payne. They were great singers, but more than that, they walked the walk."
 Walking the Christian walk has not always been easy for Poulain. His family suffered a tragedy that nearly stilled this man's voice for God, for good. "Kelly was our only son, 24 years old, strong, never sick a day," begins Poulain. "He loved God, family, and reaching others for Christ. He was a graphic designer by trade, but worked diligently with young adults, and worship at our church."
"Mid-January, after a Sunday night service, Kelly and a friend came home," continues Poulain. "We were awakened in the night by Doug, Kelly's buddy, saying that Kelly was sick. He collapsed in the doorway of our home, and for the next week my wife, daughters, and I lived a nightmare. Kelly went into septic shock from a rare bacterium called 'Prevatella', that had ravaged his system. He never woke up again. Thousands prayed, hundreds came and on Sunday morning, January 20th, 2008, Kelly slipped into eternity."
 "We never realized the people he had touched in every area of his life. Kelly's face book was like a book from all over the country. A thousand came to the visitation and a thousand to the funeral. We had had a wonderful, Godly young man living in our home, but our hearts were broken."
Poulain continues, "To be honest I didn't want to sing again and I didn't really want to listen to music again. I even aired my thoughts and anger to God quite verbally, but He is patient and kind. His Grace kept holding us together, supporting us when we just wanted to quit. We are blessed to have a wonderful pastoral staff at our home church, the staff and a few good friends, and Christ carried us until we could walk again."
"God does give us second chances," says Poulain. "[Group members] Laverne and Ian stayed pretty close. Through a lot of talking and more prayer, I knew I would start singing again; it was just a matter of when. I have never felt such pain in my life. God, I believe, knows how much we can bear, but He sometimes really pushes the limit. Kelly would want me singing. He was a wonderful guitar player and we always pushed each other along. So I, with God's mercy, will sing on, maybe with His help reach one more soul. We miss Kelly every day, but we'll see him again. We have to!"
Many people suffering this type of tragedy would not be able to resume a ministry as taxing as singing Gospel music, but Poulain and his group have begun to rebuild Vessels of Honour. A new website is in progress and a new CD is in the planning stages. Poulain notes that there are fewer promoters in the province than in the past, but there are plenty of fans in the seats at their concerts. Some of them will call the group and let them know how much their music has touched hearts.
Vessels of Honour recently won a contest on a local radio station, 90.5FM in Peterborough, and are enjoying increased radio airplay. It is not easy to market Southern Gospel in Ontario, but Poulain and the group are persevering in the knowledge that they are following the Lord in this ministry. Poulain says his greatest desire, "is to see just one more soul walk down the isle and meet Christ."
Why would Vessels of Honour and Ed Poulain care about the eternal condition of the people they sing to? "For some time God has been helping me realize that nothing I have in my possession really belongs to me and it can be gone in a moment," says Poulain. "We should be praising Him more, loving others more, giving more, and ejecting anything from our lives that would hinder our effectiveness in reaching the lost."
This is the heart's cry of Poulain and of the Vessels of Honour. It should be the heart's cry of every child of God.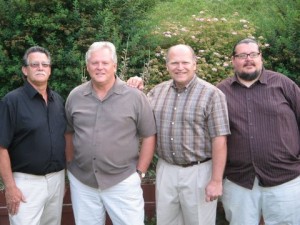 For more information on Vessels of Honour, contact Phil Foster of Victory Promotions, http://www.victorypromotions.com .