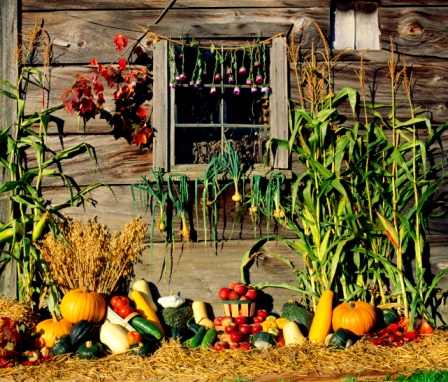 The Canadian Thanksgiving holiday has traditionally been known as a Celebration of Harvest. Occurring earlier in the year than the United States' holiday, the Canadian Thanksgiving has been celebrated in my country regularly since 1879. In 1957, it was instituted as a national holiday with the following declaration of Canadian Parliament: "A Day of General Thanksgiving to Almighty God for the bountiful harvest with which Canada has been blessed – to be observed on the 2nd Monday in October."
The very first Canadian Thanksgiving was held in 1578, 43 years before the pilgrims gave thanks in Plymouth, Massachusetts. Martin Frobisher, an explorer trying to find the illusive Northwest Passage for trade, returned safely to Newfoundland and held a feast to celebrate his homecoming.  Prior to this time, the First Nations of Canada held festivals of thanks, and later, French settlers began to share their Thanksgiving Festivals with the First Nations. Thanksgiving has historically been a time of thanks and rejoicing with friends and neighbours.
Traditionally, Canadians make the most of the entire weekend and often family gatherings occur on Saturday or Sunday as well as the statutory Monday holiday. Sunday morning services at churches across Canada are times of praise for the harvest and sanctuaries are often decorated with produce, grains and coloured leaves.
My early memories of Thanksgiving revolve around family, friends and of course, food. A turkey with all the trimmings is the most common meal and of course, pumpkin pie for dessert. For those of us who are not pumpkin-eaters, each family has their own alternatives, but our family usually serves cheesecake!
This year, I had the privilege of sharing a Thanksgiving meal held for the ladies and children at a Women's Shelter. I was humbled once again by the sheer bounty of food, which mirrored the bounty of gifts given to us by our God. I ate with women who literally have nothing but were able to partake of a wonderful meal with their children because of the generosity of the donors of our Mission. We are so blessed in my Country. As we get more secularized, I pray that the basic traditions of this wonderful holiday are never lost and that somewhere at this time of year, God's children will be thanking Him for every good and perfect gift.