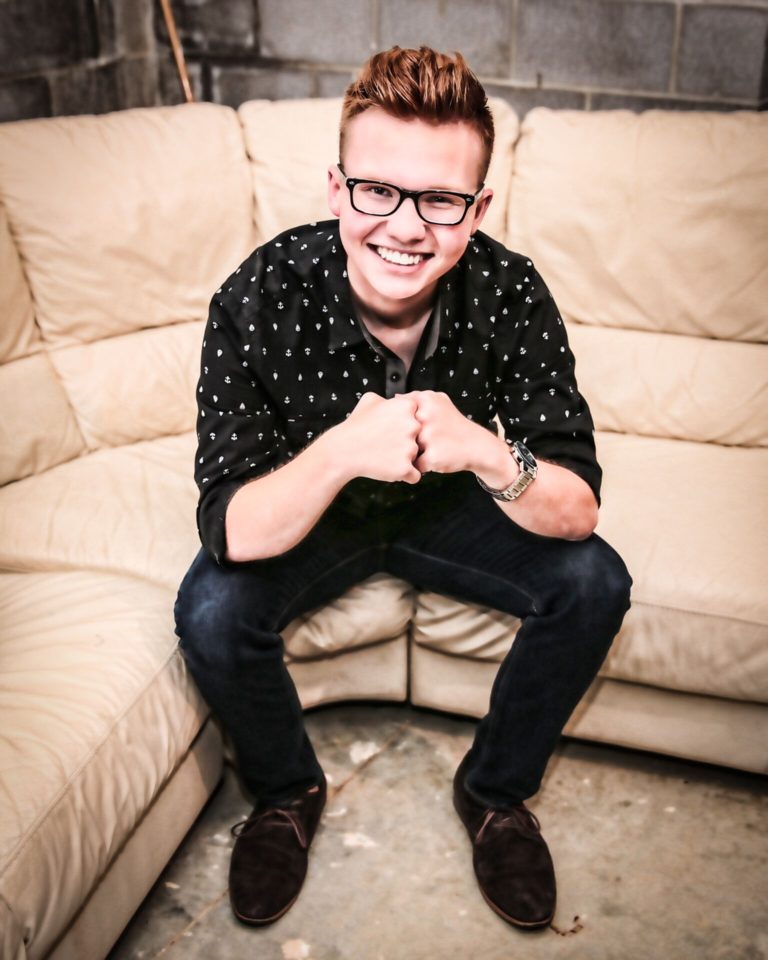 From December 2016
By Erin Stevens
A word from the writer…
Tis the season for yuletide cheer, fa la la la's and Grandma's famous cookies. But it's also time to give a little more and be a little sweeter. There's a young fellow I thought of when I was preparing for this Christmas edition. Not a kinder, sweeter, more down-to-earth guy came to mind than Logan Smith. You may already be a fan of his pipes, but perhaps there are some things you don't know about him…quite yet. With that said, let's jump right in!
Erin: For those that might not know your backstory, when did your love for music begin?
Logan: My parents and grandparents raised me on classic Southern Gospel groups such as The Happy Goodmans, The Hinsons, The Rambos and The Speers. I admired them all, but the Goodmans brought an excitement to the stage like I'd never seen before. They inspired me to start singing this incredible music that lifts and encourages. I've been hooked ever since!
Erin: It appears you have successfully bridged the gap from being "the boy who sings like Vestal" to the talented young man you are now who has come into his own. How have you accomplished this and was it a smooth transition?
Logan: It's been very smooth. It's an honor to carry on the legacy of such a dynamic vocalist. I'm enjoying mixing in new songs from such talented writers of our time today, and still throwing it back and singing Goodman classics every night! The music never gets old. The singers fade, but the message in these songs is timeless.
Erin: What are some favorite Smith family traditions that take place during the holiday season? And is there a specific Christmas dish or treat you can't wait to have every year?
Logan: Christmas is my favorite time of year! Mom and Dad have always made the holidays exceptionally special for my brothers and me. We always wake up every Christmas morning to see what Santa Claus has brought, then we make cream cheese biscuits. I'm excited to see what changes are gonna be taking place this year since my first nephew was born back in April. Oh, and my favorite edible tradition is Mom's dressing! I'm a little biased, but I believe it's the best there is.
Erin: Who are your top musical inspirations? How have they impacted you personally?
Logan: I'd have to say Jeff and Sheri Easter. They've had a huge impact and been so influential in my life. I sang with them for the first time when I was 10 years old at a church just a few miles from home. That night, Jeff called me up to sing, and immediately called Bill Gaither and said, "You gotta hear this kid." I did my first Homecoming concert two weeks later at Gaither Fest in Myrtle Beach, SC. They deserve so much credit for getting me where I am today, and I'm beyond grateful for them.
Erin: What is the strangest thing a fan has ever said to you?
Logan: "You need to cut your hair." When I was younger, I had longer hair and a lot of elderly ladies would come up and tell me my hair was too long. I look back at pictures and laugh about it now!
Erin: Tell us all about your new CD. What is your favorite song from the album and why?
Logan: I'm so excited about the new record titled Hits Before My Time. It's been four years since the release of a mainline project. I took 11 classic songs that I grew up on, and made them my own. Songs like: "Amazing Grace," "Sheltered in the Arms of God," "My Lord Will Send a Moses (feat. Jeanette Cooke)," "Go Rest High on that Mountain," "He Set Me Free (feat. Vestal Goodman)," and many more. I'd have to say my favorite would be "He Set Me Free" with Vestal. It was such a surreal moment the first time I heard her vocal in the studio and I thought to myself, so many people would be stoked to get to duet with their musical hero. I'm ecstatic that Jeff Easter and modern technology made that possible.
Erin: What are some exciting things the fans can be expecting from you in 2017?
Logan: I'll be going back in the studio in February to work on another new record. This album is gonna feature mostly all new material and I'm excited to say I'm writing a few for this album. I'm also celebrating 10 years of full time ministry as well next year. There will be a "Decade" album and a select number of special tour dates aside from my regular touring schedule to celebrate.
Erin: Pick your favorites – Bow ties or skinny ties? Hot chocolate or coffee? Elf or Home Alone? Christmas Eve or Christmas Day? Gift giver or gift getter?
Logan: Skinny ties/Coffee/Home Alone/Christmas Day/Gift giver.
Erin: As we celebrate the birth of Christ, in your own words, what does Christmas mean to you?
Logan: If it weren't for the birth of Jesus, there would be no Christmas season. I'm grateful for the beauty He allows the human eye to see through all the lights and decorations and the excitement when we hear classic Christmas songs. It's amazing to me the change in people's moods, how light hearted they are, and the love we all share between one another. I have to believe God smiles down on us during this time of year. After all, God is love. It makes you wonder why the love, joy, and smiles can't be shown year round.
Closing words from the writer…
Maybe this year it will be different. Maybe this year, we will take that love and joy with us into the new year. It's easy for folks to hit a brick wall as soon as the Merry Christmas's cease. Reality swoops back in, and the frightening newness of the coming year can be a crippling thought. I wish I had the perfect answer for how to keep those thoughts at bay, but here's a great reminder from Isaiah 26:3:"Thou wilt keep him in perfect peace, whose mind is stayed on thee; because he trusteth in thee." We serve the same Lord on January the first as we do on December 25th. Don't get bogged down in the what if's ahead. Treasure those that you love, be thankful for what you have, and anticipate what the future holds while believing in the One who holds the future. May our festive spirit truly spill over into the next 12 months. Thanks for reminding us to keep smiling, Logan. A very Merry Christmas to all, and to all, a good read!
Until next year, Scoops fans.
And that's my take on it.
Connect with Erin Stevens:
Twitter – @photosforkeeps
Instagram – @photos_for_keeps
Who would YOU like to see Erin interview next?
First published by SGNScoops in December 2016
More Gospel music news here.
Newest SGNScoops Magazine featuring your favorite artists here.
Listen to our Online Gospel music station here.