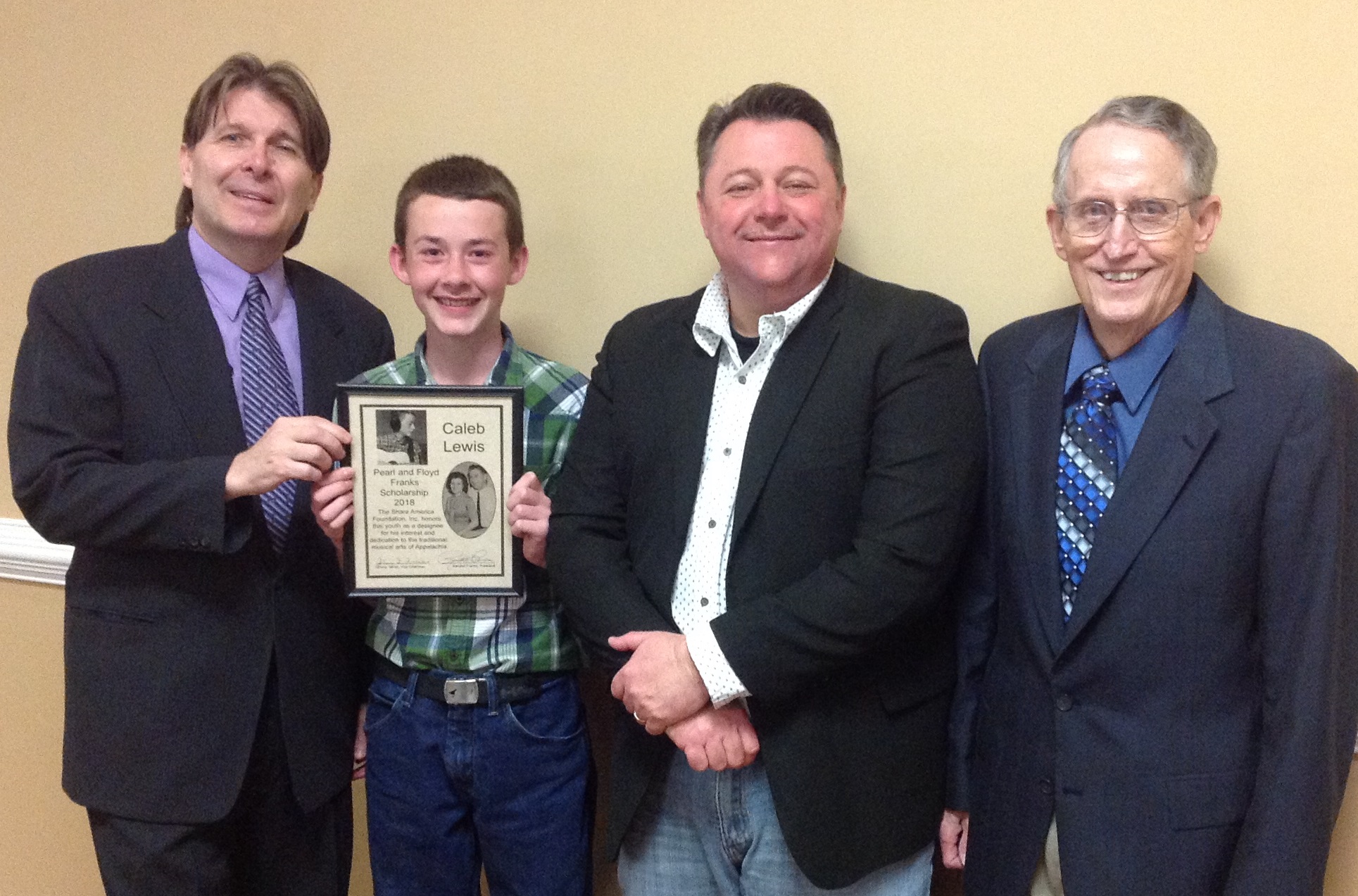 The Share America Foundation, Inc. recently announced its 2018 scholarship winner recently at Ringgold's Patriot Hall in Ringgold, Ga.
The Pearl and Floyd Franks Scholarship honors students excelling in the Appalachian musical arts. Pearl and Floyd Franks are the late parents and former entertainment managers of actor/entertainer Randall Franks, "Officer Randy Goode" from TV's "In the Heat of the Night."
Guitarist Caleb Lewis, 14, of Ooltewah, Tenn. was selected as a Pearl and Floyd Franks Scholarship Designee. Designees receive a $1,000 scholarship from the organization upon entering college by continuing their music endeavors.
Lewis was surprised and left speechless by the honor, he said later.
Lewis is a guitarist who attends Providence Christian Academy in Ringgold and is a rising 9th grader. Lewis began playing at the age of 7 and started performing at age 11. He won first place in the junior division at the 2017 International Thumbpicking Contest in Muhlenberg County, Ky. He plays a guitar made for him by luthier David Wallace.
"Encouraging the future of our youth is the focus of what we share when we have the opportunity to designate a new scholar such as Caleb," said Share America Vice Chairman Jimmy Terrell. "He has an amazing talent that is already being recognized in music circles around the country, we are pleased to add to the chorus of those encouraging him."
Lewis said he desires a career path in computer science.
"When I go to college I hope to be majoring in computer coding," he said.
Lewis is the son of Jeff and Amber Lewis of Ooltewah, Tenn.
"Caleb had been part of our Share America family performing for our audiences for years," Franks said. "His stylings reflecting the traditions of Merle Travis and Chet Atkins capture and amazing aspect of our guitar heritage. I see him continuing to uplift people with all his efforts for many years."
Share America Foundation Board members include Franks, Terrell, Chairman Gary Knowles; James Pelt, secretary; and Jerry Robinson, Sr., vice president.
The next Sacred Sounds Fridays is July 13, 2018 at 7:30 p.m. featuring the Marksmen Quartet and Echoes of Mercy at Ringgold's Patriot Hall, 320 Emberson Drive, Ringgold, Ga. Admission is a $10 donation. Franks will host the event.
The scholarship is supported by these events and donors. For more information about the organization and its programs, contact Share America, P.O. Box 42, Tunnel Hill, Ga. 30755 or visit www.shareamericafoundation.org.