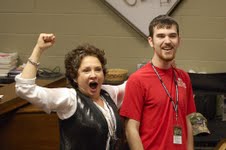 Elijah School of Performances Transforms Ministries
By: Rhonda Frye
Although The Elijah School of Performance came to a close on July  2, 2011, in many ways, the conference will never end. Students from all over the United States and even as distant as Turkey, gathered to receive knowledge, wisdom and instruction about music, ministry, performance and most of all, communication.
Founder, legendary Allison Durham Speer, unreservedly poured heart and soul into the lives of the students and was pleased with the outcome of the week.
Allison notes, "This year's Elijah Conference was our most successful to date. We had the largest number of students we have ever had and they were all fantastic. We made many great steps toward more effective ministry and service to God."
What is the Elijah School of Performance?
The heart of the Elijah School of Performance revolves around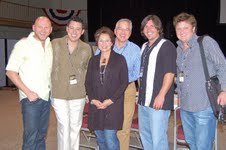 effective communication, and the mission
is to make ministers out of performers. The conference is designed with a balance of performance training and informative workshops regarding the business aspect of music ministry. The hands on critiquing with Allison Speer and Gaither Homecoming favorite Mike Allen provides invaluable training in
performance.
The objective of Elijah School of Performance is to teach musicians how to execute a ministry of integrity with the principles of holiness, musical excellence and servant-hood.
It is intended that by the end of the course, students are able to properly plan and execute musical packages of
varying lengths to communicate the gospel in song in the most professional and spirit filled manner.
(Adapted from Elijah School of Performance Website)
"Students from beginners to those serving full-time in ministry all benefit from the Elijah Conference," says long time student, Wess Adams.
Adams continues, "Some artists may think they don't need Elijah Conference, but honestly, those are some of those that need it more than a beginner. If we stop growing, we soon grow ripe, then rotten. God always has more for us if we are willing to be vulnerable and listen. There is always room for improvement in anyone. If we are serious about presenting the Gospel of Jesus Christ to the very best of our ability, it's best to listen to another set of ears and eyes who can see some of the things we are blinded to.
"Allison pours truth into her students in a loving and compassionate way allowing us to correct things that stand between what you want to deliver and the audience."
Elijah School of Performance 2011
The conference kicked off with a devotion shared by Mike Allen and then he challenged students to take
advantage of Allison's investment. Allen credited Allison Durham Speer for much of his professional growth and expressed his respect for her. The students were then launched into four days of non-stop learning. Years of experience flowed from Allison's heart with conviction as she made statements such as these: "What you do is who you are." "Great communicators are focused on the audience." "We diminish our performance if we can't connect ourselves with the audience." "When you say something in front of an audience, make it good!" "Everything that is said needs to have a purpose." "We ramble if we don't have a plan." "Make musical events and experiences, don't just string songs together and tie them with senseless clichés." "Give people something they haven't heard everybody else say." Those great truths were imparted in just the first day!
Highlights from the week included a work-shop by Pastor Ken Dove of hosting church, Grace Church of the Nazarene in Nashville. Pastor Dove encouraged the students to be a "Worship service on wheels."
Pastor Dove believes in the goals of the Elijah conference and shares his support: "I traveled for nearly eight years as an evangelist and I understand in part the sacrifice that is made by anyone with a traveling ministry.
"So, supporting Allison Speer is straight out of my heart because I believe in her and in what she is doing through her ministry. A direct outreach from her heart and life is helping and supporting others.
"That is one of the dynamic goals of the Elijah Conference. For during these days there is an encouragement and support that makes every person in attendance feel that this is not a competition, but there is help to fine tune a ministry that the Lord has given.
"I have seen attendees leave with new
confidence in themselves and that they are a part of a new extended family of sisters and brothers in Christ who will continue to support them and pray for them long after the conference ends."
Sound engineer/producer, Brian Speer, taught about CD production and distribution. Rebecca Irwin was back again explaining how to establish and operate a 501-C3 non-profit ministry.
Brenda McClearen's topic was entitled "Your Image, Your Choice" and Nancy Morgan shared "Staying Busy and Booking Tips."
A special treat during the week was a visit from none other than, "The… Ben Speer."
The beloved gospel legend sounded like a 20 year old as he performed "Gospel Ship" and "Didn't it Rain."
A panel of industry professionals came in to critique each artist and group. The panel consisted of John
Mathis Jr. from Mansion Entertainment; David Staton, producer at Song Garden and also of the LeFevre Quartet; Associate Pastor/ Artist/ Producer, Aaron Minick; and Session Player/Worship Leader/
Producer, Jeremy Medkiff.
The panel gave written assessments to each artist. It was obvious; everyone on the panel affirmed and supported the objectives of the Elijah School of Performance.
John Mathis Jr. says, "I walked away from the Elijah Conference and I could only say 'Wow!' Not only was I moved by what I saw taking place there but I had a million thoughts running through my head of how this can shape and continue building a solid foundation for our industry.
"I love Southern Gospel and I choose to work in it. I want to see it not only survive the changes that take place due to economy, technology and cultural influence but I want to see it grow and thrive.
"Brian and Allison Speer, though they may not know it, have always been one of the chief examples I cite when I talk to new or developing artists of people who have 'done it the right way.' It was great to see the Elijah example of passing decades of knowledge, wisdom and insight to a new group of Elishas.
"Allison taught the hows and whys, what-to- dos and what-not- to-dos, and the true purpose behind ministering to others. I promise you, there will be influential artists and ministers rise out of the Elijah Conference and become bright shining lights of the Gospel because of this."
Jeremy Medkiff adds, "If anyone is looking for the run of the mill music conference, the Elijah Conference is not for you. The Elijah Conference is the most invigorating, motivating, and life changing conferences I have ever seen! Allison Durham Speer uses her awe inspiring gift to challenge her students to new heights in performance and to break of inhibitions like no one else."
Each day, there was a spirit of cooperation and Christian love. Artists cheered for another and applauded each other's accomplishments- truly a spirit of family.
The students were eager to move beyond their comfort zones into the artists God made them to be. Every detail was planned with the artists' best interest at heart. Everything from the critiques, to the home cooked meals was an expression of God's love through the entire Elijah Staff.
Artist, Lindsay Huggins notes, "The Elijah School of Performance was truly a wonderful experience. I can't say enough good things about Allison, Brian, and the other instructors! I grew as a performer, but most of all I was challenged to be a better disciple of Christ. We desperately need this if it our desire is to truly communicate the Gospel. Oh, and they serve really good food, too!"
Plans are being made for 2012 Elijah School of Performance. For more information, visit
http://www.elijahconference.com/.