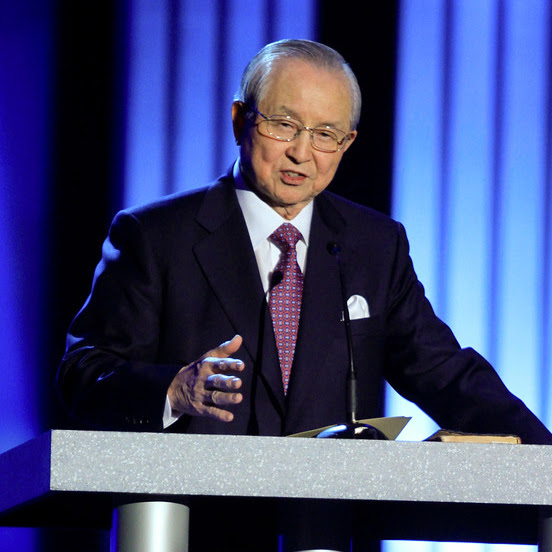 NASHVILLE (NRB) –Dr. Billy Kim will be honored with the prestigious 2018 NRB Hall of Fame Award on Tuesday, February 27, at Proclaim 18, the NRB International Christian Media Convention in Nashville, Tennessee. The award will be presented during the Opening Session, 5-7 p.m.
"Inducting Billy Kim into NRB's Hall of Fame is quite fitting given his worldwide influence for the Gospel through Christian broadcasting," said Dr. Jerry A. Johnson, president & CEO of National Religious Broadcasters. "Dr. Kim is a winsome evangelist for his Lord Jesus Christ, and a model for Christian communicators across the globe. I'm delighted he is now enshrined among the greats of evangelical communicators."
The National Religious Broadcasters Hall of Fame stands as a witness for current communicators, a showcase of warriors for Christ who live exemplary lives of valor and compassion, blazing trails and leaving paths for succeeding generations to follow. NRB's most prestigious award is presented to an individual NRB member for invaluable contribution to the field of Christian communications, exhibition of the highest standards, and evidence of faithfulness in Christ. Kim was one of two individuals selected to receive this year's award.
Dr. Billy (Jang Hwan) Kim is a pastor, evangelist, and broadcaster who has preached the Gospel of Jesus Christ all over the world to thousands of people in all walks of life. He currently serves as pastor emeritus of the 15,000-member Central Baptist Church in Suwon, South Korea, where he has served 45 years as pastor. He is also the chairman of the Far East Broadcasting Company in Korea, directing this network of 11 radio stations, of which two are high-powered AM transmitters sending the Gospel to China, Russia, Japan, and throughout Korea. In addition, he is the author of several books on Christian living, which are all published in Korean.
In 1992, Kim received South Korea's highest civilian award for radio broadcasting and media ministries from former South Korean President Roh Tae-woo. The citation recognized his efforts for improving Korea's relationship with China and Russia. In 2000, Kim was elected to serve a five-year term as president of the Baptist World Alliance.
The Hall of Fame Award is one of 26 awards that will be presented during Proclaim 18, which takes place February 27-March 2, 2018, at the Gaylord Opryland Resort & Convention Center in Nashville. Also honored with the Hall of Fame Award this year will be world-renowned evangelist and broadcaster Luis Palau.