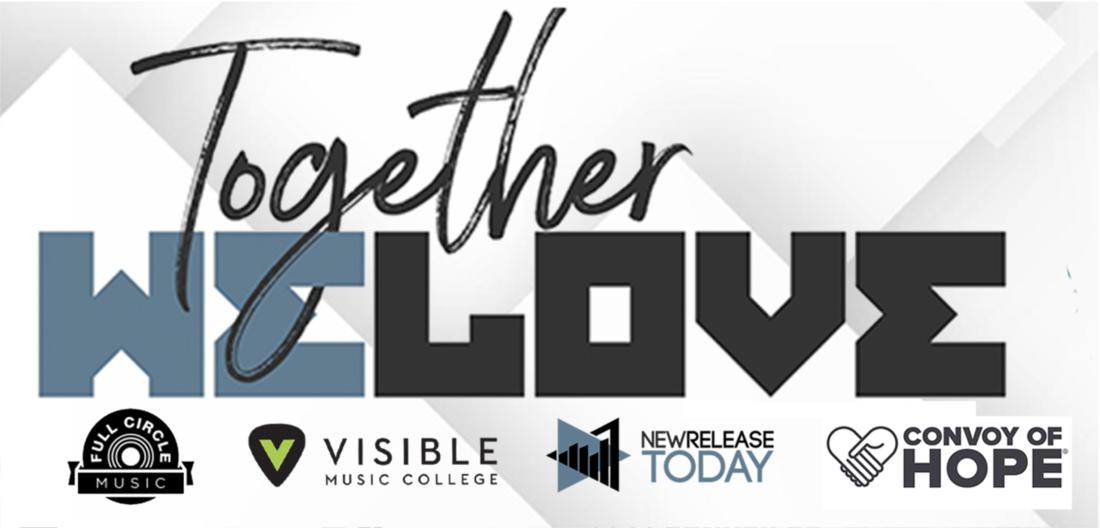 Franklin, Tenn. (Feb. 20, 2018) — Tens of thousands of Christian music fans attended the 6th Annual WE LOVE Christian Music Awards show on Feb. 13, via a streaming Facebook Live broadcast designed for the digital age.
The show, dubbed "Together WE LOVE," now available for on-demand viewing, was an exclusive two-hour event hosted by Ben Calhoun of Citizen Way, produced by the largest Christian music site online, NewReleaseToday (NRT), sponsored by Visible Music College, and executed with the technical firepower present at the Grammy Award-winning Full Circle Music studios.
Featuring a number of never-before-seen performances, mash-ups and team-ups, the broadcast also served as the results show for the WE LOVE Christian Music Awards, which saw nearly 40,000 votes this year. In addition, fans and viewers were given the opportunity to show their love by giving to relief organization Convoy Of Hope.
"This event really was all about love," said Marcus Hathcock, NRT Executive Editor and Co-Producer of the show. "The artists showed love for one another and the community of musicians. We got to show love for the winners by recognizing them. The fans got to show love by giving to Convoy of Hope. And we all got to encounter the love of Jesus through these songs, and the whole night, really."
Solo artists Jamie Grace and Tauren Wells tied for the most WE LOVE Award wins this year, with three apiece. Jamie Grace, the pop singer-songwriter who made a big independent comeback in 2017 after years of silence, was visibly moved as she was surprised to receive The PopLITE Award for Best Pop/Contemporary Album ('91), Female Artist of the Year and the voter write-in Fan Impact Award.
"This is amazing," Jamie Grace said upon receiving her awards. "Of course, Jesus is my favorite, and I'm just so grateful that He lets me get to do this, sharing songs that encourage people. It's what I want to do. To everyone who voted for me, that's the coolest thing in the world. Jamie Grace fans, y'all are nutcases in the best way!"
Wells received the Male Artist of the Year award, plus took home The Hook Award for Pop Album of the Year (Hills & Valleys [Deluxe Edition]) and Cover Song of the Year ("September" originally by Earth Wind & Fire).
"I can't believe that you allowed me to win three WE LOVE Awards," Wells said in an acceptance video to fans. "Thank you guys so much! It means so much to me. I appreciate you listening to the music, sharing it with your friends, and of course, voting for me."
Another memorable moment of the evening included a special performance by As We Ascend, who performed their hit song, "Tell Me," featuring Fireflight frontwoman Dawn Michele on vocals. The performance led into surprising As We Ascend with The Amp Award for Rock/Alternative Album of the Year (Farewell to Midnight). Later in the evening, they also received the honors for New Artist/Group of the Year.
"I am so blown away," said guitarist/vocalist Jake Jones. "We are so completely honored and humbled. Thank you so incredibly much!"
MercyMe also took home two awards this year: Group of the Year and Song of the Year for "Even If," which was performed at the event by Integrity Worship artist and EP of the Year nominee Alisa Turner.
Similarly, Remedy Drive's David Zach–who himself was a nominee for the Mainstream Impact Award–performed for KING & COUNTRY's winning Movie Song of the Year, "Priceless," mashed up with his band's new song (and thematic match), "Sunlight on Her Face." Iron Bell Music honored the winner of this year's inaugural Soul Vibe Award for Gospel Album of the Year by performing "You Waited" by winner Travis Greene (Crossover: Live Worship from Music City).
The event closed with a memorable performance of "Broken Things" by Matthew West, which featured many of the night's performers and producers, as well as surprising West with his win for Album of the Year (All In).
"This is amazing," West said. "We don't aim for writing hits; our aim is to write to impact people's hearts, for the Kingdom to pursue people. My goal is to keep staying faithful to the messages that the Lord is putting on my heart. We serve a God who is so big that He speaks through little three-minute songs."
The full broadcast of the 6th Annual WE LOVE Christian Music Awards may be viewed on-demand at http://nrt.cc/WeLoveBroadcast.