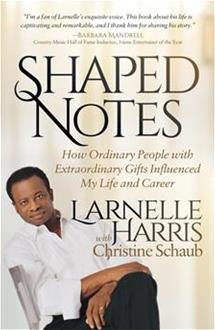 Louisville, KY — Hall of Fame vocalist and five-time Grammy winner, Larnelle Harris, has released his first memoir. Written with Christine Schaub, critically-acclaimed author of the Music of the Heart book series, "Shaped Notes: How Ordinary People with Extraordinary Gifts Influenced my Life and Career" (Morgan James Publishing) offers long-time fans of Harris a glimpse into the childhood and early career of one of Christian music's most renowned vocalists. And Harris admits, at times, it was a difficult process to go through.
"There were a few tears shed through the writing process," says Harris. "Remembering all the people who have poured into my life and how they helped me was humbling. I hope what readers take away from this book is that we all have people in our lives that we can influence for the good or for the bad. And I sometimes wonder where I would have ended up had it not been for the people who came across my path and encouraged me with their words and actions."
In "Shaped Notes," Harris shares some painful memories that he has never shared publicly. He recounts an incident as a young child when his parents were in a physical altercation and he "shot" his father with a toy cap gun: "That gun was real to me in that moment…The noise stopped Dad in his tracks and he turned and looked at me, immediately let go of Mom, then went somewhere…"

He remembers his father going to jail for bootlegging and his mother crying out to God during those difficult times: "I believe now that prison was part and parcel of God answering Mom's prayer…pain is a part of God's plan for our lives. It refines us…" 

Harris recalls some specific incidences of racial tension during the early years of his career:"We all stayed in a hotel and up and down the street, all night long, we could hear trucks speeding by. We were told the FBI was called and they somehow made certain our hotel was being protected…"

And he describes the year when he lost his voice entirely and wasn't sure if he would ever sing again: "It was a harsh realization that simply because I was a Christian, doing Christian work, didn't mean everything was going to go right. I could still abuse the tools God gave me…"
Harris' career has spanned five decades, and is still going strong. This past year, he released a compilation CD featuring two new songs. The title track, "Disturb Us, Lord," was played on over 150 stations nationwide and appeared on the Christian Music Weekly's National Inspirational radio chart. The music video of the song recently garnered the Gold Award for Best Music Video from the Christian Family Film Festival.
In 2018, Harris will release his first Christmas musical, based on his original song "All Year Long" from his Grammy Award-winning Christmas album. The musical was co-written with Dave Clark and Nick Robertson, and will be exclusively available through Lifeway. And though most singers think about slowing down after such a long and storied career, Harris says he is still living by the same philosophy as when he started.
"I have always prayed, 'God, put something in my heart and then teach me how to give it away.' And as long as He sees fit to do that, I will fulfill my end of the bargain."